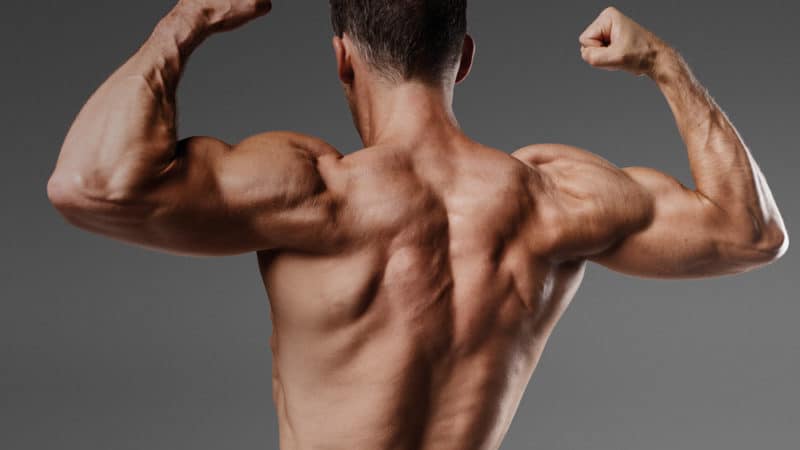 Over the past 25 years or so, I've been practicing sports on a very regular basis. I've tried several different sports, with football and cycling being the main ones in my twenties.
Then, in my thirties, padel became my main focus, with other racket sports (beach tennis, tennis, frescobol) complementing it. Cycling was still present, although mainly as a means of transport.
I've spent a fair amount of time in gyms too, although never on a consistent and serious basis over a number of years. Over the last 3-4 years, however, I've learned a lot about anatomy and proper technique while working with personal trainers during my padel preparation training.
All these activities, together with pretty good genetics, have enabled me to stay in the "above average" section of the population when it comes to fitness.
However, I recently came to the realisation that I have never been fully happy with my body, always missing that extra bit of optimisation and strength.
The Why
The reasons for this project are various, so I'll briefly list them.
The first is that I want to look better. I've always seen a certain imbalance in my body when I look at myself in the mirror, having a strong lower body but a narrow and weaker upper body. It's not just the looks too, strength evaluations have confirmed the imbalance and I want to fix that.
Secondly, I want to be able to move better and be able to perform bodyweight exercises with minimal effort. I'm thinking of pull-ups (can't even do one at the moment), push-ups (managing about 10 on a good day). Then there are the typical yoga-influenced static and dynamic poses; I want to be able to breeze through such a workout without any particular problems. Ultimately, when I look at my young son and his movements, I want to be able to move more like him without any physical limitations.
Thirdly, I want to get rid of certain chronic problems I've had, such as wonky posture and weak ankles.
Fourth, I want to improve my cardio. I've never really had big trouble here, but in the last couple of years I've felt particularly slow and out of breath too easily. No doubt, age plays a role, but it's still too early for it to be the main limiting factor. It's more likely to be that my previous sport, football, provided a much better cardio workout when compared to padel.
The Goal
My main objective is to achieve a more functional, healthier and better-looking body. I still want to continue practicing various kinds of sports and therefore, I need to maintain a lean body without putting on too much bulk.
I would be very happy if the ultimate result is a lean body with great definition, and am less concerned about volume. Strength, mobility and weight control are my main objectives here.
The Method
I really enjoy watching people practicing calisthenics and wish I would be able to perform some of the amazing moves they can pull off. I considered the question of whether to go for calisthenics, Crossfit, or the traditional weights in the gym for this project.
I decided that my best shot at achieving my goal would be to lift weights in the gym.
Firstly, I already have experience of doing that intermittently over the past twenty years, and especially during the past three years while working with trainers and preparing my fitness for padel competitions.
Secondly, the expertise of my friend Andrew, who will be guiding me, lies in natural bodybuilding using gym equipment, and a big part of the reason that I think I can make significant improvements to my body is the trust I have in him and his methods. It wouldn't make sense to try to do something different at this stage if my focus is on building muscle.
Thirdly, I dislike the timed aspect of Crossfit as it frequently leads to injury. I don't need to compete with anyone in this endeavour, and I have plenty of chances to enjoy the spirit of competition through my tennis and padel matches and tournaments. Therefore the group training and culture of Crossfit is surplus to my needs and does not bring me closer to my goal.
Fourthly, while I love calisthenics, the outdoor gyms and bars that are so typical in calisthenics are not available in my area. There are some nice bars by the sea but it's around 30 minutes away by bike and that means I would need extra willpower to even get there, while on the other hand, I have a fully equipped gym right within my building, making that form of training much more accessible. There are several other gyms in the vicinity too if I want to get some variety in machines or just get a change of environment.
I will continue to follow calisthenics top influencers like Frank Medrano and Calisthenic Movement and slowly start to learn some of the basic moves as my strength increases. I am convinced that bodyweight training and calisthenics are better for overall strength and mobility so I hope to get into calisthenics at a later stage.
Complimenting my gym workouts, I will continue practicing various sports, including padel, tennis, cycling, hiking, jump rope, and possibly some running.
I will also be attending postural fitness classes that combine yoga, dance, and functional training.
On the tech side, I will be using the Fitbod app to track my workouts, and I'll also be using an Apple Watch to easily control any music or podcasts that I have playing while I work out.
I find working out fairly boring when compared to competitive sport like padel, so I need to supplement it with listening to a podcast or some motivating music.
The Timeline
I started this process in June 2020, and I intend to see a significant improvement by June 2021.
Update: I achieved a very satisfactory shape by summer 2021, now I need to lose a bit of weight and build up more muscle and strength, so I am switching to mostly calisthenic exercises for the next year.
In early November 2021, I achieved my lowest level of body fat ever. This has been the result of not eating out for a couple of months, no alcohol and following a consistent diet of 2000-2500 calories every day. I've been training consistently as well, but nothing over the top, so I attribute these changes mostly to diet.
I've now switched to bodyweight training and running/jump rope as my main form of cardio. I still play tennis and padel occasionally so that helps the cardio part too. Here's a recommended starter bodyweight routine that you can use if you want to do something similar. I use this is as a reference only, most of my workouts are based on the Fitbod app set on bodyweight training, and I add in exercises that I come across in bodyweight forums, sites or YouTube at will.
I also found a bodyweight training skill tree that awakened the gamer spirit in me. I also use it to challenge myself to learn new skills every week.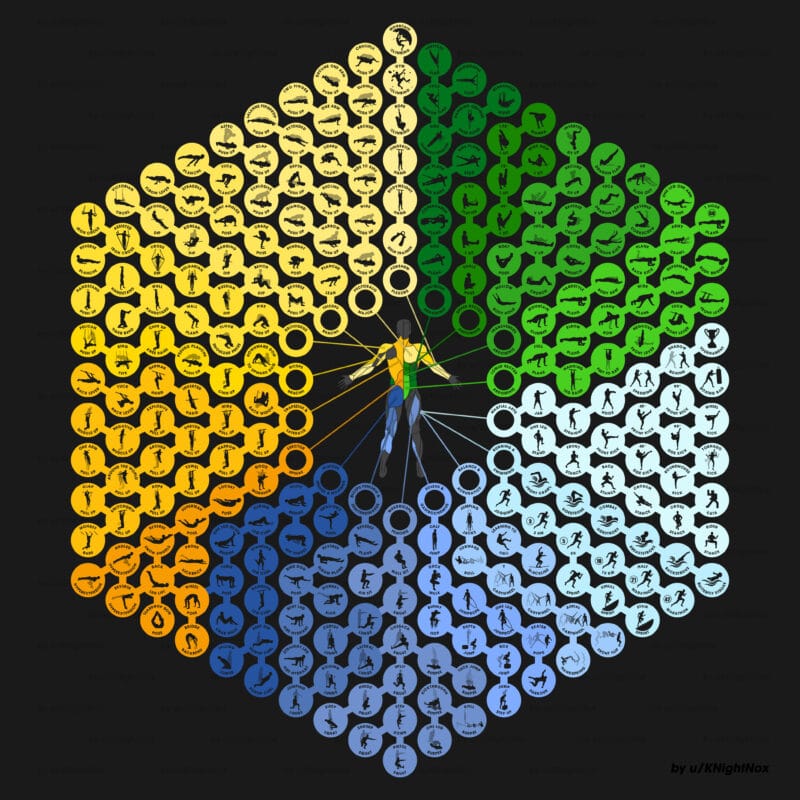 Here's another basic routine that I use for adding skills. This one comes with images of each exercise and I find this helpful as I don't know all the exercise names by heart.
Finally, you can stay inspired by visiting the Reddit bodyweight forum.
Improve Weak Areas in My Body
I have a few areas in my body which I know are weak and underutilized. I will be making a special emphasis on these areas:
Hamstrings
Psoas
Hips and tensor fasciae
Glutes
Back – especially the infrascapular area
Ankles
Shoulders
I have selected a few sources that I will be using as my guides. For overall guidance, my friend Andrew from Mirror Friendly will be helping me out. I will also be furthering my education via these two channels on YouTube:
Further Resources