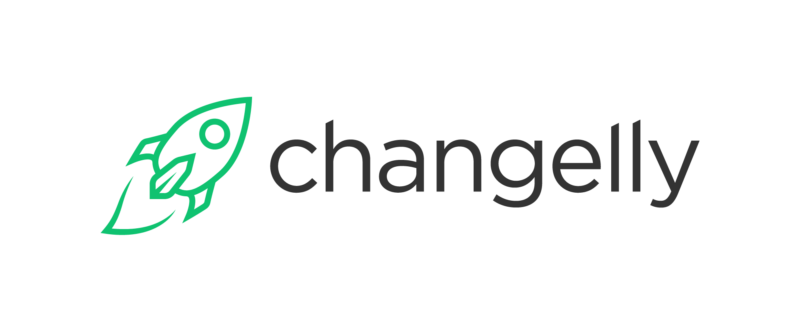 If you're looking for a simple and low-cost way to exchange cryptocurrencies like Bitcoin and Ethereum – you might be considering Changelly.
This popular cryptocurrency exchange offers a good selection of digital coins to choose from and you can easily deposit funds with fiat currency.
Best of all, Changelly will strive to find you the best rate possible when you make an exchange – which it does by algorithmically scanning prices at several third-party platforms.
But, is Changelly the right cryptocurrency exchange for you?
In this review, I cover the ins and outs of what Changelly offers. This includes everything from supported cryptocurrencies, payment methods, fees, safety, and more.
What is Changelly?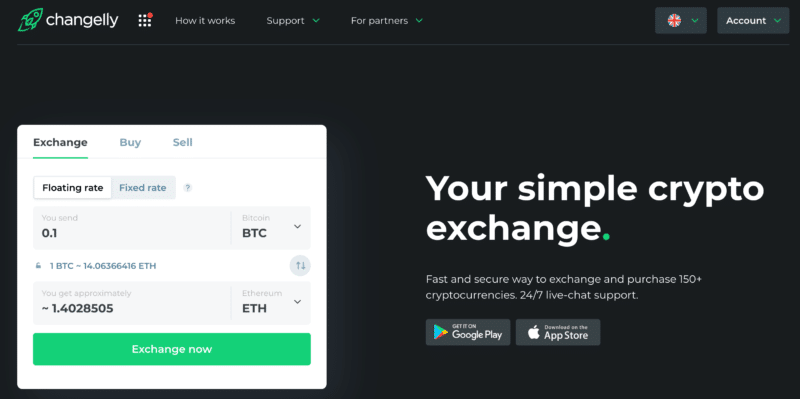 Changelly is a cryptocurrency exchange that does things a little bit differently from the status quo. The main concept of this platform is that it will aim to get you the best price possible when you buy cryptocurrencies. It does this through an in-house algorithm that is able to scan major exchanges in real-time.
After all – and like any financial marketplace, cryptocurrency bid and ask prices can and will vary from exchange to exchange. For example, while Bitcoin might be priced at $32,200 at Binance, over at Bittrex the digital currency might be priced at $32,300.

This is an arbitrary example, but it explains the main concept of Changelly nonetheless. That is to say, when you make a Bitcoin purchase at this platform, Changelly will facilitate the transaction for you by completing it with the best-priced exchange at the time.
How Does Changelly Work?
The exchange process at Changelly is relatively simple. The initial process will, however, depend on whether you already have a cryptocurrency to exchange, or if you need to make a purchase with your bank card.
Nevertheless, the general exchange process at Changelly is as follows:
Step 1: Enter Exchange Requirements
First and foremost, you'll need to visit the Changelly website and enter your exchange requirements.
This requires the two cryptocurrencies that wish to exchange. In the example image below, you will see that I am exchanging Bitcoin into Ethereum. You can change the coin by clicking on the respective drop-down list.
You will also need to enter the amount that you wish to exchange. In my example, I have 0.1 BTC that I wish to exchange into ETH. As soon as you enter a figure, the exchange rate will update in real-time.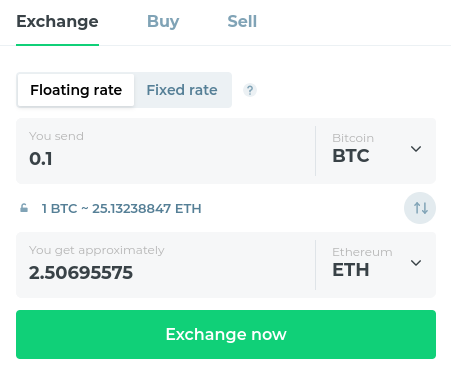 Changelly is telling me that the current BTC/ETH exchange rate is 25.13238847. This means that for 0.1 BTC, I will get approximately 2.50695575 ETH.
There are two things to mention about the exchange rate that you see in the order box. Firstly, this is, according to Changelly, the best exchange rate that it is able to get at the time of the order. As I briefly mentioned earlier, it will obtain the exchange rate from one of its partnered cryptocurrency exchanges – such as Binance or Bittrex.
If you are happy with the exchange rate on offer, you can proceed to the next step by clicking on the 'Exchange Now' button.
Step 2: Review Details and Enter Recevning Wallet Address
Next, you will get to review the details of the exchange you wish to make. It is all but certain that there will be a very slight difference between the price you saw on the homepage and the price you are now being shown. This is just a case of market forces, not least because cryptocurrency prices change on a second-by-second basis.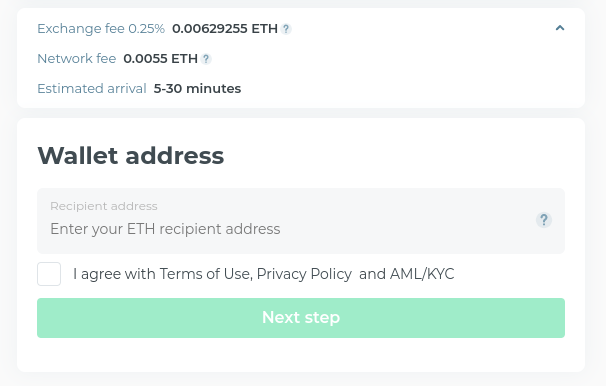 Nevertheless, if everything looks good – you will then be asked to enter your 'receiving' cryptocurrency wallet address. Be very careful here not to enter the address that you are sending the coins from. In my example, as I am looking to exchange Bitcoin into Ethereum, I need to enter the ETH wallet address that I want to receive the coins.
Crucially, and unlike most cryptocurrency exchanges in the online space, Changelly does not offer a wallet of any kind. On the contrary, as soon as it has made the exchange for you, it will forward your coins to the stated wallet address.
Step 3: Sign-in or Register
Once you click the 'Next Step' button, Changelly will prompt you to sign in to your account. If you don't have an account with the provider at this stage, you can open one.
Take note, Changelly is well-known for doing things by the book – meaning that you will be required to provide one form of ID. Unless you are based in Israel, this will need to be a copy of a valid passport.
Step 4: Send Cryptocurrency to Changelly Wallet
Once you have signed in or opened an account, Changelly will then ask you to confirm the transaction one last time. Once you do, the provider will give the wallet address that you need to send the funds to. To clarify, this is the cryptocurrency that you currently have and wish to exchange.
In my example, this means that I would need to send Bitcoin to the BTC wallet controlled by Changelly. This will be a unique wallet address, which allows Changelly to complete the exchange in just a few minutes.
That is to say, as soon as it receives the funds – it can send forward the exchanged cryptocurrency to your private wallet. Once again, this is the wallet address that you provided in Step 2.
Changelly Supported Cryptocurrencies
Changelly offers a good selection of digital currencies – both large and small. For example, if you're looking for large-cap projects – you'll find the likes of Bitcoin, Ethereum, Ripple, Chainlink, and Bitcoin Cash.
You will also find a relatively extensive list of less liquid altcoins – such as Energi, BitDegree, Bitcoin Diamond, Numeraire, and Power Ledger.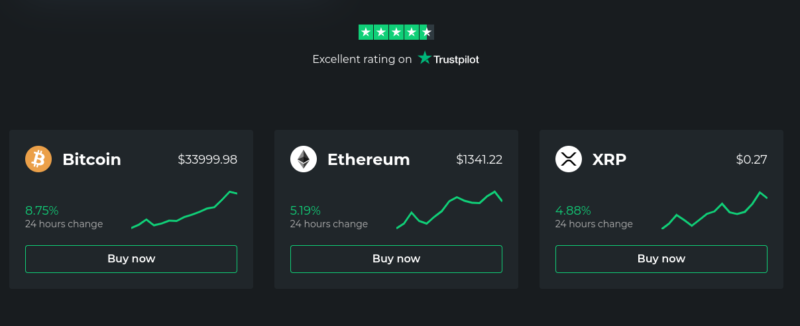 For a full overview of which cryptocurrencies Changelly supports check out the Changelly website.
Changelly Exchange Fees
Like all cryptocurrency exchanges in the online space – Changelly is in the business of making money. It does this by charging a 'mark-up' on the best-priced exchange rate that it is able to find you. This used to stand at 0.50% (which is what most third-party Changelly reviews state).
However, this fee has since been reduced to 0.25%. Whether or not this is competitive is somewhat debatable. On the one hand, there are definitely better commission rates available in the market. For example, Binance charges 0.1% per trade, and with eToro one needs to consider the applicable spread.
With that said, by using one of the aforementioned exchanges, you will only get the price offered by that specific platform. In the case of Changelly, the provider will find you the best rate possible at the time of the transaction.
Ultimately, there is no way of knowing whether the savings you can make by finding the best price outweigh the commission fee of 0.25%.
Changelly Payment Methods
The cheapest way to make an exchange at Changelly is to deposit funds with a cryptocurrency. In doing so, the only commission that you will pay is the 0.25% mark-up that I mentioned in the section above.
However, if you don't currently have any cryptocurrencies at your disposal, Changelly allows you to make a deposit with fiat currency.
Although this might sound convenient, make no mistake about it – Changelly is one of the most expensive cryptocurrency exchanges I have come across when it comes to fiat currency deposits.
Before I get to that, I should also note that the platform isn't overly clear on what it charges on each deposit method. Instead, I had to do a lot of digging to find the information I required.
So, if you want to deposit funds with an everyday bank card, this needs to go through a payment processor that Changelly is partnered with. It is partnered with three providers for this purpose – MoonPay, Indacoin, and Simplex.
If opting for MoonPay, the total deposit fee amounts to a whopping 7.5% of the transaction amount.
Indacoin is even more costly at 10%. Changelly doesn't state the fee when using Simplex.
Without a doubt – there are much cheaper options in the market if you wish to use your debit card to buy cryptocurrency.
Even Coinbase – which is costly at 3.99%, is cheaper.
With that said, Binance charges 2% on debit and credit card deposits.
However, eToro doesn't allow you to withdraw your cryptocurrencies out, the provider wouldn't be suitable if you are planning to then go and use Changelly with your newly purchased coins.
The other fiat currency deposit option that you have at Changelly is a SEPA bank transfer (Europeans only). This, however, also attracts a highly unfavorable commission at 5% of the transaction amount!
With this in mind, you might want to reconsider using Changelly if you want or need to use a debit card or bank transfer to deposit funds.
Is Changelly Safe?
First and foremost, Changelly isn't a regulated cryptocurrency exchange. This isn't a major surprise, as most platforms in this industry operate without a regulatory license. Crucially, there is, of course, an element of trust that needs to take place when you use Changelly.

After all, you will be required to deposit cryptocurrency into the provider's wallet before you receive your coins. The good news is that once the transaction is complete, the coins are sent straight to your private wallet. This means that there is no longer a requirement to trust Changelly.
Changelly Review: The Verdict?
In summary, I found that Changelly comes with both its pros and cons. In terms of the positives, the platform offers a simple and innovative way to exchange one cryptocurrency for another. All you need to do is deposit the funds into the wallet address provided, and Changelly will take care of the rest.
Perhaps, the biggest attraction of using this platform is that Changelly will strive to get you the best price possible on your chosen cryptocurrency.
See also: The best crypto trading apps
It does this through its in-house algorithm that will scan real-time prices at some of the largest cryptocurrency exchanges in the space. In return for this, you will need to pay a mark-up of 0.25% – which is reasonable.
On the flip side, Changelly is disappointing when it comes to fiat currency deposits. As I discussed, the minimum commission on debit card deposits is 7.5%, and SEPA payments will cost you 5%. Ultimately, if you do decide to use Changelly, it's best to do so once you already have cryptocurrencies to hand.