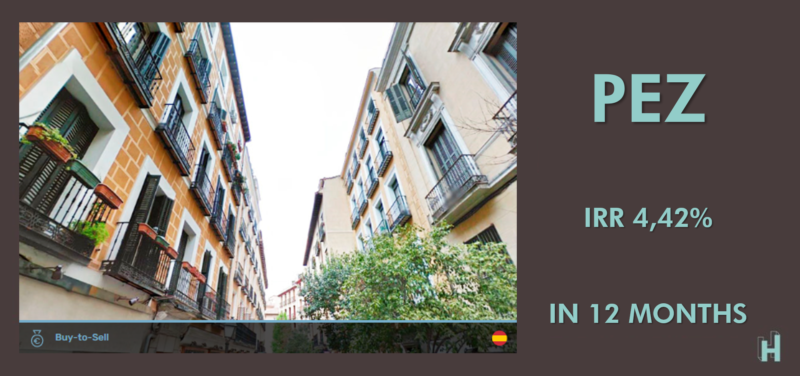 One of my favorite ways to invest in Spanish real estate is through Housers. In this post, I will give you an example of a success story from my portfolio.
We'll be considering the project named Pez; a buy-to-sell opportunity in Madrid. In this case the legal form of the investment was a loan to the developer.
Here's how the project timeline went:
I invested on 22/06/17, the day the funding period started.
The project was fully financed on 11/07/17.
The property was acquired on 02/10/17.
Refurbishment works started on 20/10/17 and completed 20/02/18.
The project was finally sold on 05/07/18.
Project fully finalized on 25/07/18 and money sent to investors.
The visual information provided for the project was actually quite scant. As investors, we only got a few standard photos of the area where the apartment is located, the floor plans and two renders of how the refurbished apartment would look like.

We did, however, get some PDFs about the project which gave us more insight into the strategy:
Based on that information I decided to invest in the project, although I would have liked some more photos and plans for the project.
A bit more than a year later, the project was sold.
Once the project was sold, there was some more information available about the internals of the project.
Average investment per investor: 213.65€
Number of investors: 412
Pez was a buy-to-sell opportunity with an expected return of 6,59% in 12 months, that ended with an annualized IRR of 4,42%. The yield is the same 4,42% since the project took 12 months from start to finish. 
Net Yield from the Sale: Represents the dividends that the investor will receive derived from the sale. (12 months)
IRR: Internal rate of annualized return of the investor. It's the interest rate or yield offered by this investment. It serves to evaluate the profitability of the project and compare it with other types of investment in the market.
A few days after the project was sold, I received capital and interest in my Housers account, closing off a successful investment.
From the interest paid by the developer, a 10% Housers commission was deducted along with 19% for IRPF (Spanish tax). The net interest was then sent to my account.
Have you invested with Housers yet? What has your experience been like?