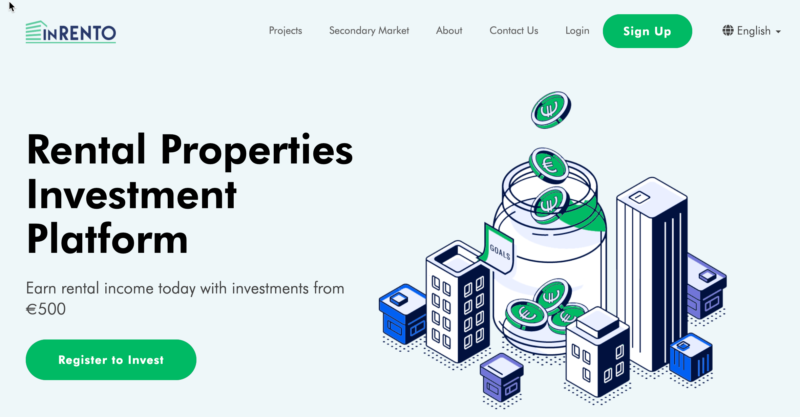 InRento is a buy-to-let property crowdfunding platform that allows users to invest in carefully curated rental properties in the rapidly growing property market of Lithuania.
InRento's founder is Gustas Germanavičius, a Lithuanian serial entrepreneur.
I recently had the pleasure of chatting with Gustas on my podcast, where he explained that InRento was born out of the need to tap into a gap that he identified in the European real estate market.
According to Gustas, there are many platforms that offer higher-risk property crowdfunding and development deals, but many investors have started to shy away from risky investments. When we look at the lower-risk end of the spectrum, we find that there aren't many investment opportunities available through online platforms. And that's where InRento comes in.
InRento offers lower-risk real estate crowdfunding opportunities for those investors who are primarily interested in rental properties rather than in the more popular yet higher-risk development loans platforms.
Read more: The Best European Real Estate Crowdfunding Platforms
These investors seek reliable, no-fuss returns on their investments, and are not so much concerned about capital appreciation as they are about the passive income potential of rental properties.
In an age of bank savings accounts giving us no returns (or even negative returns), it's important to seek investment opportunities that will give us some yield while protecting our principal. In other words – alternatives to bank savings accounts.
In this review, I will first show you how to sign up as an investor on InRento, followed by how to make your first investment.
I will then talk about some important points about the platform and give my final opinion.
Setting up an Investor Account
At registration, you are prompted to sign up as either a private person or a company. In order to register as an investor, you need to be at least 18 years old and have a bank account, which is standard practice.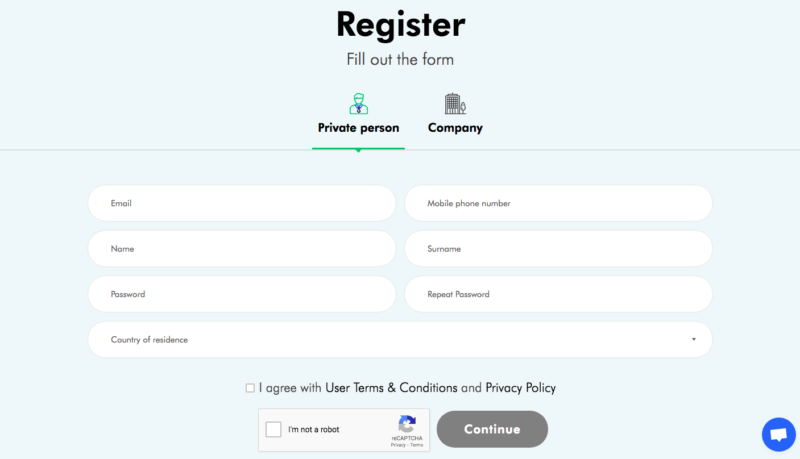 Once you create an account you will be taken through the identity verification process. In this respect, inRento uses the services of Ondato, a third-party verification provider founded by Lithuanians in 2018 and headquartered in London. Ondato specializes in helping businesses stay compliant with KYC, KYB and AML rules.
In the next step, you are asked to approve consent for personal data processing.
Next up is identifying yourself where you are asked to take a webcam selfie.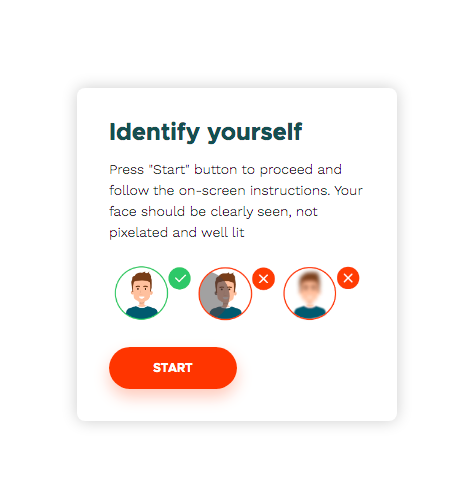 In the next step, you are asked to upload a photo of your passport or ID card. I chose to upload my passport photo.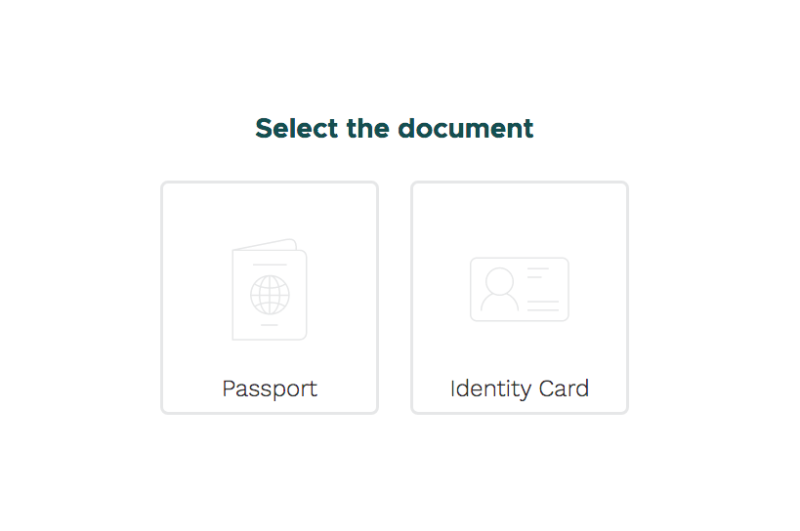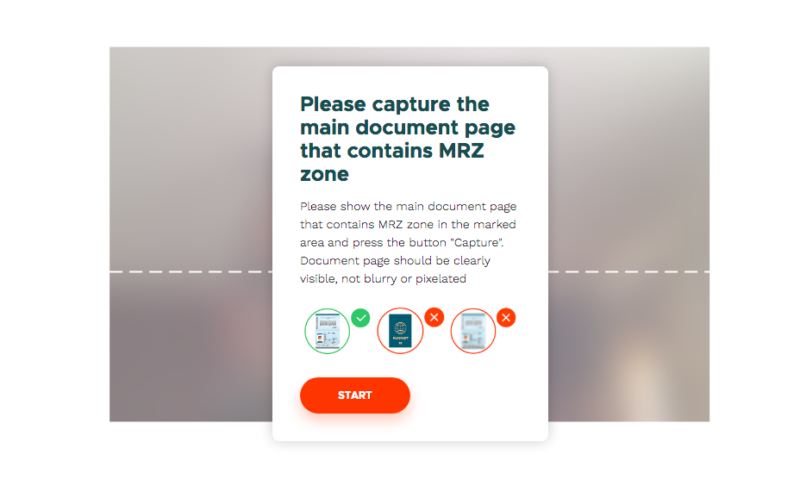 The system will immediately inform you that your identification is being checked while it shows you a countdown timer of around 120 seconds. My identity was successfully verified within a minute which I found to be very efficient.
You are then led to your account menu where a red exclamation mark serves to remind you to link your Paysera account.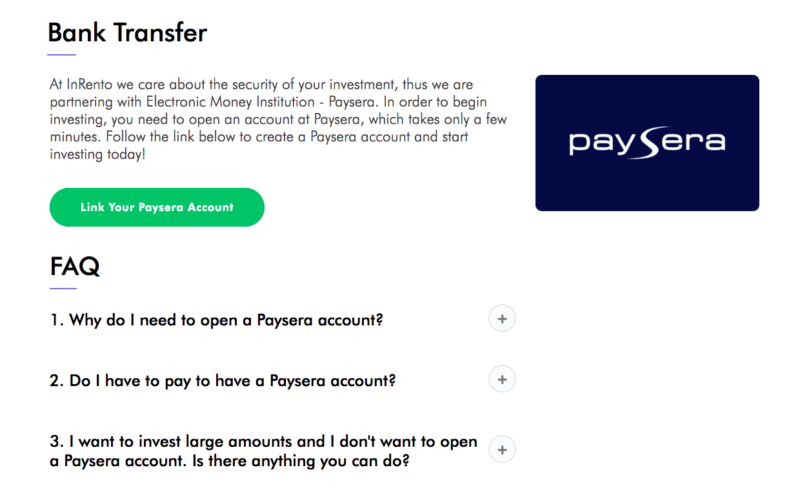 Opening a Paysera account is free of charge with inRento bearing the transaction costs that are required in order to execute primary market investments. There is however one exception to this requirement, that is applicable to large investors planning to invest more than €100,000.
Once your Paysera account is linked up, you will be able to start investing from the amount deposited in your Paysera account. Any rental income received is also deposited to your Paysera account which facilitates fund management.
In order to invest in a project, you will need to head to the 'Projects' menu where you will be able to see all the project listings at a glance, both the funded ones and the ones which are still open to further investment. Upon clicking on a listing you will be directed to a dedicated listing page.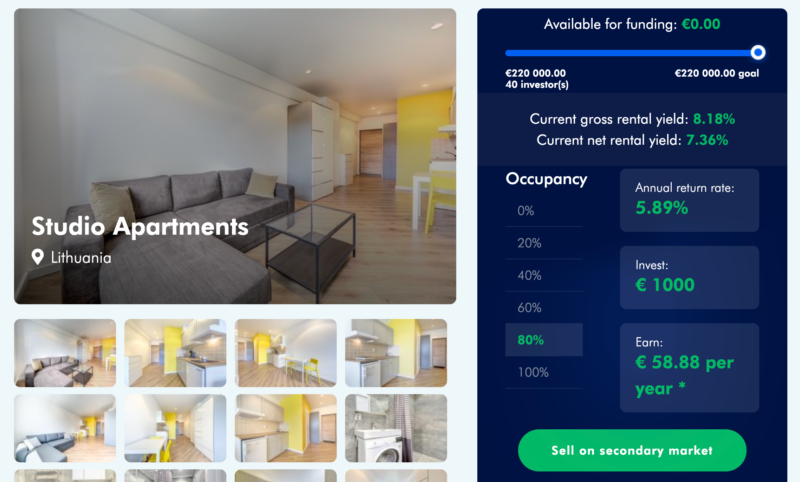 On the dedicated front page of every listing, you will find various photos of the property in question together with an occupancy calculator showing a number of relevant financial indicators, such as the remaining amount available for investment, a countdown timer for investing, and yield rates at different occupancy levels. I particularly like the yield rate calculator, as it allows me to make my own calculations rather than being idealistic scenarios pushed to me by the platform.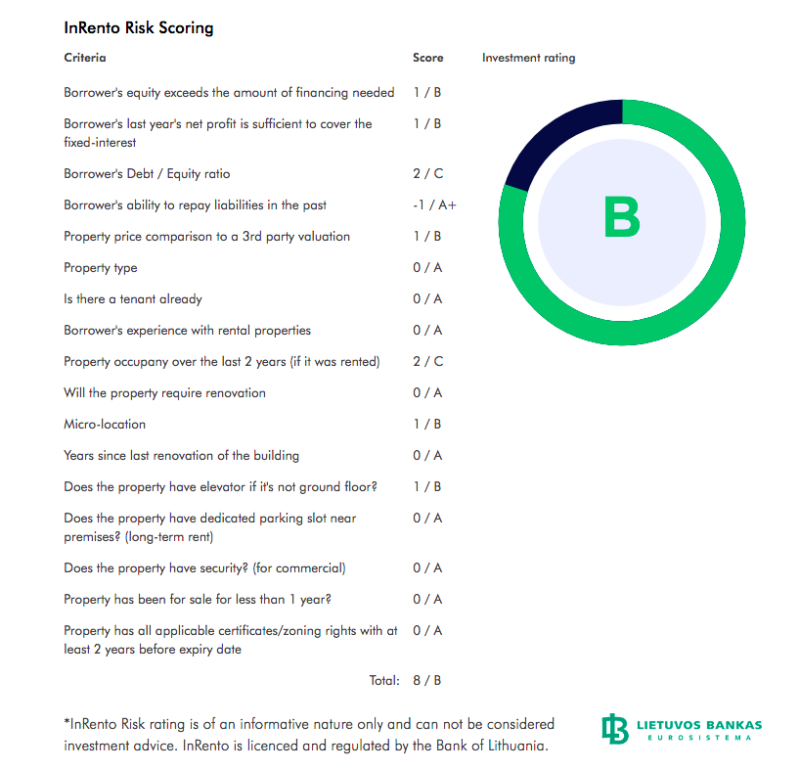 Each listing has 3 sub-categories – namely 'Description', 'Documents' and 'Project News':
The 'Description' category sets out a comprehensive description of the project and includes the following information:

nature and timeline for the current rental contract in place
timeline of the project in terms of minimum and maximum terms
gross and rental yield information
statistics relating to the underlying rental market
reasons for investing in the project
the % split of rent between investor and borrower and frequency of rental payments
information relating to vacant property scenarios and the fixed level of income investors would receive in different scenarios
information on the borrower
information relating to capital growth split upon sale of property
key risks of the investment
inRento's detailed risk score rating
In the 'Documents' category, one will be able to access PDF copies of official signed documentation relating to the underlying agreements on the property in question and the mortgage. The documents were written in Lithuanian and upon reaching out to customer support to check whether a transcript could be provided, I was answered in the negative and advised to use onlinedoctranslator.com to this effect. This could an area which InRento could improve upon in the near future.
As the name implies the 'Project News' category lists any relevant news pertinent to the property. In this case this category included a dated news item relating to the issuing of the mortgage and timing for rental payments to kick in.
In order to invest in a project, you simply need to click on the Invest button.
Apart from the translation issue, I found the information provided to be quite comprehensive in helping an investor to take an informed decision.
Portfolio dashboard
Once you have submitted your first investment you will be able to see a summary of your portfolio within a dedicated sub-menu.

The portfolio dashboard provides a snapshot of the investor's account value, net annual returns and monthly earnings. From the dashboard, one is also able to deposit further money and view all past transactions.
Why are InRento Properties Lower Risk?
First of all, InRento has a very experienced team of licensed investment advisors from Lithuania with a reputable track record in asset management and real estate. This ensures that the selected properties have been duly analyzed by multiple experts in the field and deemed to be solid bets.
Secondly, they are properties that are already generating income and have a track record in doing so. They are located in good areas within a local real estate market that is trending upwards for the foreseeable future.
What is InRento's Business Model?
InRento acts as a bridge between property rental administrators who require capital to purchase rental properties and investors who are after earning passive income from rental properties backed by mortgage security without necessarily investing large amounts. The bottom line is a monthly flow of rental income which is shared between the rent administrator i.e. the borrower, and the investors on the platform whose invested amounts are pooled in the form of a loan to the borrower to acquire the said property.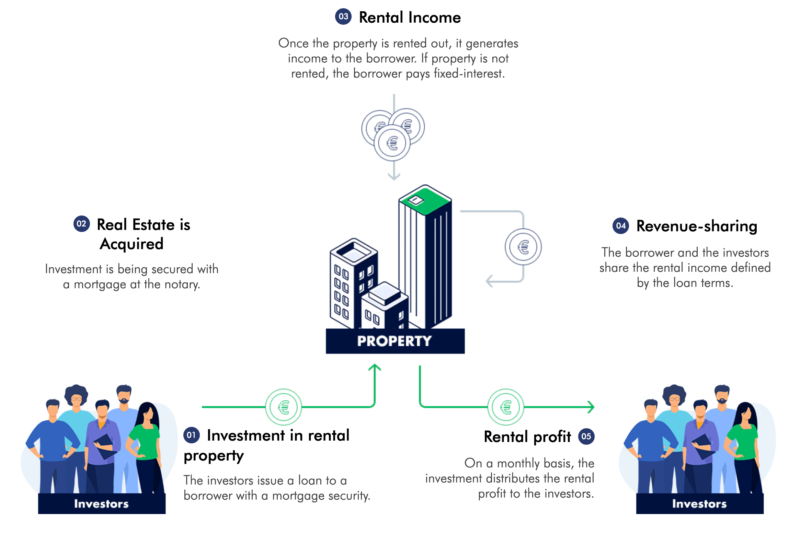 Thus on one side of the spectrum, you have InRento, actively sourcing and vetting a pipeline of deals and their underlying borrower before presenting validated ones as projects on the platform, and on the other end the investors who can pitch in their invested amounts starting from a minimum of €500 per project. Each property has a target amount of total funding to be obtained by a set deadline. Once the total amount of required funding is reached, the investors will start receiving a portion of rental income in line with the proportion of their investment.
If on the other hand the total amount of required funding for the property in question is not collected from investors in time, all the collected money in the interim is returned to the investors.
Occupancy of property, net rental yield and value appreciation
Since the investments are structured as loans, the rental income is structured as partly fixed and partly variable. When the property is 100% occupied by tenants, the monthly rental income would be typically split 80%/20% between the investor and the borrower respectively. If on the other extreme the property would be fully vacant, the borrower will be obliged to pay the fixed interest rate.
Let's take a look at this example:
Loan value: €100,000
Monthly rental income at 100% tenant occupancy: €1,000
Fixed portion of monthly rental income: €600
At 100% occupancy: investors receive €800, borrower takes €200
At 0% occupancy: investors receive €600 (all paid by borrower)
At 80% occupancy: investors receive €600 (fixed portion) plus €160 (80% of the balance of €200), borrowers receive €40 (20% of the balance of €200).
Furthermore, while every project comes with its own specific terms and conditions, generally the longer a property remains vacant, the higher the fixed interest rate will grow such that the investor will receive the minimum rental yield stipulated at the time of investing. For example, the only open project currently available at time of writing stipulates a net rental yield ranging from 1% per annum at 0% occupancy and 7.36% per annum at 100% occupancy.
In vetting potential projects, InRento favors those with multiple tenants more than the ones with single tenants. The reason is that the more tenants there are, the lower the exposure to vacancy risk. Thus, InRento's philosophy for the first 10 projects is to only take on loans for properties that already have at least a single tenant. By doing so, investors will be able to accurately predict what the net rental yield of the investment will be. The higher the yield, the higher the potential to reduce the price for the upcoming tenants in order to rent out the asset more rapidly.
In terms of capital appreciation of the property, should the property be sold at a higher value than the cost at which it was purchased, 50% to 70% of the capital-growth share would also flow to investors, with the balance being shared between the borrower and InRento. This would be an additional return over and above the net rental yield in the year of sale.
With the above considerations in mind, it becomes clear that the InRento business model is based on incentivizing the borrower to produce the highest possible return. The higher the return is for the investor the higher it equally is for the borrower.
The revenues for InRento come from the following:
commission on the total funds collected for a project
commission on every sale affected in the secondary market
share of appreciation amount on the resale of the property
late payment fees and contract termination fees payable by borrowers
A Look at The Projects Available
Further to their platform's launching in November 2020, InRento has listed 3 projects, 2 of them being commercial properties and another residential one. All the 3 projects are located in Vilnius, the capital city of Lithuania.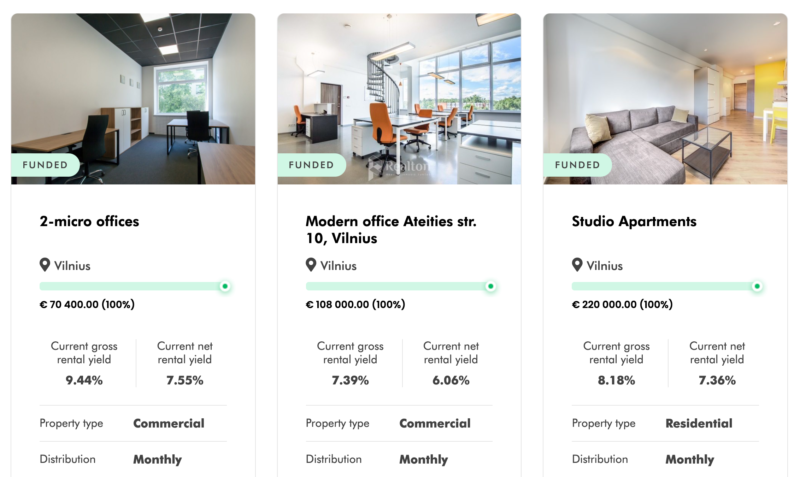 At the time of writing all 3 projects are fully rented out with the 2 fully financed ones currently providing a timely and steady flow of rental payments to investors. These projects have so far attracted €353,400 from 71 investors over a total value on offer of €398,400. The total number of loan applications received thus far is 15 and the average number of investors per project is 22.
Upon scanning through the photos presented on the platform the 3 properties look modern and neatly designed in a minimalistic fashion. From my experience visiting the Baltics on numerous occasions, the projects on offer live up to Baltic standards which are relatable at large to the Nordic ones in terms of interior design, with the added benefit that on the southern part of the Baltic Sea property is way cheaper than on the northern side.
InRento's short-term goal is to continue growing in Lithuania and within 18 months scale up its loan offerings on a pan-European scale. In fact, over the coming year, InRento is planning to offer investors deals in 3 to 4 countries.
A closer look at the 2 funded projects and the 1 which remains open for further funding unwraps net rental yields at 100% tenant occupancy ranging from 6.06% to 7.55%. I believe this is a satisfactory range of returns considering the generally low levels of risk involved (more about risk and security later on). The current average net rental yield is 6.99%.
Is InRento Regulated?
InRento is authorized and regulated by the Bank of Lithuania and operates under the regulations of crowdfunding operator activities.
In fact, while the implementation of a new framework to regulate crowdfunding platforms across Europe is still work-in-progress at the EU level, Lithuania is one of the few EU countries which already has its own framework in place. This allows for enhanced peace of mind from both the investor's and borrower's point of view.

In addition, since inRento is regulated by the Bank of Lithuania it has to abide by strict share capital regulations. In the worst-case scenario, if InRento were to go bankrupt, it would be sufficient for a contractual entity to be appointed to service the claims between the investors and borrowers. I've gone through such a winding down process with Lendy, a UK platform that went bust a few years ago, and it's been a very orderly process with no drama at all. This shows that once proper regulations and processes are in place, the platform risk for investors is greatly decreased.
Contrary to neighboring Latvia, and even Estonia, Lithuania has been very conservative from a regulatory aspect, and this offers an extra layer of assurance to investors who have been burned by scam platforms from Latvia and Estonia. That's not to say that any platform from these two countries is dubious or is a scam, but as investors, we should welcome regulation and favor platforms that operate within more stable frameworks.
What is InRento's Financial Health?
Another point of comfort from an investor's point of view is that InRento is backed by institutional investors. The platform has raised an initial €130k from Wise Guys Venture Capital Fund and business angels which will be funneled towards developing the platform. Startup Wise Guys is an international institutional investor which has already invested in other well-known real estate crowdfunding platforms such as EvoEstate and EstateGuru. Moreover, they have also been recognized as the best venture capital fund in Central and Eastern Europe (CEE) in 2019. Another listed institutional investor on inRento's website is Verslo Angelu Fondas II which is one of the leading venture capital funds in Lithuania with a proven track record.
Investor security
A primary concern that an investor has when investing in a loan is the creditworthiness of the borrower. In this regard, when receiving loan applications InRento performs due diligence on the borrower in terms of his or her experience in the real estate market or administration of rental property, the borrower's reputation including any existing liabilities and disputes or other factors that may impact the successful outcome of a project.
On this point, I interestingly noted how the 3 projects listed to date have a common borrower in the name of UAB Real Assets which is identified as a newly established legal entity serving as a special purpose vehicle to provide increased security for the investments on InRento. This further proves InRento's prudent appetite for risk.
InRento analyzes the location of the asset and favors those in prime areas with a large count of transactions so as to reduce the level of vacancy risk. Additionally, the general asset condition is reviewed in determining whether it needs significant investment in renovation during the loan period. Consideration is also given to the difference between the acquisition cost and an independent third-party valuation in taking a decision.
As mentioned earlier, each loan is backed by mortgage security. In the case of a borrower default (which so far has not risen), InRento will take all the necessary measures to to protect investors and if needed enforce the mortgage and repossess the property.
Investor money is also handled in a risk-averse fashion. In fact, prior to investing on the platform investors are required to open a Paysera account where the investor funds are separately held. When a user decides to invest in a project and submits funds accordingly, the funds are held in an escrow account and only released to the borrower when a mortgage is secured. While this may present itself as a disincentive to prospective investors when one considers that such a requirement is not common on other crowdfunding platforms, for example in the neighboring Baltic states, it does serve as an extra layer of security for the investor, particularly in the light of the previously mentioned scams and bankruptcies of lending platforms in Latvia and Estonia.
Another security feature offered by InRento is the provision of two-factor authentication through Google Authenticator which protects investors from unauthorized account access.
Liquidity
InRento provides access to its own secondary market where investors may sell their stakes or acquire others which may become available from other investors at a premium or discount. This provides added liquidity to an investor's portfolio in the event of an investment not meeting his or her expectations or should the investor require cash.
As expected, given the low number of funded deals to date there were no listings on the secondary market menu at the time of writing.
Taxation
With the exception of Lithuanian resident investors, individual investors are subject to a 15% withholding tax on the earnings from interest.
This tax is then forwarded by inRento to the Lithuanian tax authorities. Depending on the residence of the individual investor, he or she will then need to check with local authorities on whether this tax is final (which would be the case where double-taxation treaties with Lithuania are in place) or otherwise pay additional tax on the receivable income in the country of residence. For EU residents this should likely prove less problematic than for non-EU ones who may find it difficult to recover this money particularly when it comes to small amounts.
On the other hand, Lithuanian resident investors will receive the full rental yield and are thereafter required to declare this income separately on their personal tax return.
No tax is withheld in the case of corporate investors. This makes it easier to invest through a corporate structure, in a similar way that I detail in my post about tax strategies in Europe. 
Website
The website has a clean interface and is generally user-friendly with a dedicated FAQ section. Users are able to switch the website content between English and Lithuanian, with one exception in terms of the aforementioned official signed documentation backing the project listings.
The front page menus are split between the header and footer. In this respect, I thought that the way the menus are organized could be somehow polished up to allow for smoother navigation. For example, the 'FAQ' section is currently located within the footer whereas I think it would be better suited as a sub-menu under the 'Contact Us' menu within the header.
The website contains a blog section that has been kept updated on a monthly basis since the platform launched in November 2020. This shows a consistent level of activity which is always a positive indicator.
Fees
Investing in a project is free of charge. When operating within the secondary market, there is a 2% fee on the principal value of investments sold.
Customer support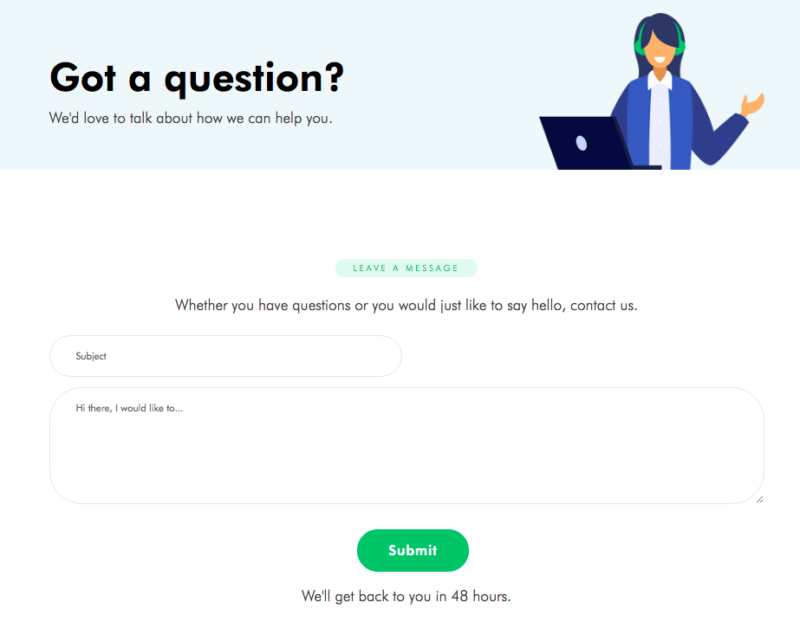 The website offers support via email and upon sending a couple of queries through I was attended to within a mere few minutes.
My thoughts on InRento
Having spoken with the founder of InRento and analysed this platform, I am confident in this platform and I also think that the InRento team can do a great job at curating rental properties.
During a time where placing one's trust in platforms and their projects is becoming ever so harder, inRento can assist inexperienced investors by providing several layers of added security. As such, while I still recommend that you do your own research before you make any investment decision, I think inRento is an ideal place for all types of investors to earn passive income at relatively low risk.
Summary
While the platform is one of the newest in the real estate crowdfunding and lending space, the team behind it has a lot of experience. The website is well built and all information is presented clearly, while the proposition offered by InRento is also quite unique and therefore I would recommend the platform within a diversified real estate portfolio.
Pros
Experienced team
Well-built website
Unique offering of low-risk rentals in Lithuania
Cons
Very limited track record since its a newer platform