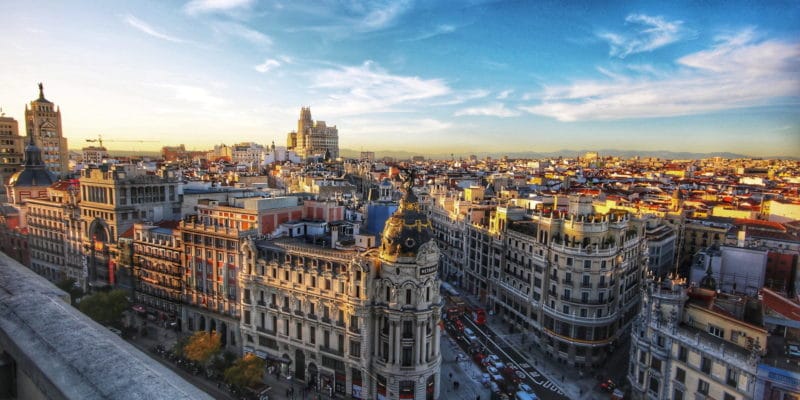 Spain always has a healthy property market, despite some ups and downs. It's probably the best place to live in Europe if you value quality of life, and there is a healthy influx of expats who want to own good properties in the peninsula.
Real Estate crowdfunding platforms, therefore, fit perfectly in the scenario that is developing. They allow small investors to participate in the real estate market by pooling investors' money to purchase property that is later resold or rented out.
In 2008 Spanish real estate took a big hit in the well-publicized crisis, wiping out many people's investments when the bubble burst and decimated the value of properties countrywide. Some areas were worse hit than others, but prices were down throughout the country.
Since 2016 we are seeing strong signs of recovery, and the purchase prices of properties in the big and affluent cities (Madrid, Barcelona, Valencia, Palma de Mallorca) have now reached pre-crisis prices. Rents are also strongly climbing, making it altogether a great time for real estate investment. Of course, we need to be careful to avoid another bubble, but that's another discussion altogether.
Crowdfunding in property involves a number of investors pooling their money together to purchase a property. The crowdfunding platform usually manages the refurbishment and eventual rental of the property and takes a cut for this work. There is also a target date for the resale of the property. As investors, we are therefore looking for rental income as well as a profit on the growth of the value of the property.
Here are my top favorite platforms that operate in Spain:
I am using practically all the major Spanish real estate crowdfunding platforms as they're all a bit different from each other. In general, it's also a good idea to diversify across multiple platforms to protect against platforms going out of business, although that has a low probability. What's more probable is that a platform gets greedy and forgets to do proper due diligence on new projects, as happened with Housers, which had started off well but ultimately became a marketing machine sucking in the money of new investors with zero knowledge of the property market.
From the tax perspective, earnings are based on the Savings tax bands in Spain:
19% for €0 – €6,000
21% for €6,001 – €50,000
23% for €50,001+
As a beginner investor, you will most likely fall into the 19% tax bracket, and the property platforms will automatically deduct the tax from your returns. This is called a retención in Spanish. You will still need to declare these profits in your annual tax return (IRPF). The platforms mentioned in this article all provide documentation showing what you earnt and what retentions they made.
Both new and pre-owned properties are liable to another tax called Actos Jurídicos Documentados (AJD) (Stamp Duty), which represents 1% of the deed price of the sale, plus another 1% of the mortgage. You will have to keep these in mind as well as possible cuts on your final return.
Let's move on to exploring these platforms then.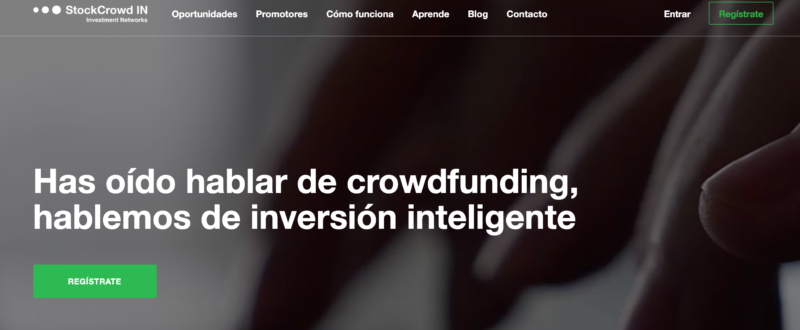 StockCrowd IN is the best platform in Spain at the moment and I really like the interface they provide. Unfortunately, it is currently only available in Spanish, although they might accept investors from outside of Spain.
This is a platform on which traditional property development businesses can advertise their new and upcoming projects and obtain funding from investors.
Here is one project I'm invested in. It's based in the Diagonal Mar area in Barcelona. I invested in this project as I know this area very well and I know the potential it has with expats since it's an up-and-coming neighborhood with high-rises and is very close to a big shopping center and of course the famous Barcelona beach.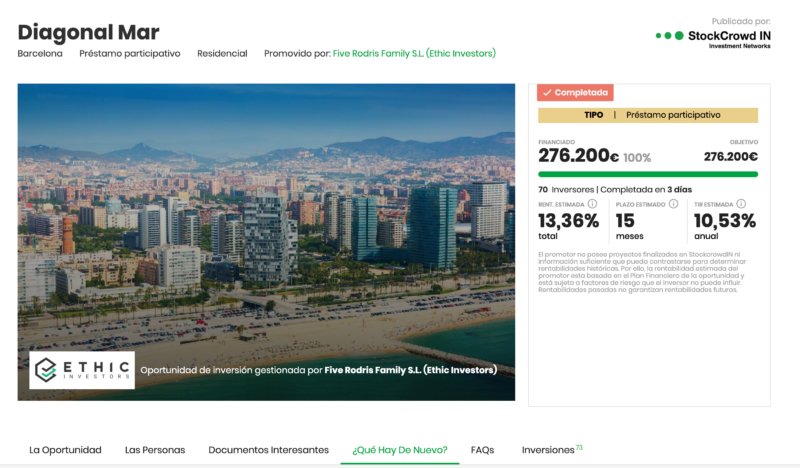 As you can observe, the developer is Ethic Investors, and the projected return is 10.53% within 15 months. So far things have progressed as planned for the refurbishment, and it will be interesting to see how long it takes to sell this property given the current global situation which is not looking that good at the moment.
So far none of the projects I invested in have completed, so I cannot tell you whether this is going to be a success or not, but the platform itself has a lot of things that I like. The interface is easy-to-use and all information is presented in a clear manner. The updates for projects have so far been quite satisfactory, with photos showing the latest state of the refurbishments and a short message detailing what's next.
The website is only available in Spanish at the moment, so you'll have to rely on Google Translate unless you speak Spanish (I highly recommend you take a look at my post on learning languages).
Reinvest24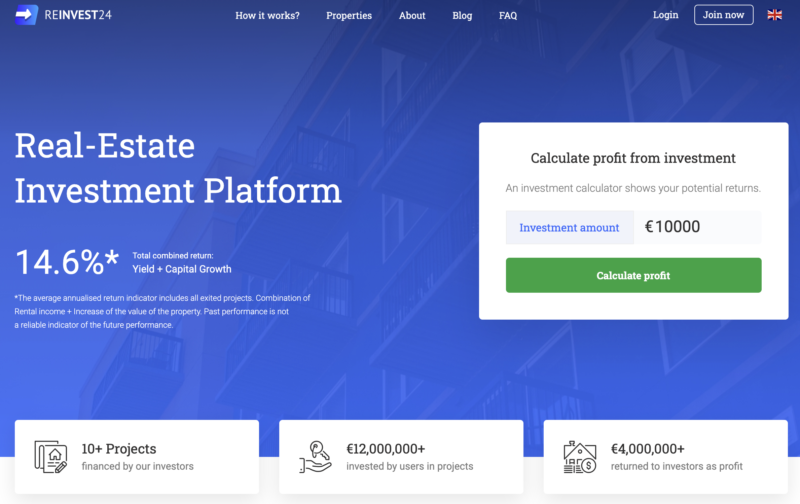 After having invested in this platform early in 2019 and speaking with Tanel Orro (CEO of Reinvest24) on my podcast I can safely say that it's one of my favorite real estate platforms. I like their approach of being cautious and very transparent with their investors.
Whereas other platforms publish risky loans indiscriminately at times, Reinvest24 are focused on projects that return interest over their lifetime. Their idea is to obtain real estate at very good prices, do some great refurbishing and then rent it out for some sweet monthly returns.
I would especially recommend such a platform to someone who wants to build a monthly passive income stream that can fully or partially sustain one's lifestyle, which is what has popularly come to be known as financial independence, and closely linked to the FIRE (Financial Independence, Retire Early) movement.
All the projects I have invested on with Reinvest24 have exited successfully, and I look forward to continuing to invest on this platform. Moreover, they have kept their promise of launching the secondary market in 2020, thus increasing liquidity options for existing investors.
While Reinvest24 started off focusing on Estonian projects, they have now started to expand beyond, offering projects also from Latvia, Moldova and Spain.
Their interest rates are pretty fantastic, with plenty of projects offering rates of around 15% and just 6 months duration, so you won't be tying up your money for a long time.
Brickstarter is a startup from Valencia that focuses on vacation rental properties. These have become immensely popular in cities like Valencia and Barcelona, and the returns they provide tend to be very juicy.
Although I know some friends who have already invested, I'm biding my time before investing on this platform in order to see how the tourism industry recovers from the Coronavirus crisis.
Check out my interview with the CEO of Brickstarter Jose Maria Pascual for more information on Brickstarter.
As a website, there is much to like on Brickstarter, and it's also available in flawless English, so it's ideal for the international investor. Once tourism recovers, this should be one of the best performing property crowdfunding platforms in Spain. I have always liked the idea of owning vacation rental properties, but I definitely don't fancy the idea of owning directly as I dislike dealing with tenants and the day-to-day operations of such properties. Brickstarter solves that property for me.
Other Platforms
I am constantly keeping an eye on any other platforms that launch, and will test them and then write about them on my blog. One which I would suggest avoiding for now since it's not licensed is PropCrowd. It's still early days though so I will write about the platform while I have some results to speak about.
Hope you found this post helpful. Keep in mind that these platforms are also open to investors that are not resident in Spain, so if you love Spain and believe that the property market is going places, you can also get a piece of it by investing in these platforms. You will need a NIE (Numero de Identification de Extranjeros) which you can obtain from the Spanish embassy in your country.
If you're new to real estate crowdfunding and want to get a taste of how things work, I highly recommend you start with StockCrowdIN. It has a minimum investment level of just €50 and it also has the most diverse list of properties, so you can really understand how all the different options work.
Note that none of these platforms guarantee any returns nor the safety of your investment. Theoretically, you could lose your money, so make sure you educate yourself before committing to any investment.
If you have any questions about crowdfunded property in Spain go ahead and leave a comment below.
What Returns Can You Expect from Spanish Real Estate?
I've been investing in Spanish real estate for the past 6 years with good results, although the market has been slow in the last few years
A question a lot of you ask me is what kind of returns can one expect from investing in real estate in Spain, in whichever way you choose to do so. It's a bit of a generic question, however, we do have Idealista's statistics that we can refer to.
According to one of the latest industry prospects articles from Idealista, in 2008, the lowest point in the past decades, the return was 2.8%. From then on things started looking brighter and brighter, with returns rising to 4.6%. However, over the past year the returns have gone down again, due to various factors including several elections and the Catalan independence crisis.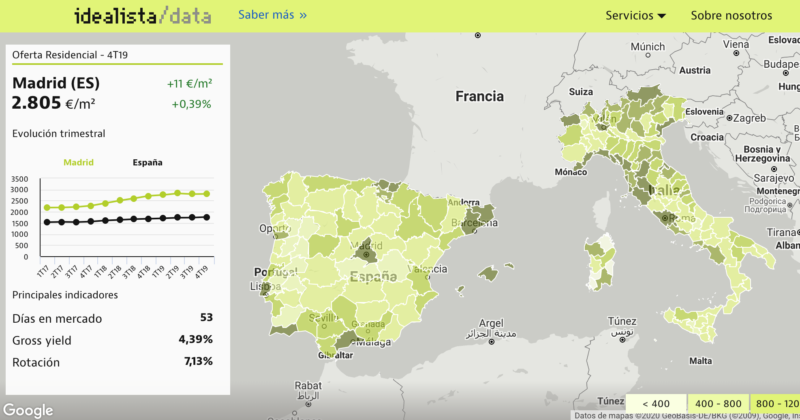 As of September 2019, the return is 3.8%, which is still a decent return on your money, especially if you invest in a passive way, as I've been doing through the crowdfunding platforms.
I would recommend being wary of loan deals, as things can easily get delayed due to bureaucracy or other reasons, leaving you uncertain about the date when you will recoup the investment, and no easy means to exit.
If you invest in a building that needs to be refurbished and sold again, you won't have it as easy as it was a couple of years ago, precisely because the market has slowed down.
The luxury market shows no signs of slowing, largely because it is not very elastic. It would be a good way to invest in Spain at the moment, in my opinion.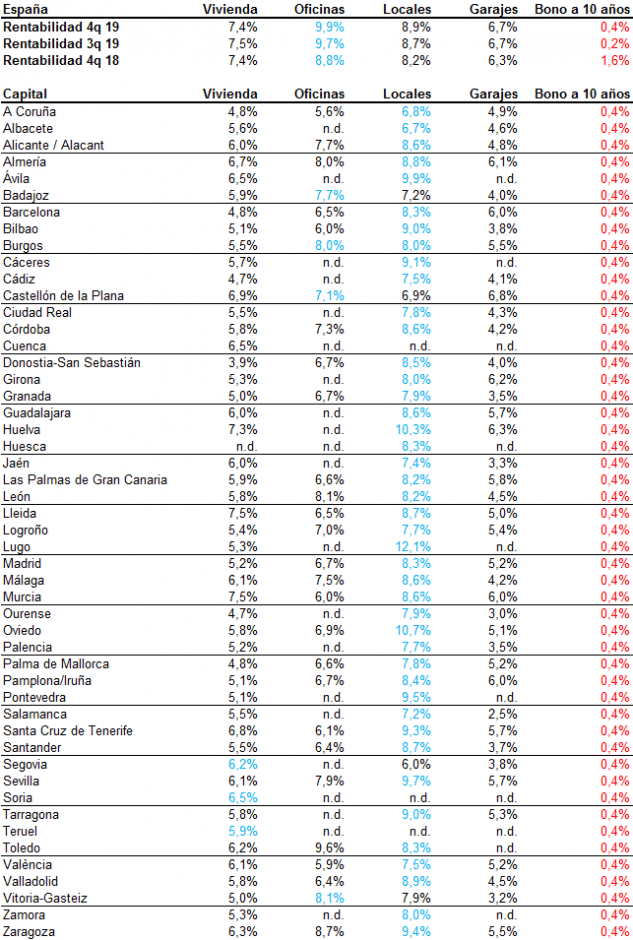 Rentals, despite controversial rent controls being approved in 2020 by parliament, should perform well enough in the coming years. The demand in big cities is as strong as ever, and these types of properties are relatively easy to exit from, as the prospective buyer can easily make his calculations and take over your investment with minimal disruption.
What I've been doing, as a reaction to the slowing Spanish market, is to move some of my investments elsewhere. Germany is a good option, although there are talks of the real estate market being at the top of the cycle there. If not, you can try the Baltics, where returns are very impressive, although there is higher risk due to these countries' economies being less regulated and business dealings more of a wild-west in nature, although with time they are adopting European values more and more.
What are your thoughts on real estate investing in Spain and Europe in general?