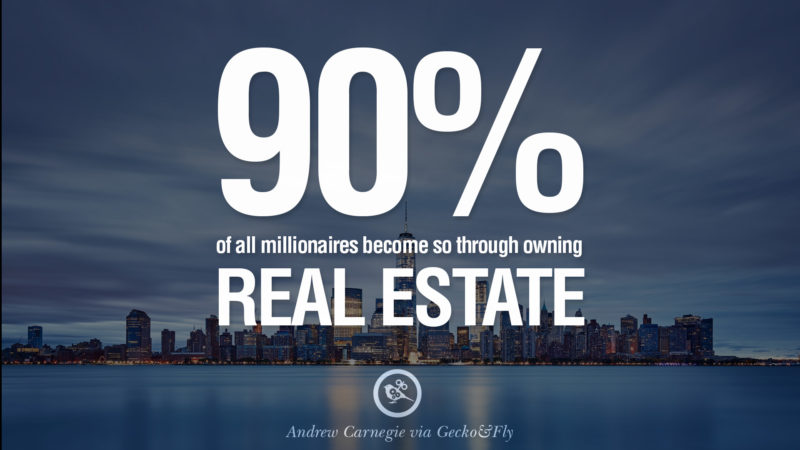 Spain has been experiencing an incredible boom in demand for both real estate and investment opportunities. Real Estate crowdfunding platforms, therefore, fit perfectly in the scenario that is developing. They allow small investors to participate in the real estate market by pooling investors' money to purchase property that is later resold or rented out.
In 2008 Spanish real estate took a big hit in the well-publicized crisis, wiping out many people's investments when the bubble burst and decimated the value of properties countrywide. Some areas were worse hit than others, but prices were down throughout the country.
Since 2016 we are seeing strong signs of recovery, and the purchase prices of properties in the big and affluent cities (Madrid, Barcelona, Valencia, Palma de Mallorca) has now reached pre-crisis prices. Rents are also strongly climbing, making it altogether a great time for real estate investment. Of course, we need to be careful to avoid another bubble, but that's another discussion altogether.
Crowdfunding in property involves a number of investors pooling their money together to purchase a property. The crowdfunding platform usually manages the refurbishment and eventual rental of the property, and takes a cut for this work. There is also a target date for the resale of the property. As investors, we are therefore looking for rental income as well as a profit on the growth of the value of the property.
Currently, there are three major real estate crowdfunding platforms in Spain. I am using the three of them as they are all a bit different from each other. Hopefully, in a year or two I will be able to draw my conclusions on whether one of them is significantly better than the others, and move my investments towards that platform. In general, it's also a good idea to diversify across multiple platforms to protect against platforms going out of business, so it might very well be that I retain my investments in the three of them if they all perform admirably.
From the tax perspective, earnings are based on the Savings tax bands in Spain:
19% for €0 – €6,000
21% for €6,001 – €50,000
23% for €50,001+
As a beginner investor, you will most likely fall into the 19% tax bracket, and Privalore will automatically deduct the tax from your returns. This is called a retención in Spanish. You will still need to declare these profits in your annual tax return (IRPF). The platforms mentioned in this article all provide documentation showing what you earnt and what retentions they made.
Both new and pre-owned properties are liable to another tax called Actos Jurídicos Documentados (AJD) (Stamp Duty), which represents 1% of the deed price of the sale, plus another 1% of the mortgage. You will have to keep these in mind as well as possible cuts on your final return.
Let's move on to exploring these three platforms then. Here are quick links before we dive into how each of them works and my evaluations as an investor so far:
Housers (get a €25 credit when you sign up through this link)
Privalore (no longer offering crowdfunding projects, read below)
On to a deeper dive…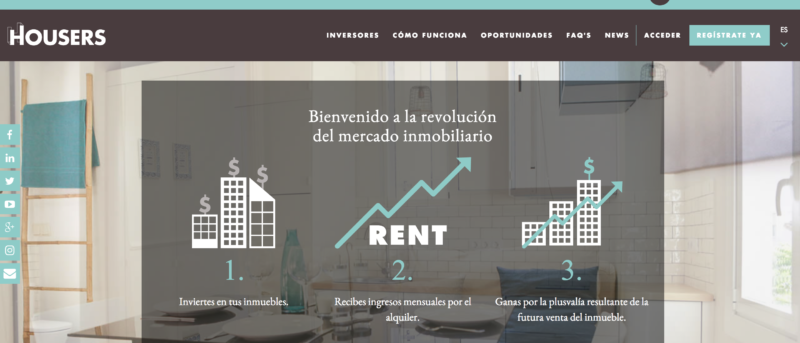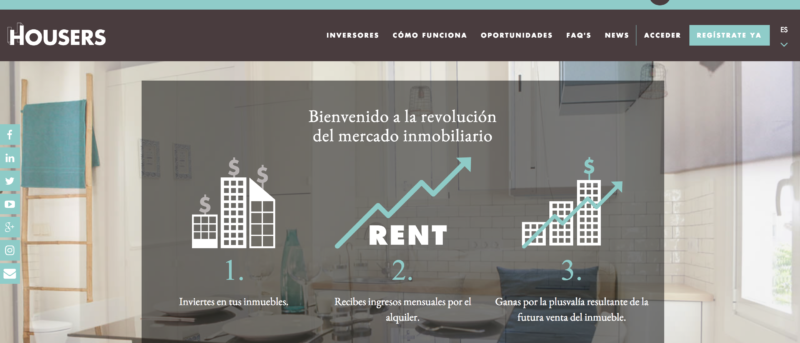 Housers is probably the most well-known platform of the three mentioned in this post. They have properties all over Spain but the bulk of them are either in Barcelona or in Madrid. They also have a diversity of models in place for their property. Here are some of the different types of property I've invested in via Housers so far:
Restaurants
Short-term let apartments
Long-term let apartments
Buy-to-sell apartments
Housers also provide an English version of their website, and also send English versions of their newsletter, so they are clearly targeted at non-Spanish investors apart from the home market. I wish they had a better person handling their translations though, they do tend to have cringeworthy translations at times, which may not reflect so well on them. I've already let them know about this issue (I want this platform to be successful as I'm invested in it) and they promised to improve, but so far I haven't seen much improvement in this area.
The minimum investment on Housers is €50.
The numbers are in Housers' favor; they have more than 41,000 users and more than 22 million euros invested.
Housers only provide the platform, and they rely on third party promoters to supply the real estate projects. When a promoter submits a project, the Housers staff will evaluate it, and if they deem it a good fit, will publish it on their platform. In this way, Housers is way less involved in the whole process than a platform like Platform. They work in different ways, so I can't really say that one is better than the other at this point, but it is important to keep this in mind. You might also want to diversify across these three platforms precisely because they work in different ways.
Housers takes a 10% commission on all the proceeds resulting from an investment. It is important to note that this commission is applied on the dividend itself, rather than the gross rent or similar totals. They are taking a commission directly on the dividends that investors receive, hence a commission on the amount after all expenses have been deducted. That's a good thing that is definitely a plus for this platform. I like the straightforward commission plan that Houers has put in place.
Let's take an example: If you invest €10.000 in a determined project with 4% yield, this will result in an annual €400 in interest received. Housers will withhold a 10% success fee, being €40 on that. Your costs have been only 40€/10.000€= 0,4%. That is quite competitive in comparison to many other investment products where you pay a 1-2% fee over invested capital.
Now another question I get is whether Housers is open to non-Spanish residents as well? The answer is YES!
Here's what you will need:
Every user has to upload identity documents to comply with European regulation for financial products and money laundering. For users outside the Spanish territory this means that the following information has to be provided:
Scanned image of your passport.
You can also send an image of your country's ID, both sides.
Non-EU nationals need always to provide a secondary identity document.
There are 2 ways to invest:
Go directly to the opportunity you want to invest in, select the amount to invest and use your credit/debit card.
First transfer funds to your

Housers

account via a bank transfer (in the dashboard you can find the banking details of your account). After 2-3 days the transferred funds will appear in your account (we will also inform you by email) and are available for investing.
Housers have been able to sell properties, so the business model seems to be working fine. At the moment there are many properties being refurbished or on the market, so I'll continue monitoring how things go in the next few months.
Update January 2020:
So far I've had a few loans get delayed, SAN ANDRÉS, La Boladilla Village, La Boladilla Beach. I'm not too happy with how things were done on these projects. All investors were called to vote, however, the results of the vote were not announced nor have investors been notified via email about the results. In the case of San Andres, the developer promised to have the project completed before the end of 2019, but then failed to communicate again before the end of the year.
At this point, I have decided to exercise more caution when investing in Spanish properties. I'm going to concentrate on other countries for the majority of my investments, as the Spanish investments have been lacking professionalism in some ways. Development loans, in particular, are quite risky in my opinion.
Start investing in real estate with Housers

Inveslar is a platform that is dedicated solely to properties in Barcelona. Their main selling point is that they are experts in Barcelona real estate and can thus select the best properties to refurbish and sell them quicker than the other platforms.
The website itself is not the best, but it does work and cover most of the basic features you would want in a real estate investment platform, minus the secondary market. To be fair, no other Spanish platform offers a secondary market either. When I spoke to the founders of Inveslar they told me that a web-based secondary platform is not yet legal in Spain, and I have to assume they were telling the truth. I am thus hoping that the laws will change at some point to accommodate these new realities and make our investments more liquid.
For each project, a company will be formed, and as an investor, you will be buying shares in that company.
Inveslar takes a 4% commission on the sum of capital invested in each project. So for a €100,000 crowdfunding campaign, Inveslar will shave off €4,000 from the get go. Inveslar will therefore be invoicing this sum plus VAT to the company that gets created to manage the project.
For buy-to-let projects, Inveslar takes a commission of 10% of the gross rent as a management fee.
When a property is sold, Inveslar will take a 2% commission on the final price of the property.
As you can appreciate, this platform is thus incentivized to both make sure that the property is rented out as soon as possible, as well as getting it sold when the time comes. The end game for each property is, in fact, that of getting it sold.
The minimum investment in each Inveslar project is €100.
Inveslar have already sold a couple of properties at a good return, thus proving their model. As with the other platforms, these are still relatively early days, so as more time goes by we will get more reliable data on their performance.
A newer development on the platform is the ability to buy investment properties alone without joining a crowd of investors. This is similar to the model adopted by Roofstock.com in the United States.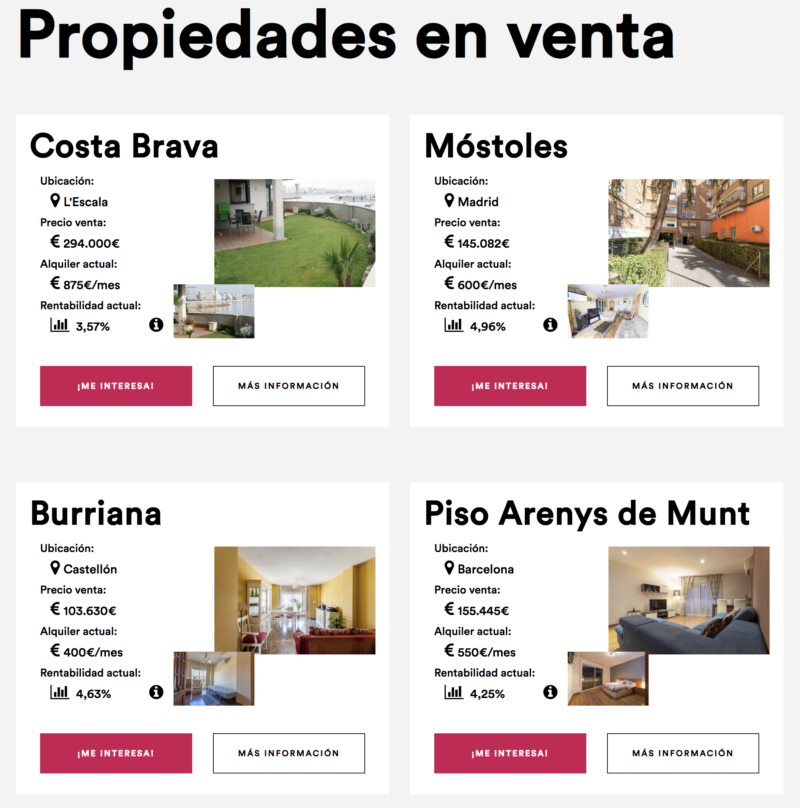 This is the first time I see something of the sort being done in Spain and I'm really interested to see if it takes off. It's definitely something to monitor over the coming months.
After emailing about this new development, they told me that the plan is to continue expanding in this direction, while using big data to provide better insights into the kind of returns that each property can generate.
Start investing with Inveslar and get €25 bonus*
* Bonus applicable with a minimum investment of €1,000.

As of December 2019, Privalore has chosen to cease its crowdfunding operations due to the Comisión Nacional del Mercado de Valores (CNMV) ruling that it will only allow platforms which promote indirect investments, and Privalore is considered a direct investment platform. Privalore believes, and I agree with them on this, that participative platforms (such as Housers) do not provide as much value to the investor as a direct investment platform. With an indirect investment platform, the platform's main incentive is to provide and advertise as many projects as possible to its investor base, with the possibility that quality will be compromised, and the fact that the platform itself does not invest together with the investor. 
To cut a long story short, Privalore is no more, and it's a real pity as it was my favorite Spanish platform. It was good while it lasted, and while I do still have some investments that are stuck in the pipeline as the Spanish market has slowed down, I would rate my overall experience with Privalore as very positive. 
With more than €3m in investments, 535 investors and an average turnaround time of 7 months, the Privalore platform can definitely be described as successful. The model here is purely focused on buy-to-sell.
The model here is purely focused on buy-to-sell. Privalore itself invests heavily in each property and they themselves are the developers of each project.
The biggest difference between Privalore and other property crowdfunding platforms is that there is no separate company created for each property investment. Instead you sign a participative or joint venture contract with them for each project. They argue that this is the better way to do things and mention several advantages on their FAQ page. At this point, I am not convinced that one way is better than the other. Only time will tell whether there are any real differences in practice.
Privalore enable you to invest specific amounts starting from €1,000 per project.
What I also like about Privalore is that they assume all the initial risk by purchasing the property with their own funding. This initial risk is reflected in the way the profits are eventually shared, as I'll detail in a moment.
They have a wellness-certified style of refurbishing which includes circadian lighting and high-quality finishings that do not pollute the air in any way. Each property developed has its own Clean CO2 certificate. I think this is a nice selling point, both to attract investors and to eventually sell the apartment to buyers.
Privalore is a very transparent platform and they have answered my email questions very clearly and quickly. Their website contains a ton of information about what they do and why they are different, although unfortunately it is currently only available in Spanish. Privalore is however open to investment to non-Spanish residents. If you are a non-Spanish resident the tax retention percentage will be based on the double taxation treaty between Spain and your country of residence. Apart from the 19% tax that is deducted from your return when there is a sale, Privalore will also deduct 1% for Actos Jurídicos.
Here is an example working of the returns from a sample Privalore property:
Investment: 1000€
Project duration: 8 months
Annual return: 15,6%
Net return (8 months): 10,4%

Profit: 104€
Tax (IRPF 19%): -19,76€
Tax (Actos Jurídicos 1%): -11,04€ (1% of the principal + profit)

Investor receives in his account: 1.073,20€
Privalore plays two roles in each project and therefore they take a cut in two ways: as an investor and as a property promoter.
As the promoter, they are responsible for searching for the properties, purchasing them, redesigning the interiors, choosing the finishings, obtaining bank financing, advertising the opportunity, managing the investors, coordinating construction works and finally selling the property. For all that work, they take a 5.55% cut on the final selling price of the property.
I've invested in a number of properties on this platform and two have already been sold at a healthy profit.
As an investor themselves, Privalore put in the majority stake (at least 65%) in each project. They divide the proceeds from each sale 50/50 with the investor base, until each investor has obtained a maximum of 15% ROI. From then onwards, the profits are divided 70/30 with the bulk going to Privalore. A 15% ROI is amazing in this type of operation, so I don't really have any problem with the 70/30 profit split if any of the properties I invested in actually surpass 15% in ROI.
Start investing with Privalore
Other Platforms
I am constantly keeping an eye on any other platfroms that launch, and will test them and then write about them on my blog. One new entry that I've invested in is StockCrowd. Another one which I would suggest avoiding for now since it's not licensed is PropCrowd. It's still early days though so I will write about the platform while I have some results to speak about.
Hope you found this post helpful. Keep in mind that these platforms are also open to investors that are not resident in Spain, so if you love Spain and believe that the property market is going places, you can also get a piece of it by investing in these platforms. You will need a NIE (Numero de Identification de Extranjeros) which you can obtain from the Spanish embassy in your country.
If you're new to real estate crowdfunding and want to get a taste of how things work, I highly recommend you start with Housers. It has a minimum investment level of just €50 and it also has the most diverse list of properties, so you can really understand how all the different options work.
Remember that if you sign up to Housers through this link, you will get a free €25 credit.
Note that none of these platforms guarantee any returns nor the safety of your investment. Theoretically, you could lose your money, so make sure you educate yourself before committing to any investment.
If you have any questions about crowdfunded property in Spain go ahead and leave a comment below.