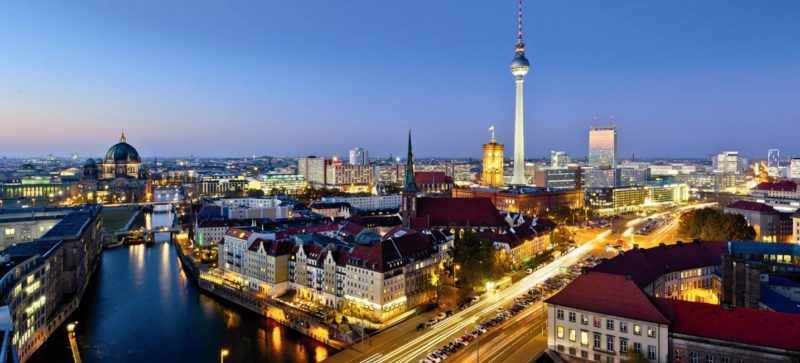 In this article, I will tell you why I chose to invest in the German real estate market, specifically through the Planet Home platform.
The German real estate market has been on a boom for a number of years now, so I decided to investigate the situation and see whether it's potentially a good investment.
It turns out that German cities have statistically been Europe's most highly favored real estate investment for the past few years, as investors seek out well-performing safe-haven assets.
Berlin, Hamburg, Frankfurt and Munich represent four of the top five European markets for real estate investment and development; the other being Dublin.
Recent data from Real Capital Analytics confirms that Germany has overtaken the UK in post-EU-referendum investment volumes. Although London remains Europe's primary market for global capital – it has fallen in the city rankings for investment and development prospects.
Since the Brexit vote, Germany has enjoyed a pick-up in interest. Meanwhile, real estate investment trusts in Germany and Scandinavia have risen since the Brexit vote to trade at premiums to the value of their assets, a sign that investors feel their cash is safer there.
With more than 80 million people, Germany is Europe's highest populated country. It boasts Europe's strongest economy, which is now the fourth largest in the world, and has approximately 42.8 million people in employment.
Factor in that Germany has one of the most productive economies in the world and a booming export market and it becomes understandable as to why its property market attracts large amounts of international capital. A total of EUR70 billion was invested in the sector, for example, between 2010 and 2015, with Germany attracting nearly half of the capital invested in Europe's residential property sector.
The German Real Estate Situation
As I was doing research on the German real estate market, I learned some surprising facts. Apartment viewings often turn into mass events, with 50 or 60 would-be tenants turning up at an appointment.
Many bring application portfolios with detailed information on their earnings, their creditworthiness and their family situation. It can be insanely difficult to find an apartment, and you are still expected to pay a deposit of 2-3 months rent. At least the agency fee is paid by the landlord, which is not the case in Spain, for example. One other curiosity is that most apartments don't come with a fitted kitchen; you have to install it yourself.
In Hamburg, apartment prices rose by 70 percent between 2010 and 2015. They are expected to surge by another 50 percent by 2030. A three-room flat can cost around $450,000 (400,000 euros) in residential areas close to the city center.
Not all regions have registered rapid property price increases, however. Even in cities like Berlin, Hamburg and Munich, high rental prices in the newbuild segment have not necessarily been matched by high rents in the existing rental property sector.
Secondly, price increases have been driven by population growth, the ongoing trend toward urbanization, and strong economic fundamentals, combined with historically low interest rates. At the same time, Germany's rental housing sector has seen vacancy rates fall close to zero.
Finally, loan-to-value ratios are typically no more than 75 percent, which underscores the financial soundness of the German market.
Let's have a look at some of the major cities and how they're faring. One important rule of real estate investing is that you need to be looking at cities rather than countries in general, as the dynamics can be totally different from one city to another with the same country.
Berlin: Full boom at the moment, with a rapidly growing demographic as more people move into the city from all over Europe given its development in sectors such as technology.
Frankfurt: Another city that is in full swing, it is benefiting from Brexit news and the promise to become the financial centre of Europe in the coming years.
Cologne: Demand exceeds supply in this city, so the forecast is good for investment in the next few years.
Dusseldorf: The luxury property market is getting saturated, but there is still demand for basic housing.
Hamburg: Gentrification is underway in several areas and this is paving the way for further growth in the property market.
Munich: Prices have risen very far and are approaching London territory. Locals find it very hard to keep up with rental prices and are even more priced out when it comes to buying. Rent has not yet risen as much in comparison to purchase prices.
The PB3C website is an excellent source for updated news about the real estate market in Germany, it is worth following.
How to Invest in German Property – The Easy Way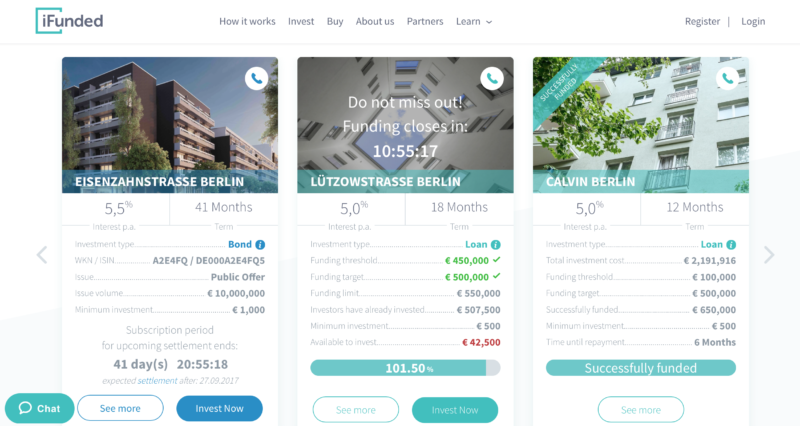 The volume of investment raised by crowd-investing platforms for property developments and redevelopments has been doubling every year and there are no signs of saturation yet.
Planet Home, previously known as iFunded, is the leading property crowdfunding website in Germany. They have a very nice interface and all the information is well presented in German and also in English. They are open to investors all over Europe and signing up is super easy.
To get verified, you will need to download the Deutsche Post app and then arrange for a video chat through the app. A Deutsche Post employee will call you and take a photo of yourself and your passport in order to complete verification. It's one of the swiftest and most straightforward ways of verification that I've encountered so far. In this sense, the platform lives up to the German standards of professionalism and organized way of working.
Planet Home offers two types of investments: bonds and loans.
Bonds belong to the investment class of securities under the German Securities Trading Act (Wertpapierhandelsgesetz, WpHG), in which creditor rights, in particular interest and repayment of the borrowed money, are securitized.
A subordinated loan is a debt to the receiver which ranks below senior loans and is regulated under the provisions of the German Investment Provisions Act (Vermögensanlagengesetz, VermAnlG).
The minimum investment is EUR500 and the maximum is EUR10,000 as a private investor. Returns can be as much as 7% per year, which is excellent when you keep in mind the low risk profile of the German market.
The investment is paid back at the end of the investment term, which varies from project to project but is already determined during the Funding Phase. Interest is either paid during the project in the course of the year or at the end of the term. This depends on the project. The Planet Home platform receives marketing fees from the project developers. These include a one-time fee per project and ongoing fees depending on the duration of the project.
Alternatives
There are many other real estate platforms that you could check out, although most of them do not offer properties in Germany. The top three I would recommend checking out are the following, with the first one also offering properties in Germany:
My experience
I have so far invested in two projects on the Planet Home platform, and there were absolutely no problems whatsoever. At the end of the loan period, I received a transfer in my bank account to cover the principal plus interest. I also got an easy-to-understand statement about the transaction that I could then use for presenting my tax returns.
Planet Home is definitely a platform that can be relied upon if you're looking for a safe investment in German real estate, and I'll continue investing here for the foreseeable future.
Invest in German real estate through Planet Home
Summary
An excellent platform for investing in German real estate, and one of the only ones out there at the moment. My development loans were all repaid on time as promised, so I'm very happy with iFunded so far.
Pros
German real estate market is booming
The German economy is very solid
Serious platform
Cons
Investor communication can sometimes be only in German