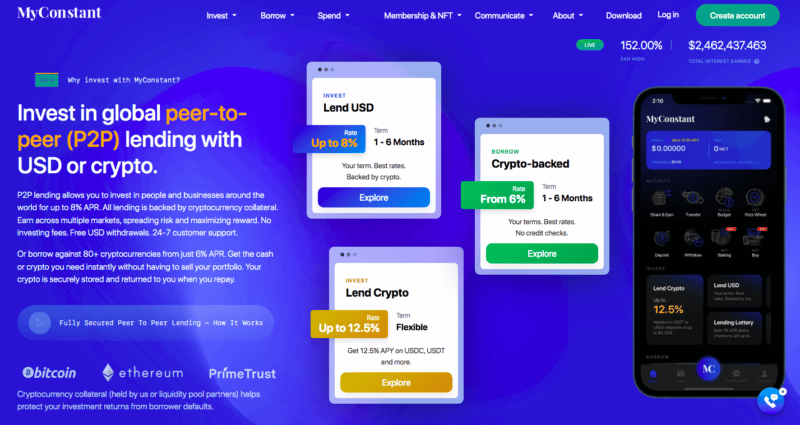 Peer-to-peer lending has come of age in the crypto world, which is now a firm fixture of the wider ecosystem. There are several players in this space, and one I've been following for a while now is MyConstant.
They've recently gone through a whole host of updates and new product rollouts. It has also launched its own cryptocurrency, MCT – which will allow holders a range of benefits on its platform. I'll go through those in more detail later on – but the upshot is that you could now earn 15% APY, up from 9% in 2021.
At the other end of the spectrum, borrowers can take out crypto-backed loans. Loan terms start from 30 days and you can get interest rates from as low as 3.8% if you have the top level of membership. You receive the funds in real-world fiat currency direct to your bank account. To benefit from this, you'll need to deposit some cryptocurrency as collateral.
If you're keen to find out more about what the peer-to-peer provider offers, continue reading through this review. I cover everything there is to know about the provider from the perspective of both investors and borrowers.
What is MyConstant?
Founded as recently as 2019, MyConstant is a peer-to-peer lending platform that strives to match borrowers with investors. In this sense, the concept is much the same as any other peer-to-peer provider. However, what sets MyConstant apart is that it offers interest-bearing investment opportunities in both fiat and cryptocurrency-denominated projects.
*Please note – I will be quoting standard rates here. If you join the MCT membership program, you will enjoy higher interest rates on investments and lower borrowing rates.
Regarding the former, its Instant Access account offers a competitive interest rate of 4% APY on fiat deposits. And the latter – its Crypto-Backed investment service allows you to earn up to 8% APY by lending your cryptocurrency to other users.
You can also lend out your USDT or USDC holdings to decentralized exchanges and earn up to 12.5% APY along the way.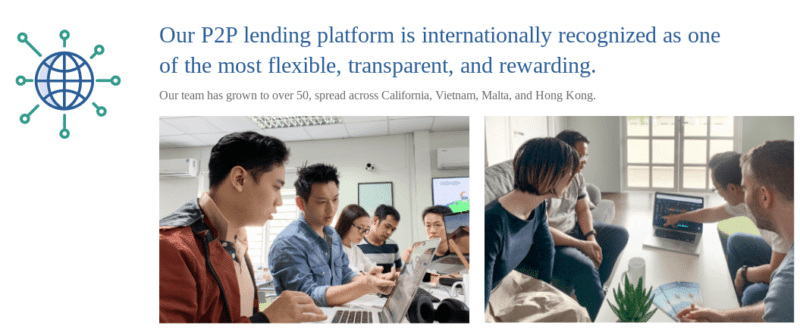 If you're looking to borrow funds from the MyConstant platform, interest rates start at 6% APR. Your loan agreement is backed by the digital currency that you put up as collateral. You will then have the option of withdrawing your loan funds in fiat currency or stable coins.
Investing at MyConstant
Bearing in mind that MyConstant offers services to different target markets, it's best that I split my review in two. To get the ball rolling, let's start with the investing side of the platform.
Instant Access (Deposit USD)
The Instant Access account at MyConstant allows you to earn interest on your fiat currency. As you likely know, interest rates offered by traditional banks and financial institutions are now at record lows. For example, US powerhouses JPMorgan Chase and Wells Fargo each pay just 0.1% APY on standard checking accounts.
As such, you're nowhere near outpacing the rate of inflation, meaning that your money is losing value. In the case of MyConstant and its Instant Access account, you'll earn 4% APY.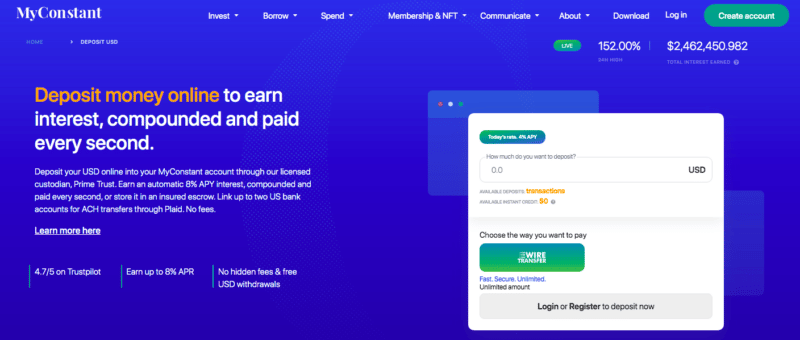 The interest is compounded and paid each and every second, and there is no minimum redemption period. On the contrary, you can withdraw your funds at any given time. I also like the fact that you can invest from just $10, which means you can get to grips with how Instant Access works before making a larger commitment.
Here's how the investment process works when taking advantage of Instant Access:
Upon registering an account with MyConstant, head over to the deposit page.
You will be able to deposit funds via ACH (US accounts only, maximum $5,000), Zelle (maximum $2,000) or a traditional bank wire that comes with no limits.
MyConstant will credit your account within 1 business day of receiving the funds
You will then begin earning interest on your investment
You can cash out your investment at any given time
If you want to end the investment early, you need to sell it to the secondary market and get the lower interest rate (or zero).
When signing up for Instant Access you get a $4000 free trial bonus for 15 days, and you can keep the interest earned (applied for U.S citizens only).
Just to clarify something that wasn't that obvious to me when I first joined MyConstant, when you deposit money or crypto to MyConstant that money will automatically start earning 4% in the Instant Access account without you having to do anything.
Crypto-Backed Financing
The Crypto-Backed offering at MyConstant also allows you to earn interest, albeit, you will be lending funds to users of the platform. These are users that seek to borrow fiat currency in return for putting up their cryptocurrencies as collateral.
This can be beneficial for you if you have surplus funds, as the loans are secured. That is to say, if a borrower ends up defaulting on their repayments, MyConstant will have the legal remit to sell the cryptocurrencies that they put up as collateral. More on this later.
In terms of your earning potential, the Crypto-Backed investment plan offers an APY of up to 8%. You can choose from three loan terms – 30 days, 90 days, or 180 days. For this, you will earn 6%, 7%, or 8% APY, respectively.
Crypto-Lend
However, if you really want to beat inflation, the Crypto-Lend could be the way forward. There is an additional interest-bearing investment opportunity at MyConstant that pays 12.5% APY. This is offered when you part with your USDT or USDC. You won't, however, be lending your cryptocurrencies to other users. Instead, MyConstant uses your coins as a means of providing liquidity for decentralized exchanges.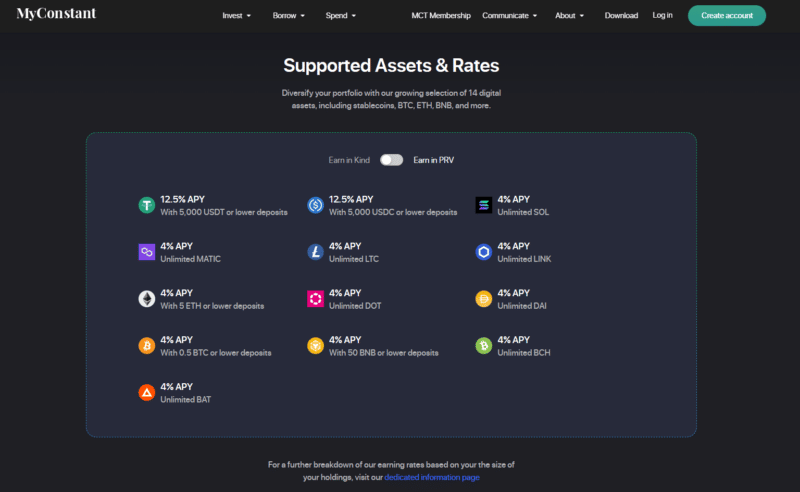 With this product you can earn a 10 USDT bonus upon sign-up when you deposit $100 worth of USDT or USDC and hold for 30 consecutive days.
For those unaware, cryptocurrency exchanges will often pay a 'market maker' rebate to those that provide the platform with liquidity. After all, this is a crucial requirement to ensure that there is enough volume on the exchange for buyers and sellers to trade.
This market maker rebate is how MyConstant is able to pay you 12.5% APY in interest. According to the platform, this particular scheme is backed by a MyConstant guarantee of $10 million.
Borrowing at MyConstant
So now that I have covered the investment side of MyConstant, let's explore what's on offer for those of you that wish to use the platform to borrow.
Crypto-Backed Loans
The crypto-backed loan process at MyConstant works much the same as any other platform operating in the space. That is to say, by depositing cryptocurrencies into MyConstant, you can borrow fiat currency. As always, the amount that you can borrow is entirely dependent on how much you put up as collateral.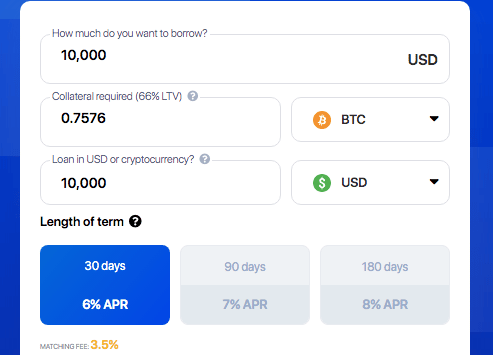 More than 40 digital currencies can be used as collateral to secure the fiat loan, with the LTV (Loan-to-Value) based on the specific cryptocurrency. For example, by depositing Bitcoin, you'll be offered an LTV of 66%.
Let's look at a quick example of how such an agreement would work in practice:
You want to borrow $10,000 in US dollars
At an LTV of 66%, this means that you will be required to put up 0.5109 BTC (based on a current market price of approximately $30,000).
You transfer the Bitcoin into the wallet of MyConstant
On receipt, your $10,000 loan will be deposited into your bank account
It can take between 3-10 days for the funds to arrive in your bank
In terms of interest rates, this also stands at 6%, 7%, or 8% APY on 30, 90, and 180-day loans – respectively.
In terms of repaying your loan, you can do this via fiat currency, cryptocurrencies, or stable coins. You will receive your collateral back when the loan is repaid in full.
Benefits of Crypto-Backed Loans
There are two benefits, in particular, that spring to mind when opting for a crypto-backed loan. First and foremost, the platform does not run credit checks on any of its loan applicants. As such, this might be suitable for those of you that need access to cash, but you don't have the required financial profile to use a traditional lender.
Secondly, and perhaps most importantly, crypto-backed loans are a great way to free up capital that is tied up in your digital currency portfolio. For example, let's suppose that you have $10,000 worth of Bitcoin sitting in your anonymous wallet. Bitcoin is not an income-generating asset class, meaning that you are potentially missing out on investment opportunities available elsewhere.

If you are a firm believer that your Bitcoin will one day be worth significantly more than its current market value dictates, then you might be reluctant to sell your holdings. A simple solution to this conundrum is to opt for a crypto-backed loan.
The reason for this is that you will have access to ready-made cash, while at the same time, avoid the need to sell your cryptocurrencies. In turn, if the value of Bitcoin rises while the loan is still outstanding, you haven't missed out. Instead, you will receive the same quantity of coins as you initially deposited – as long as you do not default on the loan.
Fees at MyConstant
When it comes to fees, you won't be charged anything to invest, deposit, transfer, or withdraw funds. There is, however, a number of other fees that you need to take into consideration.
This includes:
Matching Fee: When you look to borrow funds at the platform, you will pay a matching fee of 3.5%. There is no matching fee if you are investing.
Late Repayment: Late repayments are charged at 10% of the total interest due. This is the case if the payment is more than 24 hours late.

You have three days to pay the loan, otherwise you will lose your collateral to the lender.
MCT Membership Program
One of the new features introduced in the last few months is the MCT coin and the MCT membership program. The membership program is designed to reward holders of MyConstant's native token. In essence, the more MCT you hold, the bigger your rewards.
There are four levels to the membership:
Basic

Diamond

Gold 

Platinum
As you'll probably guess, the Basic package gives you the most basic rewards while Platinum is the most generous. Here's a breakdown of the package:
Crypto Lending
| | | | | | |
| --- | --- | --- | --- | --- | --- |
| Tier | % MCT in Portfolio | Bonus % Interest daily for crypto Lending | Crypto lending APY USDT USDC (up to $5k) | Crypto lending APY USDT USDC (over $5k) | Crypto lending APY other cryptocurrencies |
| Base | 0-3% Portfolio | 0% | 12.50% | 8.00% | 4.00% |
| Gold | 3%-7.5% Portfolio | 5% | 13.13% | 8.40% | 4.20% |
| Platinum | 7.5%-15% Portfolio | 10% | 13.75% | 8.80% | 4.40% |
| Diamond | 15%+ Portfolio | 20% | 15.00% | 9.60% | 4.80% |
Borrowing (Crypto-Backed Loans)
| | | | | | |
| --- | --- | --- | --- | --- | --- |
| Tier | % MCT in Portfolio | Discount % interest for Borrower | Crypto-backed loan APR (30-day term) | Crypto-backed loan APR (90-day term) | Crypto-backed loan APR (180-day term) |
| Base | 0-1% Portfolio | 0% | 6.00% | 6.50% | 7.00% |
| Gold | 1%-5% Portfolio | 20% | 4.80% | 5.20% | 5.60% |
| Platinum | 5%-15% Portfolio | 30% | 4.20% | 4.55% | 4.90% |
| Diamond | 15%+ Portfolio | 40% | 3.60% | 3.90% | 4.20% |
Fiat (USD) Lending
| | | | | | |
| --- | --- | --- | --- | --- | --- |
| Tier | % MCT in Portfolio | Bonus % daily Interest for fiat Investor (fix term) | Fiat lending APR (30-day term) | Fiat lending APR (90-day term) | Fiat lending APR (180-day term) |
| Base | 0-1% Portfolio | 0% | 6.00% | 6.50% | 7.00% |
| Gold | 1%-5% Portfolio | 5% | 6.30% | 6.83% | 7.35% |
| Platinum | 5%-15% Portfolio | 10% | 6.60% | 7.15% | 7.70% |
| Diamond | 15%+ Portfolio | 20% | 7.20% | 7.80% | 8.40% |
How Can You Purchase MCT?
If you're based in the US, you can buy MCT on Pancake Swap. Follow the steps below or have a read through a recent blog that gives detailed instructions. 
1. Add and select BSC network to your MetaMask wallet.
2. Access the PancakeSwap website.
3. Connect your MetaMask wallet.
4. MCT Token selection
5. Transfer Binance Coin (BNB) to your MetaMask wallet.
6. Swap confirmation
After the transaction is submitted, wait for confirmation and that's it!
Customer Support
If you need to speak with a member of the MyConstant support team, you can do this through Telegram, Discord, email, social media, or a dedicated telephone line. You can also speak with MyConstant via your Facebook Messenger account.
Email: [email protected]
Telephone: +1 646 809 8338
According to MyConstant, the customer service team is operational 24/7.
Is MyConstant Safe?
When it comes to the safety of your funds, this will ultimately depend on which investment stream you decide to use. In the case of crypto-backed loans, the borrower is required to put up collateral via digital currency. In theory, were the borrower to default, then MyConstant would sell the coins.
It is then hoped that this would cover the value of what you are owed. However, the cryptocurrency markets often move in a parabolic manner, so nothing is guaranteed. For example, the value of Bitcoin went from highs of $10,300 in February 2020 to lows of $4,400 just a month later. This represents a capitulation of over 57%. The recent troubles with Luna is another case in point, where it dropped from $100 to $0 in less than a month.

On the other hand, some coins are holding up. Bitcoin has since stabalized, which is great. However, such a rapid reduction in value could have a severe impact on your ability to get your money back if a borrower defaults.
To counter this risk, MyConstant notifies borrowers when the market value of their cryptocurrency collateral is reaching the point of liquidation. This is where the LTV reaches a specific level. If the user does not top-up their collateral balance by depositing more cryptocurrency, MyConstant might be forced to sell the coins.
In the case of the Instant Access account, it is notable that you stand to earn 4% APY. This is considerably more than traditional high street banks pay – especially if you're based in the US. However, what you won't get from the Instant Access account is that all-important FDIC insurance. This covers deposits up to the first $250,000.
MyConstant explains that you can switch off the Instant Access investment plan at any time. When you do, your funds will be placed with Prime Trust. This is the custodian that MyConstant has partnered with. Prime Trust will allocate client funds across several insured bank accounts with an aggregate limit of $130 million. In switching Instant Access off, you won't earn any interest on your money.
The team at MyConstant have recently made some improvements in terms of their transparency. Unlike the earlier days there is now a team page, with the main leadership on display. I personally know who the team is as I have been interacting with them while investing in the platform and recording a podcast episode for Mastermind.fm.
Mobile App
MyConstant is also available via a dedicated mobile app. You can download the app free of charge from the Google Play or Apple Stores.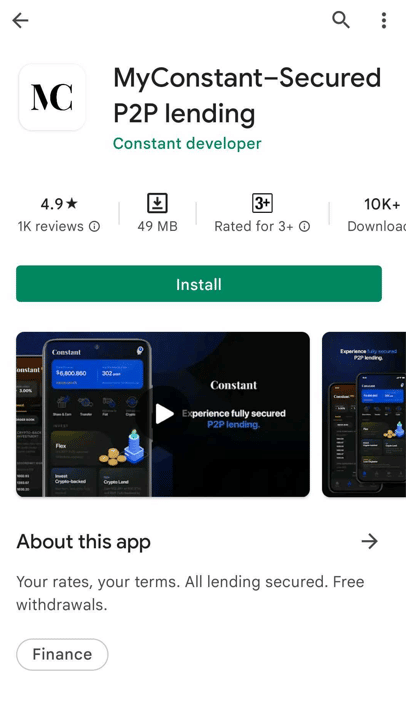 From what I can make out, you'll be able to access all of the same account features as found on the main desktop website. The app has a rather poor rating of 4.9/5 on Google Play, from over 1000 reviews. Over on Apple, the app is rated at 4.6/5 across 500 reviews.
MyConstant Review: The Verdict?
In summary, MyConstant offers a range of alternative investment services for those of you who are seeking higher returns on your money. For example, while US banks like Wells Fargo and JPMorgan Chase pay just 0.1% APY, you'll get 4% APY at MyConstant.
There are no lock-up periods or early-redemption fees, so you can get your money out at any given time. Your earning potential increases to 8% APY if you wish to loan money out to borrowers of the site. This increases to 12.5% APY if you are happy for your funds to be used as liquidity at decentralized cryptocurrency exchanges.
At the other end of the spectrum, borrowers have access to fiat currency financing in return for putting your digital currency up as collateral. There are no credit checks, and the amount that you can borrow is dependent on how much you are looking to deposit into MyConstant.
On the flip side, there are several risks that you need to consider before taking the plunge with MyConstant. For example, the 4% APY offering is not backed by FDIC insurance. Similarly, although loans are backed by cryptocurrencies in the form of collateral, a sudden market crash could mean that defaults are not covered by offloading the respective coin.
With that said, MyConstant does note that if such a scenario does occur, the borrower will have the opportunity to top-up their collateral to bring the LTV ratio down. If they fail to do this after three margins calls, Constant might be forced to sell the coins to ensure that investors are protected. There is also the option to select auto top-up from extra crypto deposited on your account, which greatly reduces the risk of margin calls, but means you have to put up extra crypto in their custody.
Overall, although there are a few things that I think this platform can improve, I have been getting the returns promised on my investment as expected.
Check out my podcast episode with Chris Roper from MyConstant to learn more about the platform.
I like that the loans are backed by crypto, and the fact that you can deposit and withdraw in crypto, which is a big bonus to those who are crypto enthusiasts who might have a lot of their net worth stored in crypto but would be short on fiat currencies such as Euro or USD.
Hopefully, in the coming months and years, MyConstant will improve in certain areas and reach big player status, at which point I would consider it a safer bet worth than it is currently.
Summary
MyConstant offers a range of alternative investment services for those of you who are seeking higher returns on your money. It's a platform that has earned brilliant reviews from users and has become one of the largest in the crypto P2P lending space. I've been a happy user since early 2020.
Pros
Does what it says on the tin, so far.
Good rates offered.
Collateralised loans (crypto-backed)
Cons
The $10m guarantee is a bit flimsy in my opinion.
Short track record having launched in 2019.