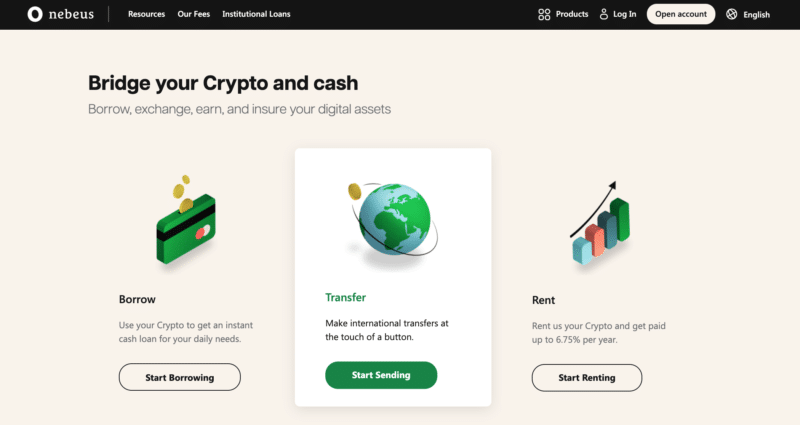 Nebeus (Developed and operated by Money-4 Limited & Rintral Trading SL) is a London & Barcelona-based fintech start-up company founded in 2014 by Sergey Romanovskiy. Their primary focus is to provide crypto asset-collateralized loans by integrating margin calls, health monitors, and volatility alerts. This unique platform aims to help bridge the gap between fiat and crypto with a wallet that allows you to earn, borrow, exchange, send or receive cash and crypto.
Some of the other features of Nebeus include:
Make deposits and cash withdrawals at physical locations.
International cash transfers to over 150 countries worldwide.
Mobile phone top-ups on more than 500 mobile phone operators around the world.
They have also recently entered into a partnership with Railsbank and will soon provide users with their own Nebeus Mastercard to make purchases in everyday life.
Where is Nebeus Based?
At first glance, their website states, "The platform is developed and managed by Rintral Trading SL, Carrer de la Ciutat de Granada, 150, 08018, Barcelona, Spain." and are registered in the Commercial Registry of Spain.
Although founded in 2014, they do not have a large social media following or many reviews from the public to date. However, they did a recent crowdfunding event on the "Seedrs" platform where 248 investors joined the campaign. Their funding was also match approved by the British Government's "Future Fund," resulting in a total of €995K raised. Allowing Nebeus to win the global award for "Digital Lending Innovation" in the Finance Monthly Fintech Awards 2021.
The Nebeus website offers English, Spanish and German translations. The English translation is not perfect and they have a few spelling errors here and there (which were promptly corrected when I pointed them out), but their blog posts are clear, educational, and easy to understand.
I felt as though the overall website user experience was a bit misleading. Many of the links I clicked on redirected me to the sign-up page to open an account instead of providing me with more information about the option stated on the link as I would have expected.
About Nebeus
Their "about us" page could use some improvement. Although it mentions their past and future, it does not include any information about the employees or company registration. I was not able to find a clear link to this page on the homepage, but it came up when I searched through Google.
Nebeus comply with all UK and EU regulations, and they are planning to obtain an EMI license to improve the services they can offer.
By 2020 Nebeus had more than 60,000 users already. They currently provide options for you to make cash transfers to more than 150 countries and offer mobile top-up with more than 500 mobile phone operators supported around the world. They have made it possible for you to transfer and deposit money at more than 230,000 retail locations & post offices.
On Nebeus, you can add funds using any Visa or Mastercard, and your funds are instantly credited to your account. Soon you will also be able to use your Nebeus Mastercard to make payments.
Opening a Nebeus account is quick and can be done by providing your Name, Surname, Email, Password, and Country. They support a large variety of countries that other platforms often exclude.
Currently, you can use your account without completing the verification process. The only option that is not available without verifying your identity is to transfer Fiat from your Nebeus account.
They have an easy automated KYC verification process. Once you have created your account, click on the profile icon top right and then click on "get verified," where Nebeus will guide you to add your phone number and verify it with a pin code. Next, you will be required to go through an identity verification process where you are asked to take a selfie and a picture of your original document. Lastly, you need to provide your proof of address to verify it.
Once your account is verified, Nebeus will notify you via email. The entire verification takes around 24 hours to process and once completed, you will be able to use your account with all of its features.
Deposits
Nebeus offers a great variety of payment channels:
Deposit directly from your Visa or MasterCard charged at 2.90% per transaction – this is the standard rate of most other platforms.
Deposit cash at a Cash Collection Point near you for a fee of 6.50% to add or send funds – this option is great for those who do not have access to the other methods, and although it is a little higher in terms of fees, it still provides an option that would otherwise not be available.
They also accept free SEPA deposits, and to send it is 7 € or 1% fee.
Supercharged Wire Transfer for free – another great option that shows they are trying to accommodate as many people as possible.
Exchange
Nebeus makes it easy for you to add fiat and exchange it to crypto such as BTC or ETH within your account. Recently they launched deposits of USDC and USDT too. They also provide the option to exchange crypto for Euros, US Dollars, or British Pounds.
You can buy crypto by sending a wire transfer in Euros or transfer money via your bank account. These funds are then converted into crypto and deposited into your Wallet within one business day.
Nebeus charges a fee of up to 0.35% when you buy or sell cryptocurrency.
In June, they added two stablecoins, namely Tether (USDT) & USD Coin (USDC), and integrated both coins into some of their services, enabling you to:
Buy, sell, and exchange stablecoins with crypto and fiat.
Get crypto-backed loans in stablecoins.
Top-up your mobile phone using stablecoins.
Send or receive stablecoins to and from any other digital wallet.
Withdraw stablecoins directly to your MasterCard.
Send stablecoins to any other Nebeus user for free.
Borrow
As crypto has started to become a much better alternative store of value and investment option, it only makes us wonder about other ways to benefit from the crypto while holding it. This is where crypto-backed loans come in. It is a way to leverage your crypto and use it as collateral. Crypto-backed loans are an excellent option that allows you to use your loan to pay for your daily expenses without touching your crypto. Nebeus' loans are pre-approved and insured.
Nebeus offers two options for borrowing.
Quick Loans. These are instant, pre-approved loans that are offered directly from their treasury.
Flexible loans. Fully customizable, where you can select your terms and borrow up to 80% of your crypto value.
How to Borrow?
Once you have opened your Nebeus account, you can get a loan in 3 steps:
Transfer your crypto from any other wallet for free
Choose the loan you would like to take out
Get cash while still keeping your crypto
Fees
Quick Loans: 50% Loan-To-Value and 0% interest for three months.
Flexible Loans: up to 80% Loan-To-Value, interest rate, and borrow up to €250,000 for as long as 36 months.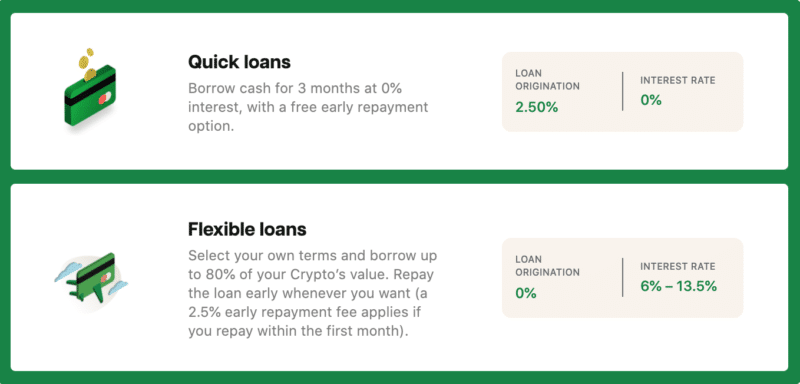 The fees are pretty similar to the other prominent players in the lending space like YouHodler and Nexo.
These are two of my other favorite crypto lending platforms to earn interest in your crypto and obtain loans by providing crypto as collateral.
Transfers
You can transfer to over 150 countries from your Nebeus account as long as your account is verified.
The minimum amount to send is 5€
The maximum amount you can send is 3500€ per transaction
The fee for transferring is 2.8%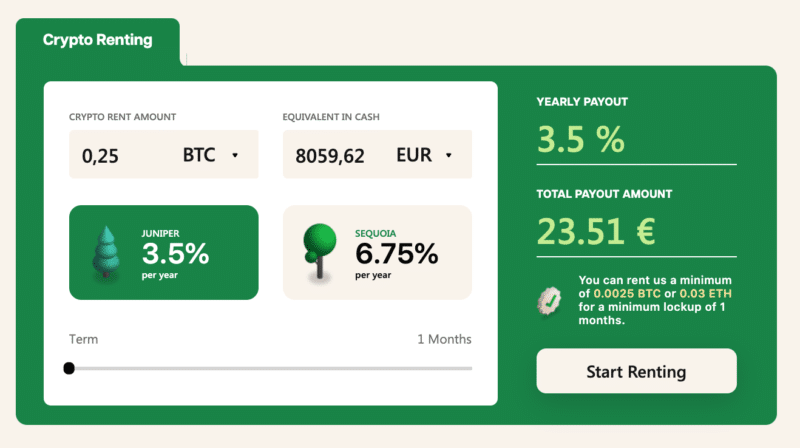 You can also use SEPA transfers/withdrawals for a fee of 1%, with a minimum of €7. Deposits with SEPA are free.
Rent
If you are not interested in borrowing, perhaps an option that might be interesting to you is the rent feature that Nebeus offers. Crypto renting is a way to rent your crypto to someone and get rewarded for it.
The two options at Nebeus are:
Juniper – Rent a minimum of 0.0025 BTC or 0.03 ETH for more than one month to earn 3.5% per year.
Sequoia – Rent a minimum of 0.12 BTC or 3 ETH for more than four months to earn 6.75% per year.
How to Insure Your Crypto?
Nebeus stores your crypto in their Nebeus Vault, a Class III bank-grade secure cold storage that is a disconnected device, making it safer from cyber attacks and insured up to $100M by Lloyds of London.

Nebeus provides two options insured by Lloyds of London in which you can protect your crypto against risk.
Single Insurance at 4€/month for one of your cryptocurrencies.
Full Insurance at 6,90€/month for your full vault.
Customer Support
There is no chat service available on Nebeus. When clicking on the help link, you are redirected to their knowledge base, and at the very bottom will find the link to submit a ticket. I have submitted a ticket to them; although I received a timely response, it came from a support@…us.zohodesk.eu email address with the subject Re:[## 2662 ##], and this can be easily missed or disregarded as spam. Perhaps something to take note of when requiring support from them.
Status Page
On their website, they have a link to a status page that provides you with a live status of their systems, whether they are operational or not, as well as the downtime. Proving to be quite a thoughtful feature.
Verdict
Overall, I like that Nebeus have taken a simplified approach, and the platform is easy to use for everyday people. Nebeus offers a great one-solution platform that provides a secure wallet to store a combination of fiat and crypto, allowing you to send, withdraw, lend, borrow and earn.
Nebeus aims to create a financial world without boundaries between cash and crypto and be known as a trusted financial service worldwide. Using Nebeus is a great way to help you earn interest on your crypto without needing to sell any of it by implementing some form of lending.