Qardus is the UK's first ethical & Sharia-compliant business crowdfunding platform.
Qardus is primarily a social impact investment platform that promotes financial inclusion. The SMEs that are financed by this platform were prior to this financially excluded due to the lack of financial products that conform to their ethics & values.
Recently there have been a number of new entrants into the UK halal investment market, and the halal investment options in the USA and globally have significantly increased as well.
The driving force behind this uptick is that enabling technology and regulation has become increasingly user-friendly and a new generation of millennials are designing halal online investments that are going directly to the Muslim consumer rather than via financial advisors, banks, or other financial institutions.
There is a strong growth spurt projected for the next 10 years not only in the European countries (United Kingdom, Germany especially) but also in Africa, the Middle East and Asia. In Europe, in particular, we are seeing second-generation Muslim immigrants that are more financially savvy and better educated than their parents and are thus looking for this kind of product.
What does Qardus do?
As mentioned earlier, Qardus is a sharia-compliant lender to small and medium-sized enterprises to help with their cashflow needs.
They provide short-term halal business loans, or halal business investments.
As an investor, you provide the capital to lend to the business, and get paid as the business pays that money back.
The kinds of businesses Qardus go for are well-established, strong-revenue companies, typically in stable markets such as the medical or pharmaceutical industry. There is an emphasis on the people behind the businesses as well, so they focus on high net worth owners to minimise risk. For a company to be accepted on Qardus, it must have at least 3 years of good performance, being profitable in at least 2 of those 3 years. It is thus not an ideal platform for new and speculative projects.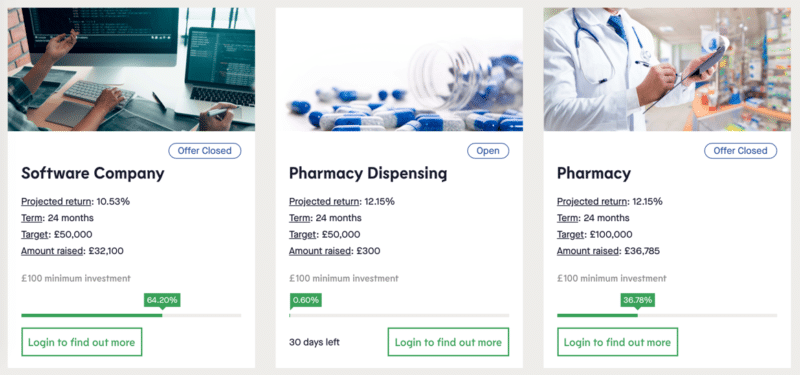 The investment is structured using a commodity murabaha structure which is not the most preferred sharia structure, as it isn't as pure a profit-share structure as is ideal. However, the model is very common across most of Islamic finance, and is approved by most leading scholars. Qardus, to their credit, have always said they'll start with this but then look to see if they can offer other structures instead.
The kind of returns that are possible over a 1-2 year period are around the 8-12% annual return mark, which is very healthy. The short-term nature of the return is also appealing too, as there is a dearth of such products in the market right now.
The investment is ultimately one in which you can technically lose all of your investment though, so is high-risk high-reward. The chances for this happening are very low given the detailed credit checks that go into choosing a business, but you shouldn't be going about putting your entire life savings into this investment.
Cashboost
Qardus have decided to introduce CashBoost for investors making their first investment on the platform.
So from now until the end of December, if you invest over £1,000 as your first Investment, you are entitled to up to 3% CashBoost.
A CashBoost is like CashBack, but rather than paying you cash when the investment funds, Qardus increase your investment by the same amount instead, so that your CashBack earns a return as well.
Final Thoughts
The number one concern for investors investing on this platform is that it has a very limited track record, which is to be expected since it has just launched properly in 2020. As time goes by Qardus should be able to complete projects successfully and return the investors' money plus interest.
This will show that the platform has what it takes to compete amongst the many P2P lending platforms that currently exist.
However, the big advantage of Qardus is that it specifically targets Halal investing which is of utmost importance for Muslim investors. Those who are not necessarily Muslim but are attracted to the concept of socially responsible and ethical investing should also find this platform very interesting.
Summary
Qardus is a platform mainly targeted to Muslim investors due to the way investments are structured and chosen. However, it is open to all investors in the UK and Europe who appreciate the value of diversification and the strong due diligence and ethical aspects of this platform.
Pros
Islamic finance compliant
Strong due diligence procedures
Competent and experienced directors
Cons
A newer platform that is still building a track record and reputation