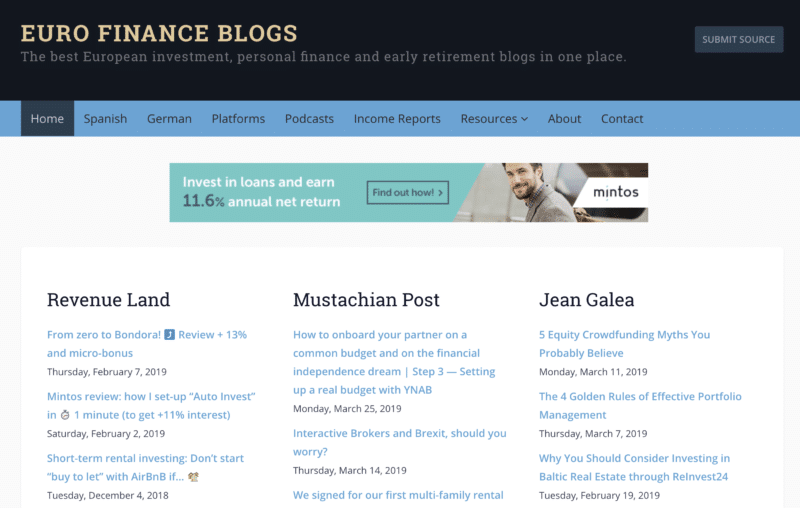 I love reading and learning about personal finance as well as sharing my failures and successes on this blog.
I've been reading personal finance and investment blogs for many years now. Most of the big blogs are from the USA, but since 2017 there has been a very welcome big surge in European blogs on this topic as well.
This coincided with the rise of P2P lending and crowdfunding platforms in Europe, an increase in overall fluency in the English language, as well as a lot of innovation in the Fintech sector on the continent.
Many of these new blogs are about FIRE, following the example of their American counterparts. I'm not interested as much in FIRE as I am in investment opportunities and the differences between the way the European and American financial systems work.
While the American blogs are great for general personal finance and investment concepts, they also have a lot of content that doesn't really apply to European investors. One example is the overemphasis on saving and money management. I feel that Europeans have a much better grip on their personal finances than Americans since there isn't such a strong consumerist and debt-driven culture in Europe.
There are also lots of tax and retirement savings strategies that exist in the US but don't in Europe, for example, the frequently mentioned 401K.
We also need to keep in mind that most of Europe is on the Euro, which is one of the world's major currencies but doesn't have the reserve currency status that the USD has, and so we need to adjust our holdings accordingly.
On the other hand, most of the best opportunities in the past decade or two have been found in the American tech stocks, so as European investors we need to be very attuned to what is happening in the US.
In order to help me with my daily research, I built a site that aggregates news from all these blogs and other sources such as podcasts. You can find the best European finance blog news over at Euro Finance Blogs, a site I built with the excellent WP RSS Aggregator plugin for WordPress.
European Investment Forums
When embarking on an investment journey, it is important to discuss your ideas with other investors, and make sure that you're up to date with all that's happening with your investments.
I have always found that one of the best ways to do so, apart from meeting people in real life, is to be part of online forums. Peer-to-Peer lending generates a lot of questions and discussions, and so forums lend themselves especially well to this type of investment.
Here are my favorite peer to peer lending forums in Europe:
There are also several Telegram and Facebook groups.
If you're looking for a bird's eye view on everything that's happening within the P2P lending space, do make sure to check out Euro Finance Blogs, which is an aggregator of all the top finance blogs in Europe as well as news from the major lending platforms. News is available in several languages.
Do you follow any other forums or personal finance blogs in Europe that are worth adding to the list?
Have a look at Euro Finance Blogs if you're interested in learning how you can make your money go further, and as always, if you have any feedback, just leave a comment below. Enjoy!