This post is also available in: Spanish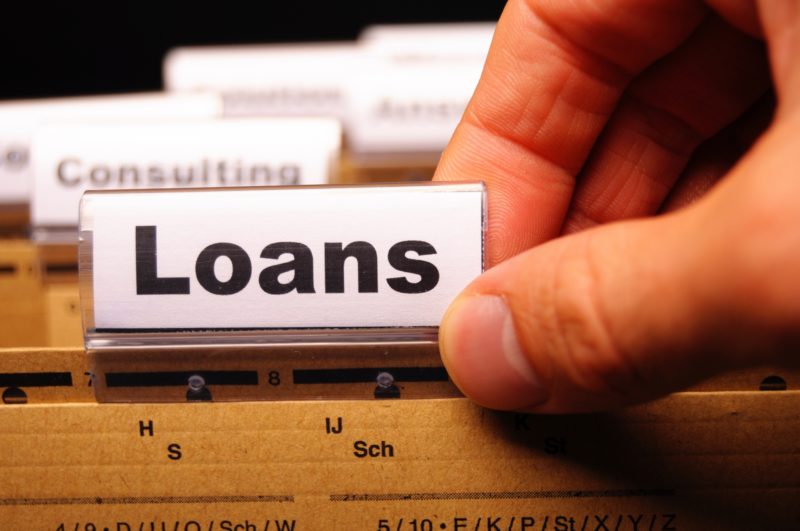 Amongst all the online investment platforms available today, European peer-to-peer lending sites are the ones which offer the highest returns. That, of course, comes with increased risk. Let's have a look at how P2P loans work and which are the best European peer to peer lending sites in 2018.
Why the focus on Europe? Simply because I am European and currently based in Europe. Most US lending sites, as well as some UK sites, prohibit European citizens from investing, so this post focuses exclusively on those platforms that are available to all European citizens.
The History of Peer-to-Peer Lending
The peer to peer technology concept was first popularised by music file sharing networks such as Napster, eMule, and most recently torrents. What peer to peer means is that we're removing the intermediary and regular people are sending files to other regular people. Applied to peer to peer lending, it means that we are lending money to other people who need it for something specific. There is no need for a bank to get involved because the money is flowing directly from loan providers to the people requesting the loans.
The traditional way of getting loans was to go to a bank, describe why you need the loan, show your assets and submit an application. You then had to wait days or weeks until you receive a decision from the bank. They would offer you the terms, including probably the most important factor which would be the interest rate.
After the financial crisis, many banks became much more restrictive in who they give loans to, especially in certain countries. This left a lot of people and businesses in dire straits as they had nowhere to go to in order to obtain much-needed capital to make important purchases or investments. This also created a situation where many investors in Western Europe (e.g. Germany, UK) were flush in cash, and on the other hand, you had people and businesses in Eastern Europe (e.g. Latvia, Lithuania, Georgia) who were suffering due to the difficulties in obtaining financing.
P2P platforms solved these problems by providing an alternative to banks. Investors now had no borders and could easily invest in loans outside of their countries at very good returns, because there was so much demand. In this way, everyone is a winner. The platforms themselves take a cut when loans are re-sold on the secondary market.
How European Peer-to-Peer Lending Sites Work
Typically you will see different kinds of loans, some with no guarantee and others with some kind of guarantee. For example, if the loans you invest in have Buy Back guarantee, then the highest risk is for the P2P lending platform to go bankrupt, and that can happen because of many reasons – bad management decisions, competition or scam.
Peer to peer platforms service the loans and receive payments from the borrowers. Then the received payment is divided proportionally according to the amount of investment between all investors that have invested in the particular loan.
As soon as the borrower, whose loan you have invested in repays his loan, you will start receiving payments of both the principal sum and the interest, for the investment period. They will be automatically transferred to your account. You can reinvest the received money in any available loans or request a payout directly to your personal bank account.
For each loan, the date of its repayment has been set, so the investor will receive money in his account according to the regularity of payments made by each particular borrower.
Who Can Invest in P2P Lending Sites?
These European lending sites are open to all European investors, possibly even those outside of Europe in some cases. The only exceptions are the UK-based platforms, which are typically restricted to investors resident in the UK. Zopa is one such example. It's been around since 2005 but is restricted to UK-based people.
The majority of platforms that are open to other countries are based in the Baltic countries. We have leaders such as Twino, Mintos and Bondora which have proven to be success stories, and now many other new entrants are fighting to get a piece of the pie.
Many of these platforms are available in more than one language, precisely to cater for the fact that in Europe people speak so many different languages and might not be comfortable investing their money if the site is only available in English. For example, my favorite lending site, Mintos, is available in English, Czech, Spanish, German, Latvian, Polish and Russian.
From my experience, at the moment in Europe the country with the most investors in P2P lending is Germany, leading by a long margin. German investors love P2P platforms. Germany is a country where people have a high purchasing power and they are looking for good returns on their savings, and hence P2P lending platforms are a great match for them.
What Returns Can You Expect from Peer to Peer Lending?
I think peer to peer lending sites are one of the best ways to earn passive income. The vast majority of investors are accustomed to using real estate for (mostly) passive income, but in my experience peer to peer lending can produce better returns while being more passive than real estate.
I've been averaging 11% returns per year over the past two years over the various platforms I've used. 
A common question I receive is about how much return is considered as the minimum acceptable.
My answer is that it is an ever-shifting minimum interest rate. What you want to do is compare any investment return with the risk-free interest rate. The risk-free rate of return is the theoretical rate of return of an investment with zero risk. It represents the interest an investor would expect from an absolutely risk-free investment over a specified period of time. In theory, the risk-free rate is the minimum return an investor expects for any investment because he will not accept additional risk unless the potential rate of return is greater than the risk-free rate. In practice, however, the risk-free rate does not exist because even the safest investments carry a very small amount of risk. Thus, the interest rate on a three-month U.S. Treasury bill is often used as the risk-free rate for U.S.-based investors.
At the moment it hovers around the 2.5% figure, so based on that and the risk of loan platforms (note that some carry much more risk than others), I would be looking for anywhere between 9 to 20%.
Let's have a look at some of the best loan platforms in Europe, based on my experience.
The Top European P2P Lending Sites in 2018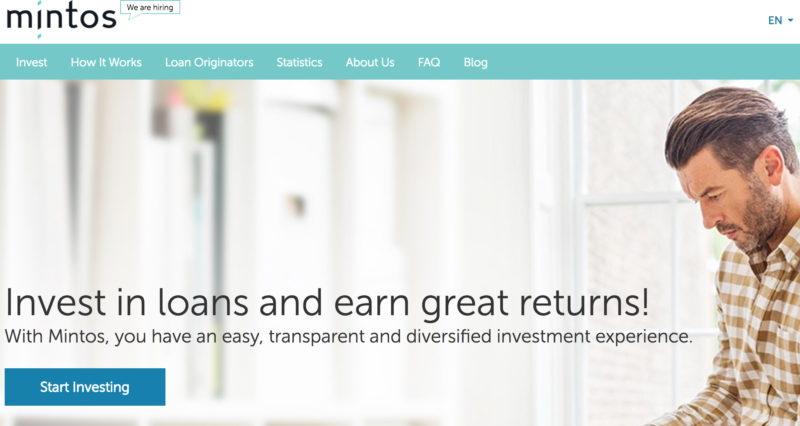 This is by far my favorite platform.
The interface is great; everything is understandable and you don't need to fish around for data. You get a daily report in your inbox and you can also use the auto-invest functionality, which I always do.
Mintos has a solid secondary market which provides investors with liquidity. If you want to sell off your loans at any point, you can put them on the secondary market, choosing whether to apply a discount (making them more attractive) or add a premium (less attractive). If you want to sell quickly, applying a discount is the best way to do this.
The minimum investment in any single loan on the primary market is EUR 10, DKK 80, GEL 25, PLN 50  or CZK 300. There is no minimum for investments in the secondary market.
You have to be careful when setting the auto invest parameters on Mintos. Check out the Mintos lender ratings post on Explorep2p as well as the Mintos loan scanner to see which are the most trustworthy lenders on the platform.
The income earned at Mintos is taxed for each investor based on the legislation of the respective country where the investor is a tax resident. Each investor can receive extensive information necessary for tax returns when logged into their Mintos investor account.
Companies can also invest through Mintos without any problem. There are specific documents that need to be provided in order to comply with AML legislation, but it's pretty straightforward.
It's been three years since Mintos launched, and they have turned an annual profit for the first time last year. In 2017, revenue increased more than four-fold to over EUR 2.1 million and net profit was EUR 196 000. This means a lot to me as an investor. It means that the company has a proven business model and won't be disappearing tomorrow, as many others have done.
During 2017, Mintos experienced significant growth, making it the peer-to-peer lending market leader for continental Europe with a 38% market share according to AltFi Data. Since their establishment, they have exceeded EUR 660 million in cumulative investments by investors and they expect the number of loans funded to reach EUR 1 billion by the end of the year.
In 2017, Mintos made considerable investments in technology, people and the marketplace, making the service even more convenient for investors. Last year they launched a currency exchange featuring transparent exchange rates and fair fees, which allows investors to exchange money at a lower cost than through banks. As a result of this investment in growth, the number of investors on Mintos also grew rapidly. As of May 2018, 58 000 investors had joined the marketplace and they expect to reach 100 000 investors by the end of the year. Again, as an investor, this is reassuring, as I know I'm not alone using this platform, but I'm joined by tens of thousands of others like me.
Currently, Mintos has three offices employing 50 people in Riga, Warsaw and Mexico City, with offices shortly opening in Brazil, Russia and South East Asia. By the end of the year, they plan to double the number of their employees.
In 2018, Mintos is focusing on growing both sides of the marketplace by increasing investor demand, as well as loan supply from current and new locations by expanding the investment opportunities on the marketplace in Africa, Latin America, and Southeast Asia.
In 2018 Mintos also introduced risk ratings for loan originators offering their loans on the marketplace. The Mintos Ratings are on a scale from "A+" to "D", representing the lowest and the highest counterparty risk respectively.
The Mintos Rating is meant to be a gauge for each loan originator's financial and operational stability. According to Mintos, the loan originator's ability to service and originate loans is the most important factor when assessing loan originators. In addition, the financial standing of the loan originator is a material factor when the buyback guarantee is provided to investors.
Ultimately, the Mintos Rating measures the counterparty risk or risk of loss resulting from a loan's originators' failure to service and/or transfer the received payments from borrowers to investors or meet other contractual obligations (including but not limited to the buyback obligation). Counterparty risk is capturing operational and default risk of the company acting as a loan originator, servicer of loans and obligor of the buyback guarantee to investors. The materialization of those risks would cause a disruption in loan servicing and the buyback fulfillment which are the core risks related to loan originators on Mintos.
The rating is driven by five core factors characterizing each loan originator: operating environment (10% factor weight), company profile (15%), management and strategy (15%), risk appetite (20%) and financial profile (40%). Additionally, a support factor is incorporated for loan originators who receive guarantees from the group or a related company.
The Mintos Rating is based on information obtained during the initial due diligence process and data from ongoing monitoring. This includes the primary information from loan originators such as management interviews, site visits, audited and interim financial statements, corporate presentation, credit policy and risk control documents. The rating will be updated annually, except in certain instances where a loan originator's rating requires an immediate change. This could be due to a cash injection, positive or negative regulation being implemented in the country of the loan originator and so on.
On Mintos, you can expect returns between 6% and 18%, and the minimum investment per loan is €10.
By signing up to Mintos through the link below and investing, you will receive a 1% cashback. I've been investing with Mintos for the past two years and have obtained great results, so if you have any questions before deciding whether to invest, leave a comment below and I'll help you out.
Sign up to Mintos and get a 1% cashback on money invested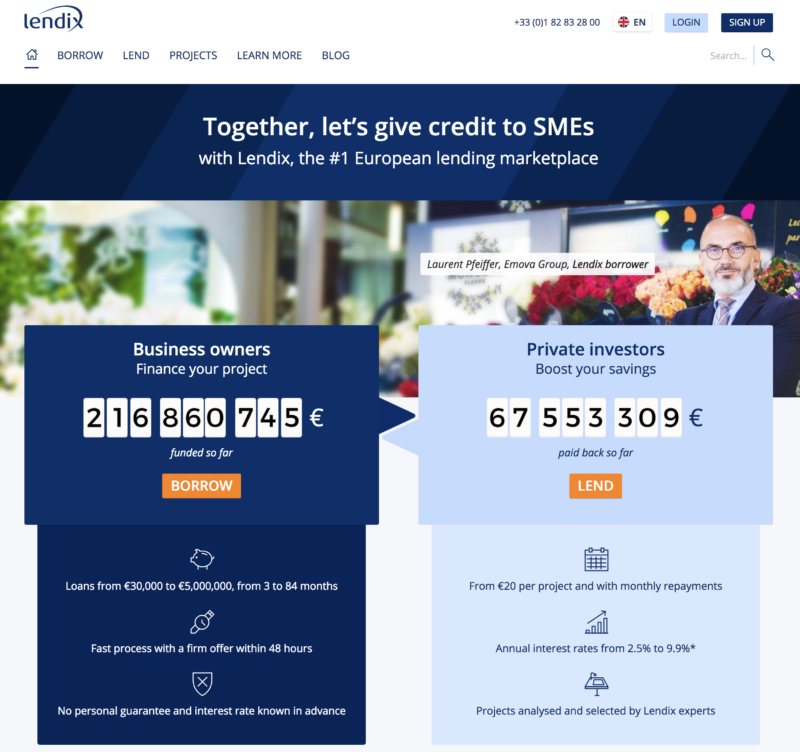 With Lendix you don't lend money to other people but to small businesses. I find this site to be very well structured and organized. Their chat is very helpful if you have any questions or doubts about any of the investments.
This peer to peer lending site is available in English, Italian, French and Spanish. All European investors are welcome to join and invest.
The minimum investment per project is €20 and there is no secondary market. You can expect returns between 5% and 9% per year.
I've been investing with Lendix over the past two years and have had very good results. The loan offerings are very well presented, and each loan is fulfilled very quickly, sometimes in a question of hours. This shows that investors really trust this platform and that that loan offers themselves are very attractive.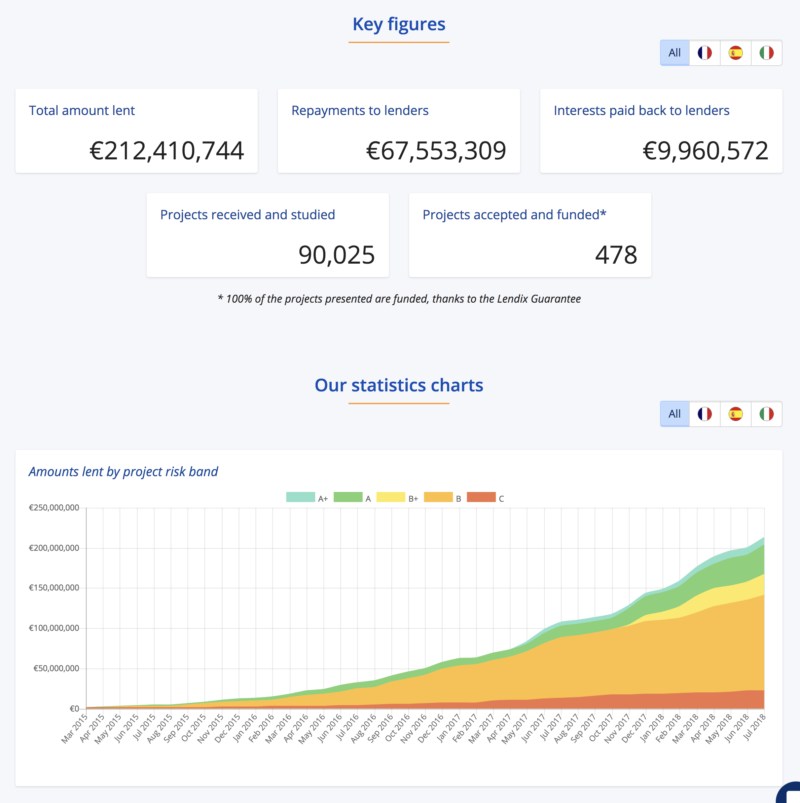 The businesses asking for the loans are very diverse and come from the four countries I mentioned. As an entrepreneur myself, I not only enjoy the returns from Lendix, but I also enjoy reading about the various businesses that appear on this site and observing their financial statements.
One thing to keep in mind is that most of the loans are fairly long-term, with the shortest being for 2 years. I try to keep the loans I invest in between 2 and 3 years out of personal preference for shorter loans and higher liquidity in my portfolio.
When you click the link below to start investing with Lendix and invest your first €500, you will receive an extra €20 to invest on the Lendix platform.
Start investing with Lendix today and get €20 to invest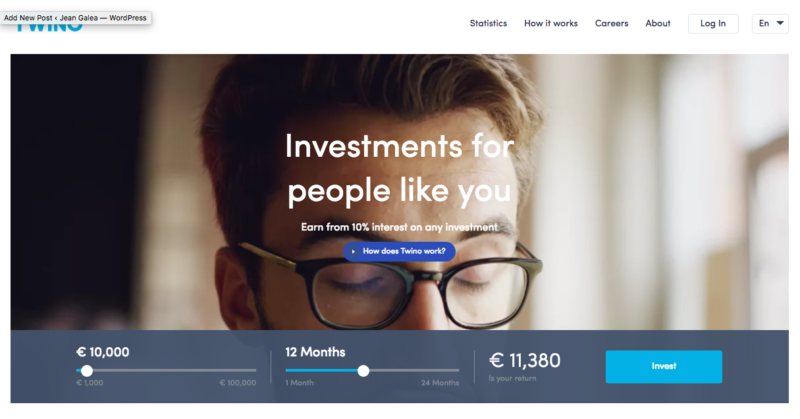 Twino is my second favorite platform and works very similarly to Mintos. The biggest difference is that there are more loans available on Mintos.
With the help of TWINO, you can invest in unsecured consumer loans that have been issued by TWINO Group lending companies in 5 different countries (Poland, Georgia, Denmark, Spain and Russia).
TWINO does not charge investors any fees. TWINO makes its profit from the spread between the interest rate charged to borrowers and the interest rate offered to investors.
Currency for your TWINO account will be set depending on the currency of your first deposit. In case your first deposit is made in GBP, all operations under your account will be held in GBP. All other currencies will be converted to EUR and your account will operate in EUR. TWINO accepts all currencies. Payments received in currencies other than EUR and GBP will be converted to EUR. Payments received in currencies other than EUR and GBP will be converted to EUR by the Swedbank currency exchange rate.
TWINO offers support on weekdays from 9 AM to 6 PM EET via email, phone or Skype chat.
Within TWINO you will see a XIRR percentage figure, which gives you an idea of how your investments are doing. XIRR is the annualized internal rate of return, which shows your current portfolio yield at a given date. However, bear in mind that it takes into account only the received payments (deposits, withdrawals and interest payments), not the interest payments that you will receive in the future. XIRR and all interest rates are shown in annual terms. The XIRR number is reliable once the interest payments from all the loans in which you invested a deposit have been received.
Other Peer to Peer Lending Sites
I've also invested in a few more European peer to peer lending sites, here are a few notes on them.
MyTripleA – Spanish platform that works well but has very little projects available. It is similar to Lendix in the sense that you are lending to SMEs. They do offer guaranteed returns of 2% however if you're happy with parking money for minimal but secure returns.
Lendy – Real estate loans based in the UK. I've had a number of defaults and overall low returns, so I wouldn't recommend it. It's also not an easy site to navigate.
Bondora – One of the earliest European platforms, based in Estonia. I tried this out but wasn't really excited about the returns nor the actual look of the site and the way things are presented.
Is Peer to Peer Lending Safe?
We are living in an age of abnormally low interest rates and low inflation. That means that on the one hand there is a lot of demand for investments that offer good returns and on the other hand a lot of skepticism from people who don't really know how these kinds of investments work.
You should always read reviews like this and investigate each platform yourself before deciding to invest. Ask other investors how they are doing, and have some interaction with the platform itself by chatting with them, phoning them or using their email support system. Check how they reply to you and use that to guide your investment decisions.
I recommend reviewing your investments on a monthly basis so that if you see a bad trend developing on any of the platforms, you can take corrective action early. It is also a good idea to diversify as much as possible. If you have €10,000 to invest, you can choose to put €100 in each loan, so even if 2 loans go bad, you will still have €9,800 safe.
You will still receive interest on all the other loans so by the end of the year you will still be comfortably ahead. In the game of peer to peer lending you must be prepared for a small percentage of loans to go bad, that's just the nature of how things work. Don't get too frustrated about it when it happens, but rather make sure that your overall returns for the year are positive.
Obviously, don't invest all your money in peer to peer lending sites. It is never a good practice to put all your eggs in one basket. I like to keep a healthy balance of stocks, cash, investments in other businesses, real estate, and loans.
All the websites I spoke about in this post are regulated (this isn't wild west territory as in crypto), and one of the biggest selling points for these websites is how transparent they are. They are therefore incentivized to be transparent and show you historical data about their loan performances.
I would be aiming for 8% to 14% per year as a target earnings rate before tax when investing in peer to peer lending sites. Anything less than 8% and I would start to get worried and probably shift my investments elsewhere. This is because peer to peer lending is not as safe as investing in real estate, just to mention another asset class, so if my returns get that low I would prefer obtaining more safety through real estate investments.
Conclusion
If you're interested in trying out peer to peer loan platforms, I suggest you start off with Mintos.
I've been able to consistently achieve returns higher than 10% over the past two years, and so have my friends who are also invested in this platform. If you have any questions about Mintos, Lendix, Twino or other platforms I mentioned, or how the model of peer to peer loans works, please leave a comment and I'll do my best to answer your questions.
Before you make any investment decisions, I also encourage you to have a look at how your country taxes proceeds from peer to peer lending. You can check out my article on how peer to peer lending is taxed to get started on this topic.
Here's a good resource for discussions on p2p loan platforms that's worth checking out if you're interested in getting into any of these platforms or want to learn about other similar ones.
Have you invested in p2p loan platforms? What has been your experience with these platforms?