Binance is once again showing the cryptocurrency world that it is a Jack of All Trades. On top of its core exchange services, the platform is also involved in Bitcoin derivatives, as well as its very own pre-paid crypto Visa card. And of course – you also have the native Binance Coin (BNB).
Start earning interest on Binance
With that said, a Binance product that I am particularly interested in exploring further is its interest-earning service. That is to say, by depositing digital currency on the Binance platform, you can earn interest on your holdings in a similar way to a traditional savings account.
If this is something that you might want to explore further – here I explain the ins and outs of how to earn interest on Binance.
In a nutshell, Binance allows you to earn interest when you deposit some of your cryptocurrency tokens into the platform. There are two main ways of doing this – on a flexible basis or by locking the digital assets away for a fixed amount of time.
Naturally, by opting for the latter, you will benefit from a higher interest rate. This is comparable to a fixed-rate certificate of deposit (CD) account or savings bond. That is to say, you won't be able to redeem your crypto holdings until the respective term has concluded.
If, however, you opt for a flexible arrangement, this is much more aligned with a conventional savings account. In other words, you can withdraw your digital funds at any given time. For as long as your crypto assets are held in the Binance flexible savings account, you will earn interest.
Flexible Savings Account
Now let's dig a little deeper into how each interest-earning opportunity works on the Binance platform – starting with the flexible savings accounts.
As noted above, this allows you to deposit funds into Binance and you will earn interest for as long as you keep the digital assets there. You can withdraw your cryptocurrency at any given time – meaning the investment is 100% liquid.

This option is going to be suitable for those of you who like the idea of earning interest on your digital currency holdings, but want immediate access to your coins as and when the time arises.
The redemption process isn't quite instant, but near enough – as the funds will be available for withdrawal the very next day after you make the request. This is good enough for making planned trades, but not quite good enough if you want to trade crypto quickly in response to a brief or unexpected market event, for example, a significant dip that only lasts a few hours in an otherwise long bull run.
Supported Digital Currencies and Yields
If opting for the flexible savings account, Binance supports 58 different cryptocurrencies of varying market capitalizations.
At the upper end, you have the likes of Bitcoin, Bitcoin Cash, Ethereum, Ethereum Classic, NEO, and Ripple. In terms of less liquid coins, this includes WAVES, Komodo, IOST, and many others.
When it comes to interest rates, this will vary quite considerably depending on which cryptocurrency you choose to deposit.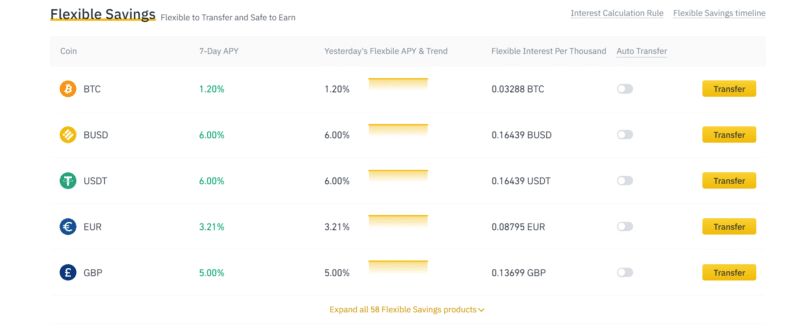 For example, it appears that the best paying yields are associated with USDT and BUSD – which both attract a 7-day APY of 6%. At the lower end, Ripple and Ethereum attract a yield of just 1.40% and 0.87%, respectively. If it's Bitcoin you're looking to earn interest on, Binance pays an APY of 1.20%.
Listing each and every supported coin and interest rate is beyond the remit of this article, so please check the Binance platform to get more information on your desired market.
Note: To avoid confusion, a 7-day APY does not mean that you will earn the respective interest rate every 7 days. On the contrary, this is still an annualized rate. It's just that the 7-day APY takes the net difference between the interest rate today and 7 days previous.
Fiat Currency Interest
Perhaps the above interest rates are not overly attractive – especially with major cryptocurrencies like Bitcoin, Ethereum, and Ripple. With that said, you stand the chance to earn an even better yield on Binance – should you wish to generate interest on your fiat currency deposits.
At the higher end, it's possible to earn a 7-day APY of 5% on GBP deposits – which is huge. I say this, as by leaving your GBP in a UK bank account, you'll be lucky to earn more than 1% annually. In the case of EUR deposits, this attracts a lower, albeit still generous, APY of 3.21%.
Locked Savings Account
So now that I have covered the flexible option, I am now going to explore the ins and outs of the locked savings account offered by Binance. In a nutshell, unlike the flexible account, this particular option requires you to lock your crypto assets away for a fixed amount of time.

The available durations are as follows:
7 days
14 days
30 days
90 days
To clarify, once you choose your respective duration, you won't receive your investment back until the term concludes. As such, just make sure that you are confident that you won't need access to the funds.
Supported Digital Currencies and Yields
Unlike the flexible account – which supports 58 digital assets, the locked savings account accepts just three cryptocurrencies – all of which are stablecoins.
This includes:
In terms of the yield, this varies not only depending on the coin you deposit, but the duration of the term.
Naturally, the longer you elect to lock the coins away, the higher the interest rate.
Nevertheless, USDT and BUSD attract the highest yield – with 90-day terms getting you an annualized interest rate of 7%. USDC isn't far behind, with a rate of 6% for a 90-day term.
If you opt for a 7-day period, you'll get 6.31% on USDT and BUSD, and 5.31% on USDC.
How is Interest Possible on Binance?
If you're wondering how Binance is able to pay your interest on the digital assets that you deposit – the process works much the same as any platform offering a similar service.
That is to say, Binance will use the cryptocurrencies that you deposit and lend the funds to somebody that wishes to take out a crypto loan. The interest rate that the borrower pays will, of course, be higher than the yield you are able to earn.
Like other crypto loan platforms in this space, the borrower is required to put up collateral. The amount that they can borrow will therefore be dependent on the amount they deposit into Binance.

Should you use the Binance Savings Account?
Whether or not the Binance savings account is worthwhile will depend on various factors. For example, if you are holding a stablecoin like USDT or BUSD, you can earn an attractive yield of 6% per year.
This can be achieved without needing to lock your capital away – as the 6% rate is available via the flexible option.  At the other end of the scale, cryptocurrencies like Ethereum and Ripple will attract an interest rate of just 0.87% and 1.40% annually, while Bitcoin comes at a rate of 1.20%.
On the one hand, these rates are far from attractive. But, it's also worth noting that by leaving the aforementioned cryptocurrencies idle in your private wallet – you are earning no yield at all.
Crucially, as I recently noted in my article on the Best Crypto Interest Accounts, much better rates are offered elsewhere.
For example, YouHodler allows you can earn an annualized interest rate of 4.8% on Bitcoin – on the proviso that you keep the coins locked for 30 days. Additionally, while Binance pays a top-tier rate of 7% on stablecoin deposits, YouHodler offers up to 12%.
Is the Binance Savings Account Safe?
Binance as a trading platform is home to the largest amount of daily volume and liquidity in this industry. It has a great reputation amongst traders of all shapes and sizes – which is why it is often the go-to platform to buy and sell digital assets.
In terms of specific safeguards, the crypto assets that you deposit into Binance will be used to loan money to borrowers. The entire transaction is facilitated via Binance – meaning that it matches lenders and borrowers behind the scenes.
As I briefly noted above, those that want to take out a crypto loan at Binance must put up collateral. This is based on the classic LTV (Loan to Value) model. For example, if the borrower deposits $10,000 worth of Bitcoin, at a maximum LTV of 65%, they can take out a loan worth $6,500 in their desired asset.
If the borrower was to default on the loan – or the value of the digital currency used as collateral declines in value by a certain amount, Binance will liquidate the crypto.
In addition to the above, it's also worth mentioning the Safe Asset Fund for Users (SAFU). This is an insurance pot that Binance itself funds via transaction fees that it collects from the exchange. The main idea with the SAFU is that it is there to cover investor losses should Binance get hacked (or defaults occur via Binance Earn).
Whether or not the amount of capital in the SAFU would be sufficient enough to cover potential losses remains to be seen. Taking all of this into account, it's important to remember that your crypto deposits in the Binance savings account are never 100% safe.
The Verdict?
In summary, I'm a strong advocate of the cryptocurrency interest phenomenon. After all, by leaving your digital currencies sat idle in a private wallet – you are earning nothing on your investment in the way of income.
Instead, by storing your crypto in an interest-bearing account such as the one offered by Binance – you get the best of both worlds. That is to say, you will make money should the value of the digital currency increase in the open market, as well as interest for as long as you keep the coins in the account.
However, I should make it clear that the rates offered by Binance are not overly attractive. As I covered earlier, other platforms in this space – such as YouHodler and Nexo, offer much better yields.
On the other hand, having your cryptos on Binance means you can do much more than earn interest, as Binance has a multitude of other features including futures trading, staking and DeFi liquidity mining.