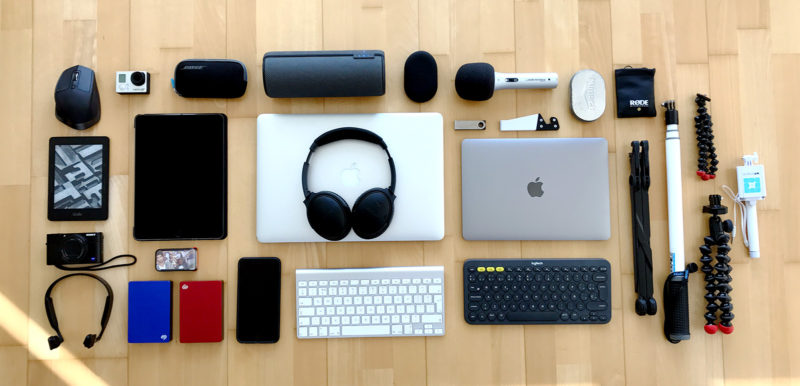 This is the hardware that makes up my office. These items are all I need to run my business from wherever I am around the world. Since this year I am doing less work on-the-go and have mostly been working from Barcelona, I've had the opportunity to make a few additions to my setup. While some items are not very portable, most of my hardware can easily be packed and moved around to new locations.
The main change compared to last year's setup is the addition of an Apple iMac 27″ computer, and my selling of the MacBook Pro 15″. I now use just one monitor for working, so it's either the iMac or the small MacBook when I'm working from cafes or traveling. I still have the Dell monitor but I am planning to use it to set up a business dashboard when I have time. The MacBook was getting very hot on a daily basis with the fans making a significant noise especially during the frequent video editing and production that I'm now doing due to padel match recording. With the iMac I have significantly more power and don't have problems of noise or slowness anymore. As always, I was able to sell the MacBook at a very good price. It's one of the reasons why I always purchase Apple hardware; their resale value is incredibly strong and they are quick sells.
The iPhone is getting slow lately, and I plan to substitute it with this year's iPhone X when that is released later this year.
Another minor upgrade is the Rode Podcaster microphone, switching from the ATR2100 mic. My friend James Laws had a few of these mics lying around after modernizing his studio and upgrading to better mics, so he generously sent me one. I don't think it's worth spending money to upgrade from the ATR2100 if that's your current setup, but since it came at no cost, it was a worthwhile upgrade for me.
I also upgraded to the GoPro 6 from the GoPro 3+. There is a significant difference in quality, color profile and of course image stabilization which is worth the upgrade alone.