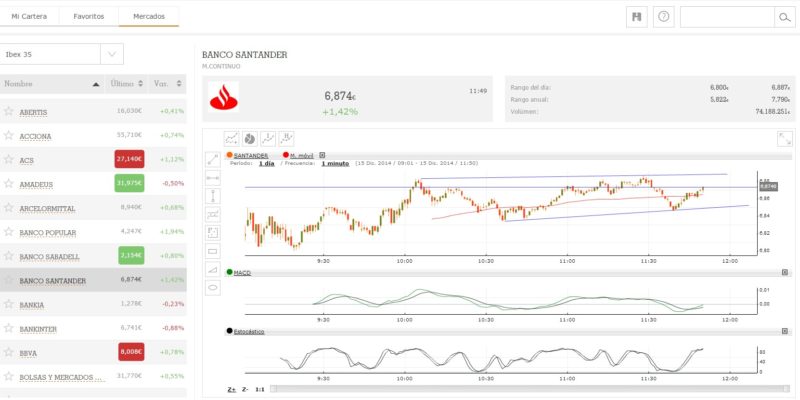 Following my move to Spain, I started searching for a local broker to start investing in stocks.
I'm not a huge fan of Spanish financial institutions, and given the choice, I'd much rather use an international stockbroker. That also makes it easier for me if I eventually move my residence to another country.
There are two main advantages of working with a Spanish broker, on the other hand:
No need to fill in any foreign asset reporting documents at the end of the year (Spanish Modelo 720 in this case).
Advantageous commissions (or lack thereof) for the local stock market.
The Modelo 720 form is an absolute drag to compile, but once you get the hang of it or outsource it, this factor becomes less of a deal-breaker. Although when the March deadline for that form comes around, it's a good reminder of how backward the Spanish taxation system is. I invest internationally and not in the Spanish market, so the second advantage is not so important to me.
With that said, here are the best options I've found.
eToro – The Best Option for 0% Fee Trading on Stocks
If you're actively involved in the online trading space, there is every chance that you have heard of eToro. After all, the provider now has 13 million users under its belt – making it one of, if not the largest trading platform around.
eToro offers a wide selection of markets – all of which can be accessed online or via the app. When it comes to traditional ownership, you can buy and sell shares from 17 marketplaces. This includes stocks listed in the US, UK, Canada, Germany, France, and more.
You can also invest in ETFs – such as those backed by Vanguard and iShares. This is good for diversification purposes or gaining exposure to difficult-to-reach markets. You can also buy and sell cryptocurrencies. This covers 16 digital coins – including the big two: Bitcoin, Ethereum.
Whether you decide to invest in stocks, ETFs, or cryptocurrencies at eToro – you will not pay any commissions at all, but spreads apply. There is no sign-up fee or monthly/annual subscription, either. You will also avoid stamp duty when buying UK stocks, which saves you an extra 0.5%.
Getting started at eToro takes minutes. You'll need to first open an account – which you can online or via the app. Then, you'll need to meet a $200 minimum deposit, which you can instantly with a debit/credit card or e-wallet. Bank transfers are also an option, but this can take up to 7 working days.
You can read my full eToro review here, where I delve deeper into why I like this platform, and what you need to be aware of when trading on it.
67% of retail investor accounts lose money when trading CFDs with this provider. You should consider whether you can afford to take the high risk of losing your money.
DEGIRO – A Popular Low-Cost Broker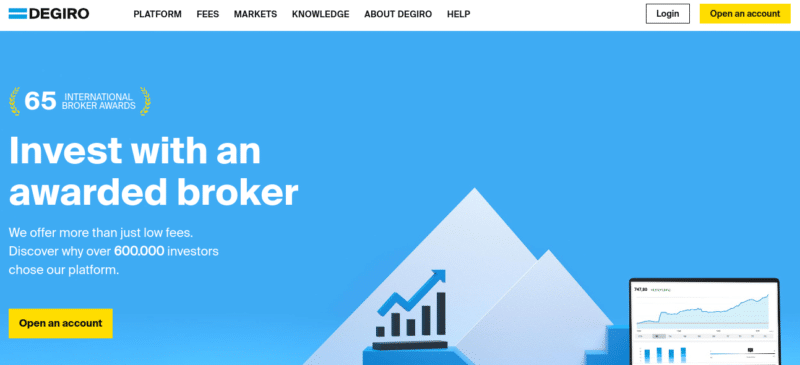 There's not a lot of online brokers that offer an asset library as extensive as DEGIRO. Whether it's shares, bonds, ETFs, or funds – you'll have access to thousands of instruments across 50 markets and 30 exchanges. This ensures that you can build a highly diversified portfolio and thus – mitigate your exposure to a single asset or marketplace.
In terms of the main attraction – fees, this is largely very competitive. In fact, if investing in major marketplaces found in the UK, US, and parts of Europe, the fees are much lower than most brokers out there. However, it is important to remember that the likes of eToro allow you to buy shares in a 100% commission-free environment.
As such, if you really want to focus on keeping your costs to an absolute minimum, eToro might be better. On the other hand, although you might pay a slightly higher fee at DEGIRO, the platform does offer much more in the way of asset diversity.
Finally, I do like the fact that DEGIRO does not have a minimum deposit in place and charges no transaction fees, albeit, it's a bit frustrating that you can only fund your account via bank wire.
You can take a look at my review of DEGIRO for more information.
NSBroker – An Alternative to eToro
Make no mistake about it, eToro is a trading app that is clearly favored by newbies. Sure, it's super easy to use and you won't pay any commissions. But, the app is lacking when it comes to advanced technical tools and features.
If this is something you are looking for from a trading app, it might be worth considering NSBroker. This is because the platform is fully-compatible with MetaTrader 5 (MT5). If you're unfamiliar with what MT5 is, it's a third-party trading platform that is popular with experienced traders.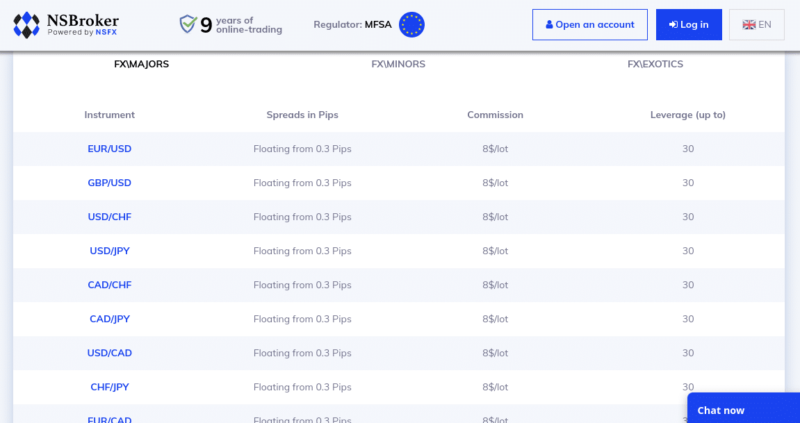 It provides a full selection of technical indicators, chart reading tools, advanced timeframes and patterns, and the ability to customize your screen like no other. Most importantly, MT5 offers a native mobile app that is compatible with both iOS and Android devices.
This means that all you need to do is download the MT5 app to your phone, log in with your NSbroker account credentials, and you're good to go. In terms of what NSbroker offers, this trading platform focuses exclusively on CFDs. This means no traditional shares or funds and no US citizens.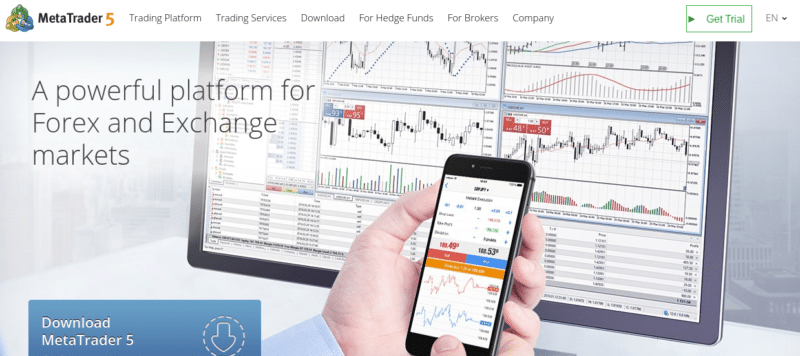 On the flip side, you will be able to trade CFD markets on stocks, commodities, forex, and cryptocurrencies. These markets can also be accessed with leverage and short-selling capabilities. When it comes to fees, NSbroker is very competitive.
It charges a small commission and spread – which will vary depending on the asset class. In most cases, I find this to be cost-effective. If you like what NSbroker has to offer, the minimum deposit is $250. You can fund your trading account via the app by using a debit/credit card.
You can read my full NSbroker review here.
I have also written a full head-to-head comparison of eToro vs NSbroker.
One of the most attractive features of IQ Option is that it is one of the few regulated trading platforms that gives you access to Bitcoin futures. The exchange is licensed by the CySEC in Cyprus.
Bitcoin trading on IQ Option is facilitated through CFD trading. As such, you have the option to benefit from a bearish market by short-selling the coins without ever needing to take ownership of the asset. In addition, you can also get leverage of up to 100x on your cryptocurrency positions, with a minimum stake of just $1.
Apart from Bitcoin, you can also trade 12 other cryptocurrencies, along with forex, stocks, and commodities. IQ Option also allows you to polish your trading patterns through a practice account. However, unlike some other platforms, there is no limited usage here. Instead, you can use the paper trading facility for as long as you wish.
In other words, you can backtest your patterns whenever you want on this platform. IQ Option also gives you a lot of flexibility when it comes to deposits and withdrawals – with a long list of supported payment methods. This includes credit/debit cards, wire transfers, PayPal, Neteller, and Skrill. You can also start trading with a minimum deposit of just $10.
IQ Option also has an exclusive product – FX options that are dedicated to speculating on currency pairs. Crucially, due to the risk involved, Binary options and Digital options are best reserved for experienced traders. If you need to practice trading these complex instruments, IQ Option offers a full-access demo account.  Coming to the trading fees involved – all CFDs on cryptocurrencies will require you to pay a swap fee that varies between 0.01% to 0.06%.
This can also extend up to 1.7% for overnight positions. For trading options, any fees charged will be included in the premium. Although IQ Options have a variety of financial products, it is best reserved for those with a thorough understanding of the respective derivative.
CFDs are complex instruments and entail a high risk of losing money rapidly due to leverage.
76% of retail investor accounts lose money when trading CFDs with this provider.
You should consider whether you understand how CFDs work and whether you can afford to take the high risk of losing your money.
Finizens – A Spanish Roboadvisor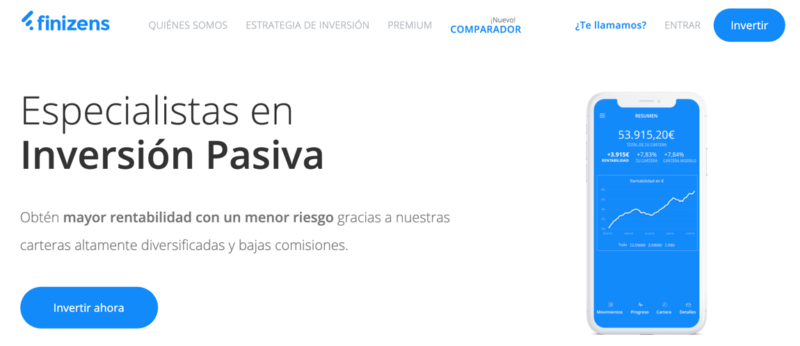 Unfortunately, this platform is only available in Spanish. It is a solid roboadvisor, however. Those who come from the US will surely be familiar with roboadvisors like Wealthfront and Betterment, and Finizens works in a similar fashion.
InbestMe – Another Popular Spanish Roboadvisor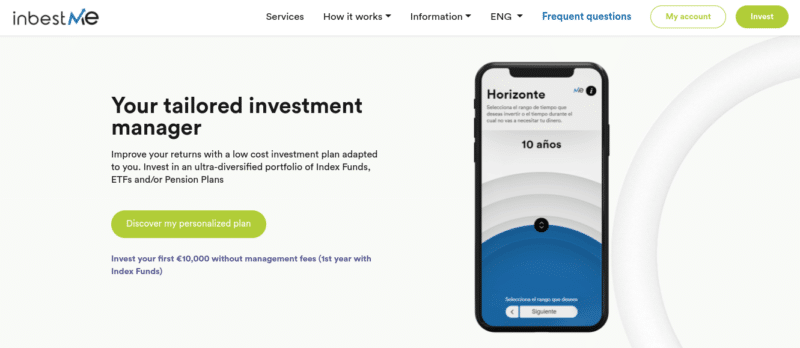 InbestMe is another Spanish roboadvisor platform, with the difference that it's also available in English.
InbestMe is a notable addition to the online passive investment scene. The platform offers reasonable fees, as well as access to a wide range of portfolios. 
As these portfolios are built as per your individual profile, you can find one that best fits your needs. It also offers a range of other financial services that include automated management, rebalancing, and more. 
Most importantly, InbestMe offers a range of safeguards that strive to keep your funds secure. 
Read my full review of InbestMe for more information about this platform.
Ultimately, if you are looking to invest in the financial markets on more of a hands-off approach, and you know what your investment goals are – then InbestMe is worth considering. 
DEGIRO – My choice for a buy-and-hold broker
With all the options out of the way, let's move onto some of my requirements for an ideal buy-and-hold broker:
Zero fees for custody and account maintenance.
Low fees on USA share purchases.
Low fees on transferring holdings outwards to another broker.
Protection up to 100K.
No loaning out of shares.
Ability to keep money in other currencies and transfer USD in and out.
Good web interface and mobile one too.
Fees and commissions are top on my list as a buy and hold investor, and the only one I found that makes sense for me is DEGIRO.
DEGIRO was founded in 2008 and has been expanding rapidly since then across Europe. The platform has a nice and modern interface that works perfectly fine for my needs.
After having covered my wishlist and some essential information on my shortlisted broker DEGIRO, let's dig a little deeper.
Asset Protection
Asset protection for DEGIRO is handled by the Dutch DGS. The Deposit Guarantee Scheme (DGS) is a set of rules that guarantees the deposits of bank account holders. If a bank goes bankrupt, the DGS guarantees deposits to a maximum amount of EUR 100,000. The guarantee applies to most account holders and virtually all types of bank accounts. My understanding is that for stock purchases protection is only up to 20,000 Euro. This is not as good as the Spanish FGD which guarantees up to 100,000 Euro. The chances of DEGIRO going bust and clients losing their stock assets is minimal, but possible. I would definitely be more comfortable with a 100K guarantee, but I'm ready to go with the 20K guarantee given the inconvenient commission structures of the Spanish brokers.
Currency Conversions
One of the bigger problems with DEGIRO is that they automatically convert your money to other currencies when required. Let's explain this further.
Let's say you put in a thousand euro in your account. Then you decide to invest in a US stock, which is of course denominated in USD. When you purchase, the broker will automatically convert the amount needed from your EUR balance to USD in order to buy the shares.
Secondly, when you receive a dividend from a US stock, or you sell that stock, the proceeds will be in USD, however on arrival at your brokerage account, the money will be converted back to EUR.
Most people forget to take this currency exchange issue into consideration when calculating the costs of operating with a broker.
The DEGIRO FX fee is 0.10% using AutoFX. You can do it manually, but the fee is then €10 + 0.04%. Probably not worth the bother on modest amounts. AutoFX means any sales/dividends will be converted into Euro automatically also. If for example, you would like to buy American shares for USD 3,000, the AutoFX facility will automatically convert the exact amount of EUR required to complete the transaction in USD. This means you do not first have to conduct your own currency conversion.
W8-BEN for US Stocks
If you go with the US exchange, DEGIRO will offer a prefilled W8-BEN online form. It takes a whole minute to review and submit. This reduces the US dividend tax from 30% to 15%. Note: You're still on the hook for Spanish tax either way on dividends (even if you reinvest them), but can claim the US withholding tax paid as a credit.
Fees and Commissions
With regards to commissions and charges, here's the important info for DEGIRO:
Yearly fee per stock exchange used (purchase, sale, or holding): 0.25% of portfolio value, max 2.50 Euro.
Costs of US stock in DEGIRO: €0.50 + USD 0.004 per share
Transfer costs from DEGIRO: 10 Euro per position
Custody fee: None.
DEGIRO offers a selection of 200 commission-free ETFs (conditions applicable).
Conclusions
I'm happy with DEGIRO and would recommend it to anyone living in Spain or other European countries where it's available.
The other brokers discussed above are all good depending on what kind of investing you want to do. If you're the super passive type, then something like InbestMe and Finizens will work well for you. On the other hand, if you're more adventurous and want exposure to multiple asset classes including crypto, check out eToro, NS Broker and IQ Option.
Do you reside in Spain and invest in the stock market? I'd love to know your thoughts on which brokers you prefer.
Investing in stocks, bonds, and ETFs involves risks including complete loss. Please do your research before making any investment.
Disclaimer: eToro is a multi-asset platform which offers both investing in stocks and cryptoassets, as well as trading CFDs.
Please note that CFDs are complex instruments and come with a high risk of losing money rapidly due to leverage. 67% of retail investor accounts lose money when trading CFDs with this provider. You should consider whether you understand how CFDs work, and whether you can afford to take the high risk of losing your money.
Past performance is not an indication of future results.
Cryptoassets are volatile instruments that can fluctuate widely in a very short timeframe and therefore are not appropriate for all investors. Other than via CFDs, trading cryptoassets is unregulated and therefore is not supervised by any EU regulatory framework.