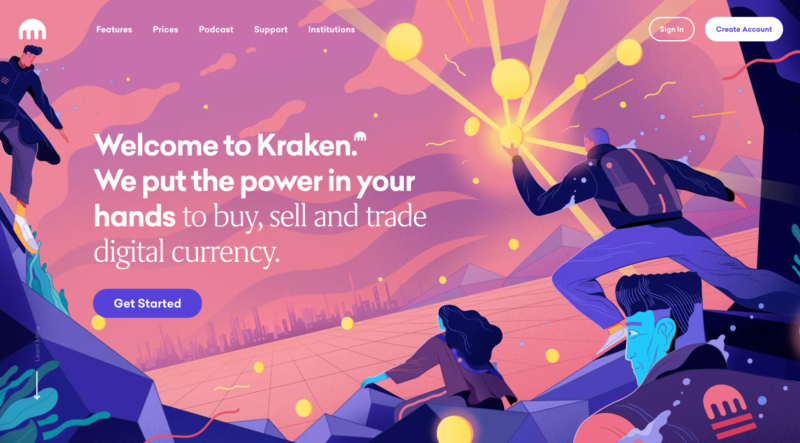 Kraken is probably the world's most well-known and secure exchange, and is definitely one of my favorites.
It's the exchange with the most Euro-based crypto trading in the world, and a valid competitor to my other favorite exchange Binance.
Jesse Powell, the founder and CEO also has an excellent reputation within the crypto space, as do many leading figures in the team (Dan Held is another one), and that inspires a lot of confidence.
In this post, I'll review Kraken and the features that I like best from this platform.
Step-By-Step – Buying Your First Bitcoin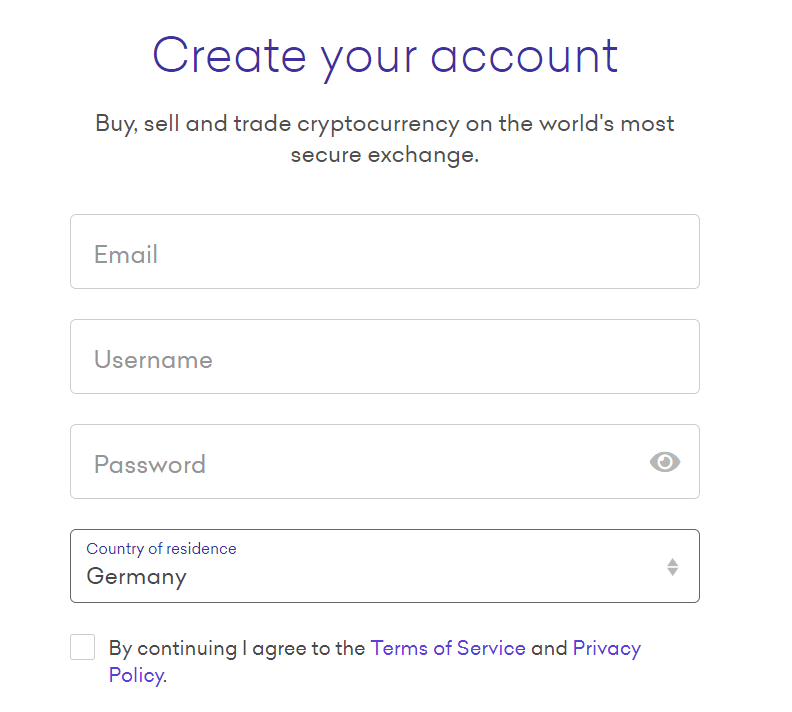 Signing up to Kraken is straightforward. It's a regulated exchange which means that you will need to pass the KYC/AML checks in the same fashion as when signing up with any regulated investment platform.
You will be asked to enter some personal information – such as:
Full Name
Country of Residence
Date of Birth
Registered Address
Email Address
Phone Number
You will also need to choose a username and create a strong password.
Once you have opened an account, Kraken – and all of the platforms mentioned on this page, will need to verify your identity. In order to do this, you will be asked to upload some documents.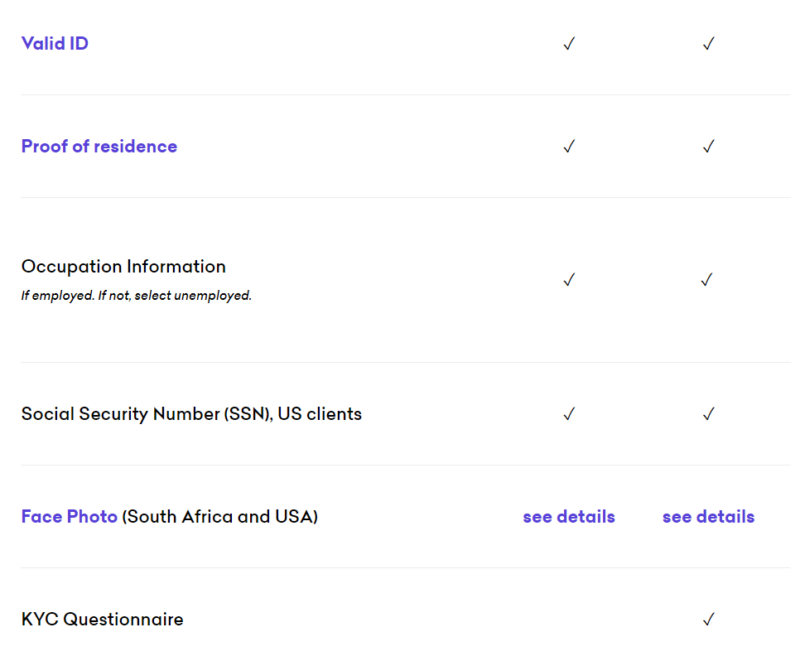 This includes:
Government-issued ID that is valid
Proof of residency – like a utility bill or bank account statement
In addition to the above, you'll need to provide some more information about your financial background. Depending on your country of residence, this might include your occupation, estimated net worth, and national tax identification number.
Although the above might sound somewhat intrusive, it is important to remember that Kraken is required to do this to remain compliant with anti-money laundering laws.
In other words, if you find a cryptocurrency platform that allows you to buy Bitcoin with a fiat currency and it doesn't ask for any ID – it is operating illegally.
The good news is that in the vast majority of cases, Kraken is able to validate your documents in less than 10 minutes via automated technologies.
There are three verification levels, and for each higher level you unlock you will be able to do more with your account.
If you will be taking crypto trading seriously, I highly recommend taking the time to pass KYC to obtain the Pro verification level. This will give you the ability to trade on the dark pool and use the OTC desk, apart from higher fiat and crypto deposit and withdrawal limits. The Starter level is fine if you just want to try out Kraken and get your first taste of buying and selling cryptoassets.
Both individuals and corporate entities can sign up for a Kraken account, although the KYC process requires more documents for a corporate entity. Corporate accounts are only available at the Pro verification level.
Deposits and Withdrawals
Before you can buy or trade cryptocurrencies on Kraken, you'll need to deposit funds into your Kraken account.
Unlike other exchanges (e.g. Binance) Kraken only accepts bank or wire transfers and you will not be able to deposit or withdraw funds using a debit or credit card.
If you have access to InstantSEPA, your deposit will be processed in less than a few minutes. If you are transferring the funds via the standard SEPA network, then this can take anywhere from 0-3 days.
See also: Best Crypto-friendly banks in Europe
You can deposit in the following currencies:
Here are the options for the two most popular deposit currencies (USD and EUR).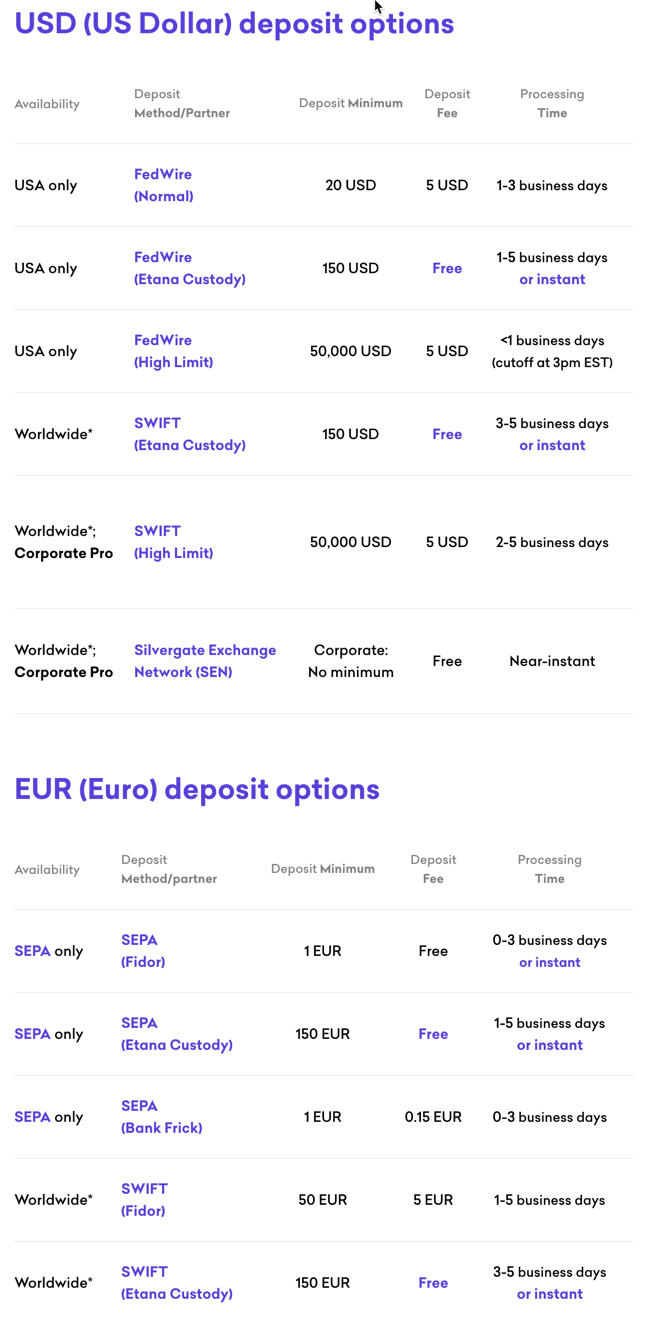 It's interesting to note that the European banking system seems to be more efficient and cheaper. Good news for those based in Europe or operating with Euros.
On the other hand, it is a well-known fact that USD is by far the most commonly used base currency when trading in crypto. If you'd like to trade in USD but own EUR, my suggestion would be to deposit your EUR, then buy crypto, and when you come to sell you can sell in exchange for USD, and from then on continue trading between USD and cryptocurrencies.
If you decide to withdraw your earnings, you can make your final trade from crypto back to EUR, or even use Kraken's own currency exchange facility to get back to EUR and exit back to your bank account.
The availability of fiat deposit and withdrawal methods will depend on your residency and verification level.
Apart from the fees mentioned above, your bank may charge you fees for sending the deposit to Kraken's payments partners.
Intermediary or correspondent banks (banks between your bank and our bank that processes the transaction in transit) may also charge fees or convert the transaction to a different currency en route (if sending Euros from outside of Europe, for example). These fees are on the account of the sender and the responsibility of the sending bank.
When sending money to Kraken, make sure you insert the details that Kraken provides for your transfer, as this will enable Kraken to properly identify your transfer and credit the funds to your account.
Kraken has also added InCore in addition to Bank Frick, Fidor and Etana as an additional fiat onramp option. Some European banks can block certain other crypto-associated banks, so having various options for fiat onramps make it less likely that your bank would have blocked them all.
Making Your First Trade (Buying Bitcoin)
As soon as your deposit has been credited by your chosen cryptocurrency platform, you can then proceed to buy Bitcoin.
Head over to the main dashboard of your account and look out for the 'Buy' button – which is located under the 'Buy Cryptocurrency' tab.
Select 'Bitcoin' and then enter the amount that you wish to purchase in Euros.
Upon entering your purchase size, the equivalent amount in Bitcoin will update accordingly.
Make sure that the 'market' tab is selected and not 'limit'. This will ensure that Kraken completes your Bitcoin purchase instantly at the next available price.
Finally, click on the 'Submit Order' button to complete your Bitcoin purchase
Once you complete the above steps, the newly purchased Bitcoin will be stored in your Kraken wallet.
Congratulations! You now own Bitcoin!
Currency Pairs
Not all currencies available on Kraken can be directly traded for one another.
However, there are a ton of tradable currency pairs (also referred to as markets) on this exchange.
It's best to check on the Kraken website for the latest listing of currency pairs, as this list gets updated frequently.
Security
Kraken is famous for being a very secure exchange, with no hacks during its long history. Downtime is not a common occurrence either, unlike other exchanges.
I would feel comfortable leaving part of my crypto holdings on this exchange, especially if I am engaging in the staking of cryptos such as Ethereum and Polkadot.
Staking is a good alternative to crypto interest accounts offered by the crypto lending platforms like Nexo and YouHodler.
Trading Fees
As is customary with exchanges, there are two different fees that you will be charged when you buy and sell crypto: Taker fees or Maker fees.
If you want a lower fee, you should use the Limit order and you will get the Maker fee which is lower. This applies to both selling and buying.
Selling
In order to set the sell limit order correctly, the sell price must be higher than the current market price.
If the sell price is lower then the market price, your sell order will be executed as market order and you will get the Taker fee.
Buying
When buying, if you used the market order, you will be charged with the Taker fee which is higher.
If you use the limit order, you will get the Maker fee. However, in order to set the buy limit order correctly, the buy price must be lower than the current market price.
If the buy price is higher then the market price, your buy order will be executed as market order and you will get the Taker fee.
The fees for margin trading will be discussed in the next section so as not to complicate things. If you're a beginner trader and you're not interested in margin trading feel free to skip the next section.
Margin Trading
Kraken allows investors to engage in margin trading. You will find all the currency pairs that can be traded on margin and their maximum possible leverage listed on the Kraken knowledge base.
Just to take a few examples showing the currency pairs (Base/Quote) and the available leverage.
What 5x leverage means is that you can open, say, an XBT/EUR €1000 trade with only €200.
XBT/EUR – 2, 3, 4, 5
XBT/USD – 2, 3, 4, 5
XBT/GBP – 2, 3
XBT/CAD – 2, 3
XBT/USDT – 2,3
You can easily deduce that EUR and USD are the best base currencies to hold if you want to use leverage on Kraken, since other currencies are more limited in the amount of leverage you can use.
Now, if you want to trade on margin, you will have to pay the standard trading fees discussed in the previous section plus some extra fees for the privilege. However, there is no fee for settling a margin position.
Margin trading exposes Kraken's funds instead of your own, and thus to wind down a margin position you either need to settle it or close it to restore Kraken's margin pools.
Settling a position repays Kraken's funds directly from your account balance without having to place a closing trade in the market. Upon settling, you acquire the asset that was originally received from the market at the time of the position's opening.
Settling allows you to exit your margin position at the original opening price and with no trading fee.
Margin fees are charged based on the total value of the order. Collateral held is not deducted from that amount.
For long positions, margin fees are charged with a preference to the quote currency of the position's currency pair. For short positions, margin fees are charged with a preference to the base currency.
Support
Kraken offers 24/7 support, and the best way to get in touch is through chat. I've found the people manning the chat to be knowledgeable and able to answer any queries within a few minutes.
Account Manager for VIP clients
For those Kraken clients who actively use the platform for trading significant sums, they can avail themselves of an account manager who is available to help them out and provide a bouncing board for ideas.
My account manager has been absolutely wonderful. For example, he took a few hours to walk me through how margin trading works on Kraken via Zoom screen sharing, and he is also available to me for quick questions over Whatsapp and email.
Crypto trading and buying can be daunting at times due to the technical nature of it, so having an account manager to back you up and ensure you're doing things the right way is invaluable.
The best part about our Kraken Account Management is that it's free! You get access to an industry expert that will work to understand your individual needs and be there to provide you with the right solutions. As part of the program, you can make use of your personal account manager as often as you'd like to get help with things like trading and funding issues, platform snags or the OTC desk.
OTC Desk
For those traders who want to maintain privacy or don't want their orders to show up on the platform's order book, they can use Kraken's OTC desk. Once you have access to the desk you can get in touch with Kraken's traders via a chat application like Signal, Telegram or Whatsapp. Once you're in the chatroom, you can ask for a particular trading pair, such as XBT/EUR, and one of the traders will give you a quotation. Once you confirm the trade the transaction is executed.
OTC desk trades won't show in your regular Kraken account, but you can request the OTC desk to produce a report of all your trades for you. This is useful for dealing with banks and audit firms who need documentation of the various transactions that have taken place.
Conclusion
Kraken is one of the top 5 exchanges in the world, and together with Binance, the most well-known. Kraken is popular worldwide and is known to be a safe platform that has never been hacked.
Having said that, I would still recommend keeping your crypto in cold storage using devices such as the Ledger Nano X or Trezor, together with keeping the seed words using the Billfodl or similar devices.
Summary
Kraken is one of the world's safest and most well-known crypto exchanges. The fees are on the lower end and they have an international client base. Support is available 24/7 via chat and is very competent. For bigger traders, they also have the OTC desk available for a white-glove experience. You can't really go wrong with Kraken whether you're a beginner investor or a crypto hardcore trader.
Pros
Biggest BTC/EUR market
Several fiat onramps and offramps available
Fair fees
VIP programme
Excellent support
No hacks so far