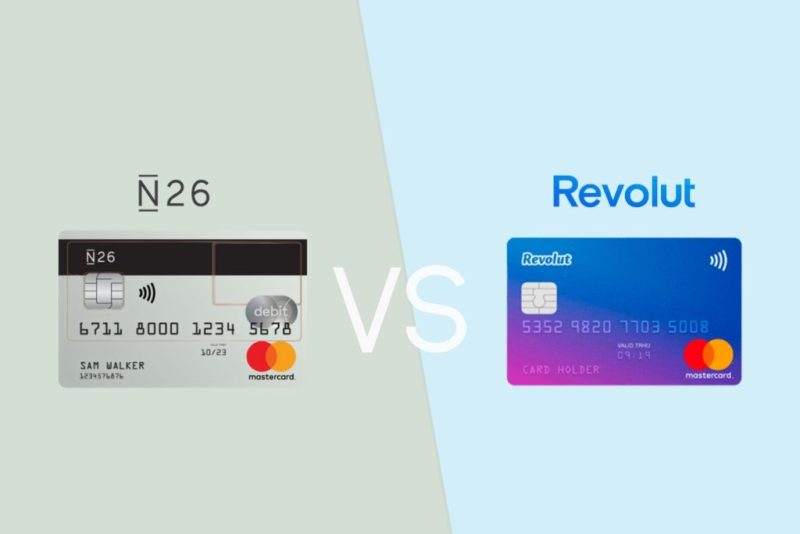 Gone are the days when if we needed to do some banking we would have to leave work early or form a long queue at a land-based institution. With the invention of the internet came convenience on another level. Most of the things we would need to leave the house for can now be executed at the click of a button.
As such, the age of mobile digitization has finally reached the everyday banking space. Mobile banks are sometimes called 'challenger banks' due to the perceived threat against traditional institutions. In fact, they are more successful and popular than ever and have truly revolutionalized the retail banking arena.
At the forefront of this are N26 and Revolut, which in truth, both offer very similar features and benefits. But of course, if you only want to get started with a single mobile banking app, you need to make a decision between the two.
Whether you're here because you are a keen traveler, a digital nomad, or just have an interest in financial technology; I have personally compiled some extensive research and compared the two most prevalent banking apps available right now – N26 and Revolut.
If you want to know my conclusion right away – my choice falls on N26, but I still have accounts with both banks.
Before we get to the fundamentals, let me quickly unravel a bit of background information on the two challenger banking apps.
What is N26?
N26 is one of the oldest digital banks in the market, originally going by the name of 'Number 26'. Established in 2013 in Berlin, N26 now boasts over 5 million customers, operating in over 20 European countries.
Unlike Revolut, N26 holds a full banking license, with the first €100,000 being covered by a German Deposit Guarantee Scheme. N26 is often referred to as a 'digital bank' due to the fact there are no physical branches.
This deposit guarantee is one of the most important advantages over Revolut, in my opinion. I don't feel comfortable leaving significant funds in my Revolut accounts, so I prefer using the latter for things like travel, online shopping and purchasing crypto.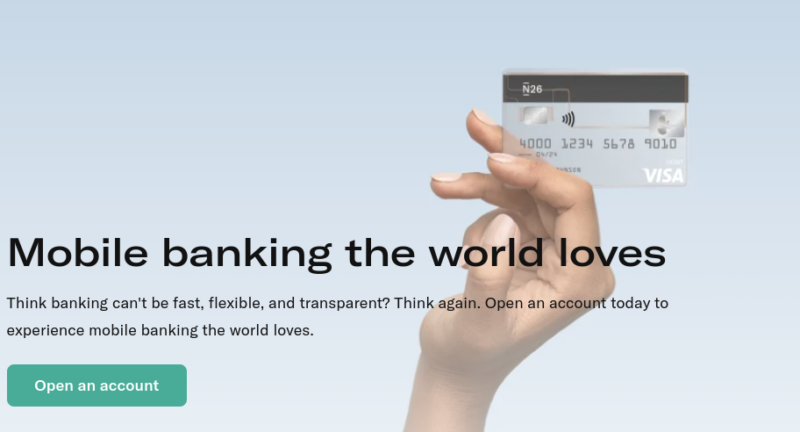 Of course, as well as the safety of having a banking license, another bonus is that you are able to use standing orders, deposit guarantee and direct debits. Most importantly, N26 gives its customers a European BIC and IBAN number. As such, this will enable you to use your account in a similar way as you would a conventional bank account. That is to say, you will have the capacity to send and receive money.
Read more: The Best Online Banks in Europe
Only with N26, there is no longer a requirement to do this in a branch or even use telephone banking. On the contrary, all that is needed is the click of the N26 mobile app, and the rest is taken care of digitally. Whilst there are other popular online banking apps in the space, N26 ticks a lot of boxes for stakeholders of all shapes and sizes. In particular, this includes travelers and digital nomads, or simply people who have a mistrust for traditional banks.
You can read my full N26 review here. You will also be pleased to know that if you live in Spain you will get a Spanish IBAN number when signing up to N26. This is very important as many Spanish authorities and companies refuse to accept your IBAN for direct debits unless it is a Spanish one.
Founded in 2015, Revolut is a fintech company which much like N26, is what is known as a digital bank. The platform specializes in a range of banking services – including systems for cheap currency exchange. Revolut also offers access to various cryptocurrencies and stocks, and is reported to have around 8 million people using its platform.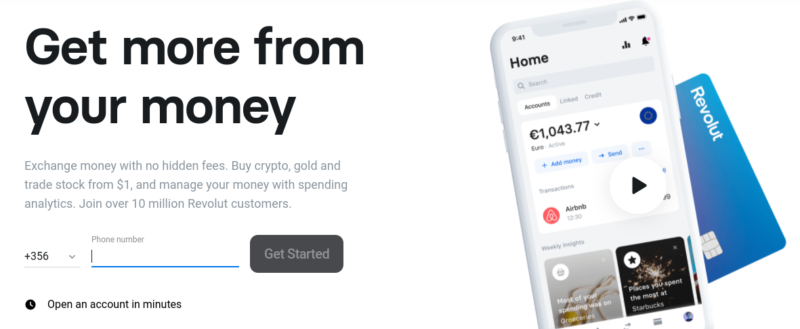 Upon opening an account, like N26, Revolut provides you with a European BIC and IBAN number. You can essentially use it as you would a current account. Crucially, Revolut also offers unique UK bank account numbers and sort codes, which is something N26 halted in April 2020 in response to 'Brexit'.
Revolut is licensed as a bank in Lithuania. However, for those based in the UK, Revolut it's licensed as an electronic money company by the FCA, and not as a bank. Much like N26, Revolut offers a plethora of innovative features that make everyday banking seamless. This includes transaction notifications in real-time, enhanced security tools, and saving goals.
You can read my full Revolut review here.
N26 vs Revolut – How to Apply for an Account
It might seem as though I'm jumping the gun here, but I think it's better to start with how to apply for an account before taking you through the details on each provider. After all, you might find that the provider you are interested in is not available where you reside.
With this in mind, I have created a quick guide on setting up both N26 and Revolut – including available countries that are supported.
N26 – Opening an Account
It literally takes minutes to apply for an N26 account. Everything can be executed from a mobile phone or home computer. The best part is the respective debit card is free, and there are no delivery charges.
Before I run through how this works, we have alphabetized all countries in which, at the time of writing, N26 is available:
Austria
Belgium
Denmark
Estonia
Finland
France
Germany
Greece
Iceland
Ireland
Italy
Luxembourg
Norway
The Netherlands
Poland
Portugal
Slovakia
Slovenia
Spain
United Kingdom
United States
If your country is listed above, then there is nothing stopping you from creating an account with N26. In contrast to Revolut, N26 does work on your laptop or desktop, but the vast majority of customers prefer to use the mobile application.
Once you have downloaded the app, you will need to enter some of your personal information to get the ball rolling. The information required includes your full name, residential address and contact details like a phone number and email address.
Next, you will need to take a selfie and take a photo of your passport. N26 requires you to submit these through the application (or on the website) so that they can verify your identity.
Providing that your identity has been verified, you should receive your BIC and IBAN numbers with immediate effect. As a side note, you might want to make sure that the photos you submit are clear and within the guidelines provided. Any blurry photos or unclear ID numbers will only slow down your application.
Your brand new physical card will be posted out to you as soon as your ID has been confirmed, and you should expect it to arrive within seven days of receiving your email confirmation. With N26 your basic card is completely free, whereas Revolut charges customers a €6 delivery fee.
N26 – Topping up Your Account
The easiest way to top up your account for the first time is to use your regular debit card.
Revolut  – Opening an Account
Below you will find an alphabetized list of all of the countries Revolut is available:
Australia
Austria
Belgium
Bulgaria
Croatia
Republic of Cyprus
Czech Republic
Denmark
Estonia
Finland
France
Germany
Greece
Hong Kong
Hungary
Iceland
Ireland
Italy
Latvia
Liechtenstein
Lithuania
Luxembourg
Malta
Netherlands
Norway
Poland
Portugal
Romania
Slovakia
Slovenia
Spain
Sweden
Switzerland
United Kingdom
United States
Should you decide that Revolut is the mobile banking app for you, then much like I explained above, you are going to need to open an account. To start you need to download the application, and you're then going to need to enter your personal information.
Much like with N26, you will need to verify your identity – known as KYC (Know Your Customer). With Revolut you need to take a clear photograph of your passport and take a selfie. Once you are happy with the quality of your photos you can submit your identification and await confirmation. This usually doesn't take too long. In fact, you should receive confirmation in a matter of minutes.
Now you can fund your Revolut account, as I briefly explained in the next section.
Revolut – Topping up your Account
Revolut won't charge you anything when it comes to transferring funds over to your account (unless you are receiving a transfer vis SWIFT – more on this later).
To begin topping up your account you simply need to click on 'add money'.  You will then be taken to another screen whereby the app will ask you to link your regular debit card. It is as simple as that. Alternatively, you can transfer funds externally from your regular EU/UK bank account.
N26 vs Revolut – Plans and Fees
Banking fees can be a huge annoyance at the best of times, especially for those of us that like to travel. Enter travel-friendly bank accounts like N26 and Revolut; this type of account is certainly going to save you money on things like fees and currency exchange.
I've researched the standard (basic) accounts on both N26 and Revolut (as well as upgrades available), so let's have a run-through those plans and fees.
N26 Accounts/Plans Available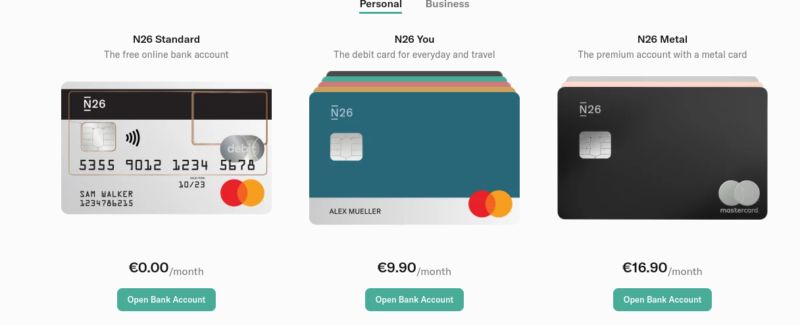 N26 Current Account:
Free basic card
€0 monthly fee
Express card delivery fee €22
3 withdrawals free – after that €2 charge each.
Non-Euro ATM – 1.7% Charge
Spending Limit – €5000 per day
Foreign currency card transactions commission – 0%
International money transfers 0.35% – 2.85%
N26 You Account:
Free basic card
€9.90 monthly fee
3 withdrawals free – after that €2 charge each.
Primary account holders have 5 withdrawals free – after that €2 charge each.
Spending Limit – €5000 per day
Free foreign transactions
Free travel Insurance
Mastercard's real exchange rate
N26 Metal Account:
Free basic card
€16,90 monthly fee
3 withdrawals free – after that €2 charge each.
Primary account holders have 8 withdrawals free – after that €2 charge each.
Spending Limit – €5000 per day
Free foreign transactions
Free travel insurance
Mastercard's real exchange rate
Let's have a look at how Revolut stacks up compared to N26 when it comes to plans and charges.
Revolut Accounts/Plans Available

Revolut Standard:
Free standard card with €6 delivery fee
€0 monthly fee
Express card delivery fee €19.99
€200 per month free withdrawals, after that 2% charge
Spending Limit – €5000 in 96 hours
International money transfers – 0-2% on the first €6,000, after that 2%
Foreign currency card transactions commission – 0-2% on initial €6,000, 2% thereafter
Revolut Premium:
1 free spare card
€7.99 monthly fee
€400 per month free withdrawals, after that 2% charge
Cross border, free transfers – unlimited
Exchange in 30 currencies – unlimited
Medical insurance overseas
Priority customer support
1 free SWIFT transfer each month
Foreign transaction commission €0
Revolut Metal:
1 free spare card
€13.99 monthly fee
€800 per month free withdrawals, after that 2% charge
Cross border, free transfers – unlimited
Exchange in 30 currencies – unlimited
Medical insurance overseas
Priority customer support
0.1% cashback within Europe
1% outside Europe on all card payments – up to €13.99 per month
1 free SWIFT transfer each month
Foreign transaction commission €0
With zero charges for contactless payments or chip and pin, and no annual or monthly maintenance fees on basic accounts – I would say that both N26 and Revolut perform well. Moreover,  both offer standing orders at no charge and direct debit payments, too.
When paying monthly for an upgraded card, both N26 and Revolut offer a wider variety of additional features – such as travel protection, insurance, dedicated customer support and lounge key access in specified airports, and a plethora of other benefits.
N26 vs Revolut – International Money Transfers and Travel
The noticeable lack of large foreign exchange charges makes both banking apps very appealing to anyone who likes to travel, for any length of time. Traditional financial institutions, namely banks, can and will charge you an average fee of 2% to 3% for processing and exchanging your foreign currency. Of course, all of these supposedly small fees can add up and end up amounting to a lot more than anticipated.
In the case of international money transfers, Revolut is free up to €1,000 per month but then charges a 0.5% fee. N26, on the other hand, doesn't charge anything for these transfers. When you've returned home from your holiday and it's time to convert your currency back, who offers the best exchange rate?
Well, Revolut uses the Interbank exchange rate, even adding a 1% markup if exchanged during the weekend. N26 simply applies the Mastercard exchange rate to these conversions, around the clock. It has to be said that the Mastercard rate is a little bit less competitive than the Interbank rate. But, due to the fact that Revolut adds on a markup at the weekends, they probably even each other out.
Even with these points considered, it should be noted that both banking apps are still more likely to offer a better exchange rate than most banks. I should also note that N26 charges 1.7% for every cash withdrawal abroad. But,  I don't mind this per-say, as there aren't any foreign exchange fees. When you go over a specific amount, Revolut charges 0.5% as well as a higher rate at weekends
N26 vs Revolut – Special Features and Tools
Both Revolut and N26 offer their customers a great banking service with little to no fees, real-time push notifications, and a great exchange rate when compared to traditional banks.
The tools and features offered by these two banking apps might just sway you either way. Most of us appreciate a few extra bells and whistles thrown in with a service, and in this case, these tools can be very helpful if you like to keep an eye on your spending habits.
Savings Accounts and Money Management
It is worth noting that when it comes to saving for that big holiday, or maybe a shopping trip, both of the mobile banks I am talking about today will offer you interest on your savings. In the case of Revolut, this stands at 0.8%, and you can access your cash at any time. It must, however, be placed in your 'vault'.
N26 also offers interest. On the one hand, you can earn up to 1.57%, which is much higher than the 0.80% offered by Revolut. But, you will need to lock up your money for between 3 and 60 months – depending on the deal you go for.
Nevertheless, both apps offer customers an easy way to save money at the touch of a screen, so I am going to talk about how they differ.
A helpful feature with Revolut is that you can ask the app to round up your spare change on your behalf – a bit like multiple coin jars on your phone. For example, if you use your Revolut card to purchase a sandwich for €3.60, Revolut will automatically round the amount up to €4, and so 40c will be added to your vault for you.
The round-up feature is, of course, an 'option', so it is something you have to select before you can save this way. You can also select an option to round up your card payments whereby the amount goes to the charity you have chosen.
N26 offers a great tool called 'spaces' where you can set up a couple of saving pots and name them whatever you please. Each 'space' acts as a separate bank account on the side of your main account, and so this is great for those of us who struggle to keep our savings separated from our spending budget.
While I am on the subject of budgeting, this brings me to the account limits you can set yourself. In other words, setting a cap is going to ensure you don't go over your budget.
For the more organised of us; Revolut does offer a feature that allows you to take a photograph of a receipt and attach it to the purchase within your app (should you need it at a later date). A Revolut account also allows you to set a monthly spending limit, which you can change at any time. Essentially, every time you spend money, you will receive a notification so that you can keep an eye on how much you have left to spend.
N26 also has a transaction limit tool to help you keep track of your money. On the N26 app, you will be able to set a daily limit, depending on how much or little you want to allow yourself to spend. The maximum daily limits work on a rolling 24 hours.
Security Features
Losing your bank card can be a very stressful time for anyone. Luckily, both N26 and Revolut have given security a lot of consideration.
If you are unfortunate enough to lose your card, you can very quickly log in and freeze it. Both Revolut and N26 allow their customers to login with a fingerprint, and you can then temporarily freeze your account. This means that if someone finds it they will be unable to use it.
Should you later find your card safe and sound (we've all done it), panic over. All you have to do is log back into your app and you can unfreeze your card again. It really is as simple as that on both N26 and Revolut.
With Revolut you are able to disable contactless payments and online transactions, depending on your preference. At this time N26 does not allow contactless payments to be disabled, temporarily or otherwise.
If you decide to have online payments disabled this doesn't mean you can't still shop with your card in a store or withdraw cash from an ATM. Some people don't feel safe making payments online, so it does make sense to offer this security feature as an option.
N26 vs Revolut – Payments and Transfering Funds
When it comes to the core function of a bank account – sending and receiving money, both N26 and Revolut make the process a seamless one.
First and foremost, both apps allow you to send domestic and international payments at the click of a button. The payment network will ultimately depend on where the money is coming from, and where it is going to. If, for example, you're from Germany and wish to send money to somebody in France, N26 will execute the transfer through SEPA.
If you're using Revolut, and you wish to do a UK-to-UK transfer, then this will go through the Faster Payments Network. With that being said, the two apps differ when it comes to pure international transfers that fall outside of the SEPA network.

For example, let's assume that you are based in Italy and you wish to send funds to your friend in India.
If using Revolut, the payment would need to go through the SWIFT network. This is a slow and costly transfer process, often taking 3-5 working days and costing the receiver in and around the $15-mark.
N26, however, has formed a partnership with TransferWise, meaning you will benefit from fast and cheap transfers. In this example, the funds would be sent from your account to a domestic account held by TransferWise. Then, an Indian bank account held by TransferWise would forward on the funds to your friend in India. In that sense, it's virtually a domestic transfer.
N26 vs Revolut – Debit Card
No banking application would be complete without a fully-fledged debit card. Although I briefly mentioned the fees and processes earlier, it is worth noting that both N26 and Revolut cards operate much like any other debit card in the market. You can them to buy things online, in-store, or over the phone.
These are debit cards, so you can only spend what you have in the respective account. While N26 only offers MasterCard, Revolut also offers Visa. Regarding the latter, this is dependent on where you are based.
N26 vs Revolut – Split the Bill
Back in the day, the only way to send or receive money between friends was through a bank transfer, which involved taking down long account numbers and waiting for days on end.
Fast forward to the current day and at the click of a button, you can pay friends or family within minutes. Both Revolut and N26 have slightly different features when it comes to payment requests.
Revolut offers a feature called 'split bill'. As you have probably guessed, this means that when you are having a meal with friends you can very easily split the bill through the app. This feature is free and if they have Revolut too, it is instant. A request simply goes straight to your friends' phone with a specific amount requested. Don't worry if they don't have Revolut, they will still receive a request by email or text message with a link they can follow to pay you.
N26 offers customers a clever feature called MoneyBeam for instant paying or receiving money. Whether it's half of the rent or a 3rd of that fancy meal you paid for, all it takes is a tap or two on your phone. Much like Revolut's split bill feature, your friends will receive an instant notification of the amount required from MoneyBeam.
If your friends or a family bank with N26, this feature is even faster as all they have to do is accept. If they aren't with N26, they will still be able to pay you back by clicking on a link in their email or text message.
To Conclude – N26 is the Winner
When it comes to Revolut vs N26, after much research and consideration I do think that N26 has the overall edge on Revolut. In simple terms, both mobile banking apps are superb, but N26 has a very beneficial partnership with Wise. As such, international transfers are significantly faster and cheaper. In fact, cross-border payments are often completed on a same-day basis.
The foreign exchange limit put in place by Revolut can also be considered a bit of a negative for seasoned travelers.
I've also found N26 support more responsive than Revolut whenever I needed some help. This is a big thing because since chat is the only way to get in touch with these digital banks it needs to work flawlessly because ultimately it's our money on the line if we can't operate in the ways we want to.
Of course, the deposit guarantee scheme is a big thing in favor of N26 as well, as is the fact that you can access your account and operate it from the browser, rather than only the app as in Revolut's case.
It has to be said that both Revolut and N26 have completely redesigned how we bank, and they are both at the top of their game and looking to grow rapidly to cover more of the world's market.