Note that in April 2020 things seem to have changed on PayPal's end and they now allow adding a USD bank account based in Malta as well as permit a higher limit on debit card transfers, although I'm not sure what the new limit is.
In a recent development PayPal has implemented bank account withdrawals to people holding a PayPal account based in Malta. Prior to this development, the only possibilities for withdrawing money were the following:
Withdrawing to a credit card
Withdrawing to a US bank account
The big problem with withdrawing to a credit card is that it is limited to $2,500 at a time so it is very inconvenient for high volume sellers. Moreover there is a charge per withdrawal, so the fees quickly escalate.
PayPal's automatic currency conversions (at disadvantageous rates) when withdrawing are another big issue. You'll find many sites dedicated to PayPal-bashing because of this.
Since in Malta you cannot get a credit card for an account denominated in US dollars, sellers are stuck with automatic currency conversions (either on the PayPal side, or their own bank) from USD to EUR when withdrawing money to their credit card. Of course, I'm assuming that sales are being done in USD. Since the dollar is the de facto web currency, this is the case for most online shops.
With this new development I was hoping to open a USD bank account in Malta and withdraw USD from PayPal into this bank account, thus avoiding currency conversion altogether.
In my ideal scenario I would have then been able convert the money at will and possibly even bypass the bank's charges by using Wise. Alas, this was not to be. After further questioning, the PayPal support agent informed me that the automatic currency conversion would still happen and they do not allow non-Euro denominated bank accounts from Malta to be linked to a Maltese user's profile:
Do bear in mind that we would only offer the option to use an EUR denominated bank account at this time.  Which means that even if you add and use an USD based account, that it would automatically have funds converted to EUR upon withdraw.

For that specific matter, I cannot really recommend the use of an USD account, as you are not able to directly withdraw into it without otherwise having a double conversion take place.
So given the situation I'll probably stick to withdrawing money to my card as with that method I can bypass the automatic currency conversion on PayPal's side.
How to Link a Bank Account
To be able to process withdrawals to your bank account, you first need to set one up. You can also have multiple accounts.
In order to proceed, you need to be using the new PayPal interface.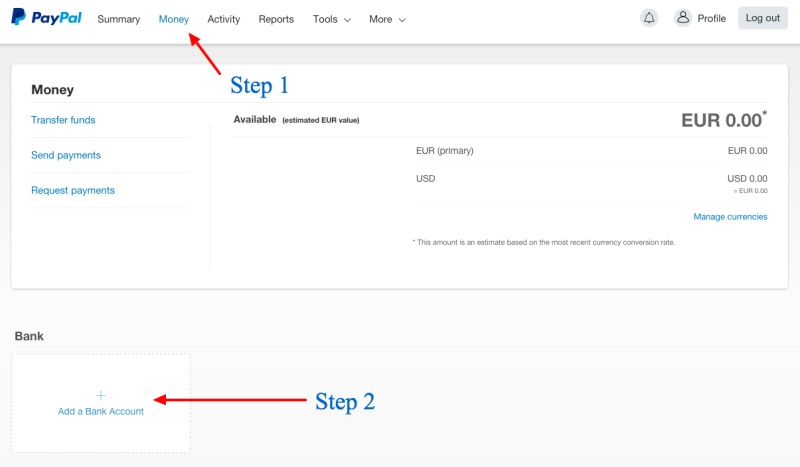 Step 1 – Click on the Money menu item. You will be presented with the money management screen.
Step 2 – Find the button that says Add a Bank Account and click it.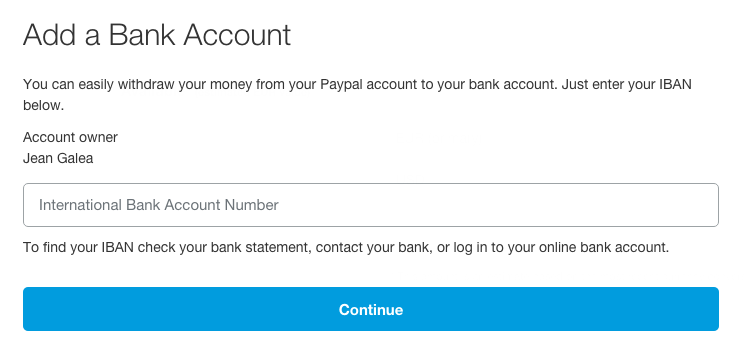 Step 3 – Enter the IBAN number of your account and hit the Continue button.
Now all that's left to do is to wait 2-3 days until the 2 small payments that PayPal makes appear in your bank account. Once they appear you can verify the account back in the PayPal admin interface.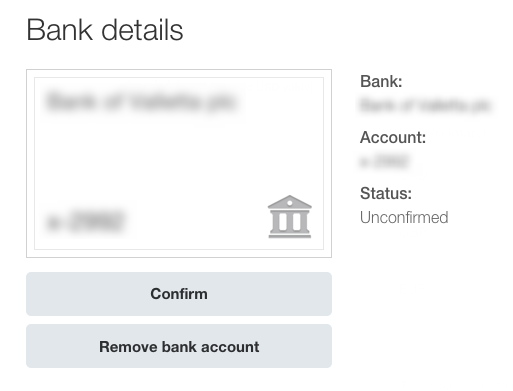 The bank confirmation screen is very straightforward. Just hit the Confirm button in the first screen.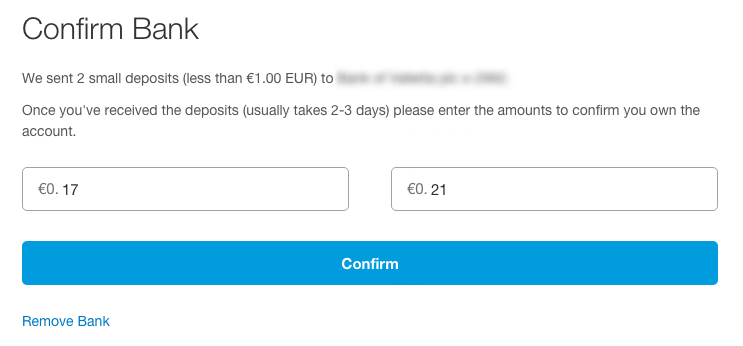 In the second screen, you will be asked for the amounts deposited into your bank account. Type them into the two boxes available and hit the Confirm button.
That's it! Your bank account is now verified and you can withdraw money to it.
How to Withdraw From PayPal into a Maltese Bank Account