Note: If you have any questions after reading this and the several other articles relating to PayPal on this site, please leave a comment or contact PayPal directly. Unfortunately, due to time constraints, I am unable to offer any advice over email so all emails I receive that are related to PayPal will remain unanswered.
Choosing a PayPal account structure is not straightforward fare for most people, so in this post, I'll attempt to demystify the whole process of signing up with PayPal and choosing an account type.
Before we start, a quick note:
If you are looking to send money as cheaply as possible then Wise is usually going to be cheaper than PayPal.
Wise does not make money off the exchange rate and only charges a small percentage of the overall transfer as its fee.
Have a look at my comparison between PayPal and Wise Borderless as well as my full review of Wise Borderless. N26 and Revolut might also be good options depending on your needs.
Now back to PayPal accounts.
You start out with a Personal account, but you can then upgrade to Premier or Business accounts.
PayPal offers two different account types; PayPal for your personal use (Personal and Premier), and PayPal for your business (Business). It's free to sign up and each account type offers different features and capabilities. To decide which one is right for you, read on.
An account for personal use is ideal if you shop online. You can:
Shop on eBay and merchant websites using your credit card, debit card or bank account
Send and receive money from friends and family
Accept debit card, credit card and bank account payments for a low fee when you sell on eBay and/or on your own website
Make the right choice for your online business. With a Business account you can:
Accept debit card, credit card and bank account payments for a low fee
Operate in your company or business name
Manage Users, allowing you to give separate access rights to each of your employees
Consult the Business Setup guide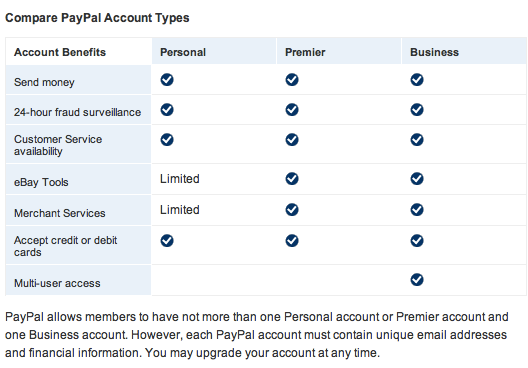 Buying Crypto with PayPal
Did you know you can now buy crypto with PayPal? That's right, you can use Binance since it accepts PayPal deposits. Just hit the links below to get started.

You can also read my full review of Binance to learn more about this crypto exchange.
This withdrawal method is extremely popular at the moment, as people worldwide seek to get themselves some Bitcoin or Ethereum due to their extremely bright future price prospects.
If you decide to go ahead with the upgrade, you'll get this confirmation screen: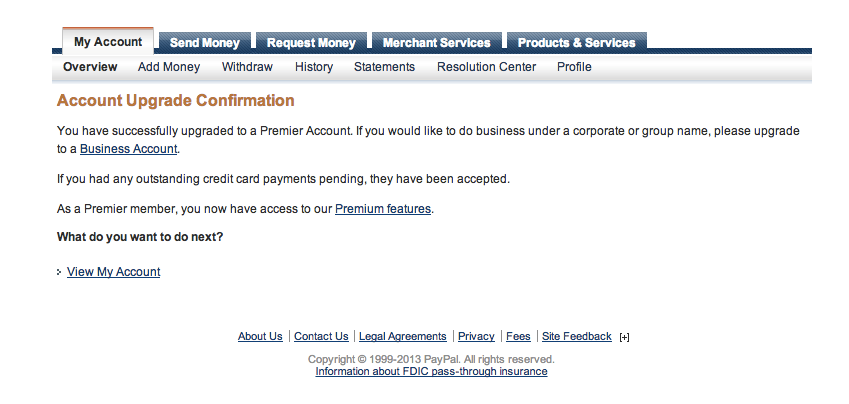 There is no good reason to have a Premier account if you are going to use PayPal for business. The fees are similar to or same as Business but some of the features not available.
You don't need to have a properly registered "business" to have a Business account. It can be a DBA ("doing business as").
You can have several Business accounts (just remember that each one should be linked to a different bank account/credit card).
There are no monthly fees for any of the accounts.
Additional services cost $35/month for all of them. You need to get approved to get them. You may get approved for one but not the other.
Additional services include:
– Website Payment Pro (allows you to link PayPal to a shopping cart and charge credit cards without taking your customer to PayPal).
– Recurring Payments
– Virtual terminal (may be handy if you run live events or work with offline clients).
If you have various ventures and want to have a separate PayPal account for each one, now you can set up a "child" account that is linked to your main one. The benefit is that the money will be swiped from it daily and put into your parent one automatically and with no fees involved. Also, you don't need to link a child account to a bank account. To set up a child account, create a new PayPal account then call PayPal on the phone and ask them to link the new account to your main PayPal account.
The concise comparison:
Personal: Recommended for individuals who shop and pay online.
Premier: Recommended for casual sellers or non-businesses who wish to get paid online, and who also make online purchases.
Business: Recommended for merchants who operate under a company/group name. It offers additional features such as allowing up to 200 employees limited access to your account and customer service email alias for customer issues to be routed for faster follow-ups.
Since my business is based in Malta, I'll be describing the PayPal fees for this situation. Other European countries should have similar fees, but do check the PayPal website for your country for more accurate details.
Click this link to check the standard rates for receiving and sending money with PayPal.
The standard rate for receiving payments for goods and services is 3.4% + 0.35 EUR.
If you receive more than 2,500.00 EUR per month, you're eligible to apply for PayPal's Merchant Rate – which lowers your fees as your sales volume increases. Your fees can be as low as 1.9% + 0.35 EUR, based on your previous month's sales volume. For receiving money for product or service sales at the merchant rate, these are the prices:
| Monthly Sales | Price Per Transaction |
| --- | --- |
| €0.00 EUR - €2,500.00 EUR | 3.4% + €0.35 EUR |
| €2,500.01 EUR - €10,000.00 EUR | 2.9% + €0.35 EUR |
| €10,000.01 EUR - €50,000.00 EUR | 2.7% + €0.35 EUR |
| €50,000.01 EUR - €100,000.00 EUR | 2.4% + €0.35 EUR |
| > €100,000.00 EUR | 1.9% + €0.35 EUR |
Here's the e-mail you get after you apply (manually) for the Merchant Rate:

Note that the rates in the table above are for domestic transactions. If you have customers offshore then you will incur what is known as a cross-border payment charge.
See also: Understanding PayPal Cross Border Fees
Click here to view the higher cross-border transaction fees. You will still benefit from lower rate bands with cross-border payments once you apply successfully for the Merchant Rate.
The accounts we've mentioned till now don't have any monthly fee, but PayPal also offers the PayPal Pro solution, which costs $30 per month.
See also: Should you withdraw from PayPal to a credit card or to a bank account?
The Pro solution is for heavy PayPal users, and allows you to benefit from lower rates among other services. Click this link for more information about Pro. Go for Pro if you need full payment gateway functionality, as this system will allow you to create a fully customized checkout process that will enable customers to complete the purchase from your site rather than being transferred to PayPal as is the standard procedure.
Here's Pro in a nutshell:
$30.00 USD monthly
No set-up fees
No cancellation fees
Transaction fees 1.9% to 3.4% + 0.35 EUR
Choosing a Checkout Service
If you are using PayPal to collect payments for products and services that you are selling online, you will also need to choose a checkout service. All e-commerce solutions such as Shopify, WooCommerce, and Easy Digital Downloads will allow you to select one out of several e-commerce checkout business solutions offered by PayPal.
See also: Should you open separate PayPal accounts for each of your e-commerce stores?
The choice is between the following:
PayPal Website Payments Standard
PayPal Express Checkout
PayPal Payments Pro
Read my separate post about the pros and cons of each and then decide accordingly
Managing Multiple Currencies
You can choose what currencies to accept and how you would like to accept them. When a buyer sends a payment in a currency you hold, the money will automatically appear in your account in that currency. When a buyer sends a payment in a currency you don't hold, you can:
Open a new currency balance to accept the payment.
Convert the payment to a currency you do accept.
Block the payment.
You can choose a primary currency as the one you use most often for sending and requesting payments. It's also the currency that is used for your withdrawal limits.
If you convert a payment into your primary currency, PayPal offers conversion rates that are pretty bad. You can read my guide on PayPal currency conversions for more information about that. You can always preview conversion rates on currencies you don't hold before accepting payments.
You might also want to change your PayPal withdrawal currency before you withdraw money to your credit card.
An Example
So how do PayPal transactions look? Let's say I have a client from the US and charged him $600 for some web services I rendered. When he pays me via PayPal here's what I see in my account:

Now what's important here is to know exactly what that $29.70 fee stands for. Since this is a cross-border payment (US to Malta), it can be broken down as follows:
Base fee (3.40% + $0.30 USD) = $20.70 USD.
Cross-border fee consisting of a fixed (0.50% and 1.00% depending on between which countries the transfer is made) = $3.00 USD and $6.00 USD respectively.
As an average, be prepared to pay around 5% in transaction fees for every offshore payment you receive via PayPal.
If I remember correctly, with a Personal account you can accept or deny payments. Before you accept the payment, you can see the estimated transaction fee on the 'Transaction Details' page. If you deny the payment, the fee is not charged. With a Premier or Business account, there is no such option to accept or deny payments.
Refunds
When you issue a refund, you don't lose any money and the purchaser gets all his money back. Click here to see the full refund policy together with a worked-out example of how refunds work.
PayPal has recently changed its policy, stiffing sellers, unfortunately.
Withdrawing funds from PayPal
Not all countries offer the same facilities for withdrawing funds from Paypal. For example, in my home country Malta, we used to be able to withdraw money only to a credit, debit, or prepaid card as well as a US bank account, but no local accounts.
This was then changed to allow withdrawals to EUR based local accounts, but unlike with other payment providers, we are not able to withdraw to local accounts in other currencies. This is a big disadvantage if you are making most of your sales in another currency such as USD.
So right now I have to accept all USD being converted automatically by my bank to my card's currency which is always EUR by default since we're based in Malta.
Read the following posts on this topic as it is critical that you get this right:
How to change PayPal's withdrawal currency for credit cards
Paypal provides a handy checker where you can select your country and see which withdrawal options are available for that country.
What about PayPal Alternatives?
There are many PayPal alternatives, two of which are Payoneer and Stripe.
Payoneer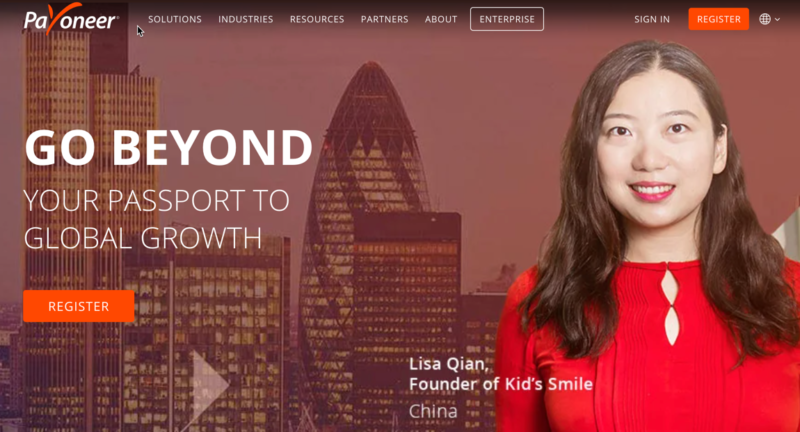 It's worth looking at some PayPal alternatives that might be better suited to your needs. I've already mentioned Wise earlier in this article, but Payoneer is another widely used PayPal alternative, especially in India.
Launched in 2005 and headquartered in New York, Payoneer is a payment services provider that allows users to send and receive money online. The platform currently services more than 4 million customers located in more 200 countries.
Cross-currency transactions cost in the region of 2% above the mid-market rate, although this can be lowered if you hold a VIP account. If you obtain the Payoneer pre-paid debit card, then you'll pay $3.15 per ATM withdrawal.
Payoneer is also a notable PayPal alternative due to its highly rated customer support. You have the option of contacting support via telephone, live chat or through a support ticket. However, response times are somewhat slow over the weekend, so you're best off calling them if your query is of an urgent nature.
Stripe
Stripe is recognized worldwide as the most painless way to accept credit cards online as a merchant, and it was created with developers in mind, making integrations easy. Fees are on the low side, and you can also get the first $20,000 of transactions with zero fees if you follow my method.
Further notes
Please be aware that there are two different types of payments that can be sent using PayPal – Purchase Payments and Personal Payments. With a Personal payment type, the sender of the payment can choose who pays the fee which is incurred. However, it is not free to send the payment. Either the sender or the receiver must pay. It is possible to receive personal payments to a Personal or Premier PayPal account.
If you are planning on receiving payments for a business you are running, you may need to upgrade your account type, as a Personal account is not suitable for receiving large amounts of payments. However, if you are only receiving a small number of payments, you are free to do so.
In case you are into gambling and want to make a deposit using Paypal, you should be aware that the payment platform has a strict policy about casino transactions.
See also: How to change ownership of a PayPal account
It is possible to have two PayPal accounts, however only one can be for personal use, and must be either Personal or Premier type. It's not possible to have a Personal and Premier account at the same time.
You can downgrade from a Business account to a Premier account, but not back down to a Personal account.
PayPal users can have one Personal account and one Premier or Business account. Each account needs to have a unique email address, bank account and credit card.
Hopefully, that helps to make your choice easier. If you have any questions, fire them off in the comments section.