In this post I'll explain PayPal's cross border fee system. But first, a short recap on the fees that PayPal imposes in general.
PayPal charges fees whenever a transaction takes place. The one charge that is always present is PayPal's own fee which goes towards paying off the processing of credit card payments.
Visa, MasterCard and American Express charge PayPal for every payment they process, and so they need to pass this fee on to sellers to cover their costs. They also need to make a profit on each transaction so part of that fee goes towards that purpose.
To recap, these are three instances that will trigger PayPal charges:
When you receive money from a purchase.

When you receive payments from outside your country or region.
When you send personal payments using a credit card. The sender determines who pays the fee.
When you withdraw money to your debit/credit card.
I am mostly concerned about the accepting payments for your business with PayPal, so I won't be discussing the third scenario. I've also discussed the fourth scenario in previous articles on this site.
We've already talked briefly about the first scenario above, and to give you an idea here's what you would be paying if you were based in the following countries:
US: 2.9% plus $0.30 USD per transaction
UK: 3.4% + 20p per transaction
Spain: 3,4 % + 0,35 EUR per transaction
Malta: also a Eurozone country, so fees are identical to those of Spain
As a side note, note that is very advantageous to have your PayPal account based in the US from a fee perspective, you get to pay 0.5% less than your European counterparts on the value of the transaction and also a lower fixed fee per transaction.
Moreover, if you are based in Europe but the bulk of your customers are based outside Europe, you will also be paying the cross border fee on top of paying more in basic fees.
On top of that, if you are charging everyone in Euros, you would also be hit by a currency conversion fee from, for example, USD to EUR. More on that later in this article.
It is also worth noting that there are discounts based on volume, so lets take Spain as an example. The screenshot below shows the sales ranges and corresponding tariffs per transaction. It clearly pays to pass more transactions through PayPal every month.
As far as I remember, the bulk transaction discount won't be automatically applied, you need to ask for it buy opening a support ticket with Paypal.


The above assumes that the sales were made within the same country that you have your PayPal account set up in. So for example a US seller selling to a US customer or a UK seller selling to a UK customer.
Cross border transactions, for example a UK seller selling to a US customer, trigger cross border fees, which is what I want to talk about in this article.
What are cross border fees?
When you receive a payment from a customer in a different country, you are charged a 'Cross-border' fee. This fee is to cover the cost of the extra processing required for payments between different countries and regions and varies according to country and currency.
You can view the cross-border fee for your account by following these steps:
Go to

www.paypal.com

and log in to your account.

Click 'Fees' at the bottom of any PayPal page.

Click 'transaction fee for cross-border payments'.
There are alternative ways of getting money from PayPal or bypassing it altogether if you use an alternative method of payment or receiving money.
TransferWise
offers a multi-currency account which gives you local banking details for the USA, United Kingdom, Eurozone, Australia, Singapore, and New Zealand. You can receive money in those currencies for free and then convert it at the mid-market exchange rate and a low fee into your local currency. TransferWise is on average up to 8 times cheaper than PayPal.
This cross-border fee does not apply to sellers who are registered with PayPal in a European Union country and who receive payments in Euros from other EU countries.
So if I'm a Maltese seller and I sell a product to a Spanish customer, I would not be charged a cross border fee. However, if I am a Maltese seller and I sell a product to a UK customer I will be charged the cross-border fee since the UK is not in the Eurozone.
Lets talk figures now, how much is the cross border fee?
There is no blanket fee, it varies a lot, however we can break it down to make it more understandable.
Fees for receiving payments from buyers outside your country, are based on the fees for receiving domestic commercial payments with:
the percentage based element increased by the Cross Border Fee outlined in the table below.
the fixed fee element based on the currency received or set out in the fixed fee table available on the PayPal site.
To be absolutely clear, as the seller, you are the one who will incur the cross border fee and not the buyer.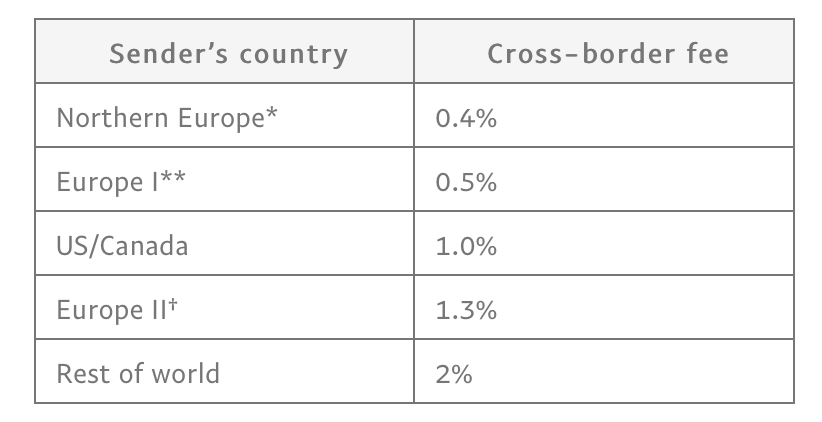 * Northern Europe: Denmark, Faroe Islands, Finland (including Aland Islands), Greenland, Iceland, Norway, Sweden.
** Europe I: Austria, Belgium, Cyprus, Estonia, France (including French Guiana, Guadeloupe, Martinique, Reunion and Mayotte), Germany, Gibraltar, Greece, Ireland, Italy, Luxembourg, Malta, Monaco, Montenegro, Netherlands, Portugal, San Marino, Slovakia, Slovenia, Spain, United Kingdom (including Channel Islands and Isle of Man), Vatican City State.
† Europe II: Albania, Andorra, Belarus, Bosnia and Herzegovina, Bulgaria, Croatia, Czech Republic, Georgia, Hungary, Kosovo, Latvia, Liechtenstein, Lithuania, Macedonia, Moldova, Poland, Romania, Russia, Serbia, Switzerland, Ukraine.
The percentage-based element pricing table (and country classification) is also available on the PayPal website.
If the currency of the money you are receiving is different to what your default currency in the PayPal account is, you will also incur a currency conversion fee, which is 2.5% above the wholesale exchange rates. So in total there are three elements that affect the cross border transaction fee. Since it is sounding quite complex by now, it's best to try to simplify things by providing an example:
Case Study: A Spanish (or Eurozone) based seller selling a product worth $100 to a US based customer.
The first thing to consider is the variable fee of 3.4%, which will be increased by 0.5% since the customer is US-based.
The second thing is the fixed fee which will be $0.30.
Another side note here: PayPal charges you their fee on the total amount of the sale including tax. So if you're in the EU and you need to charge VAT to your customers then the PayPal fee will be a percentage of the total amount of that sale, including VAT. This might seem as unfair but the credit card processing fee is applied on the total amount so again PayPal is just passing on those fees to you.
You can use this free PayPal fee calculator or the official PayPal fee calculator to calculate the various fees you'd be charged by PayPal for a transaction, including cross border transaction fees and even currency conversion fees.
While we're at it, you should check out this excellent Payment Processing forum if you have further questions or need to peruse an existing knowledge base which most likely contains answers to your lingering doubts.