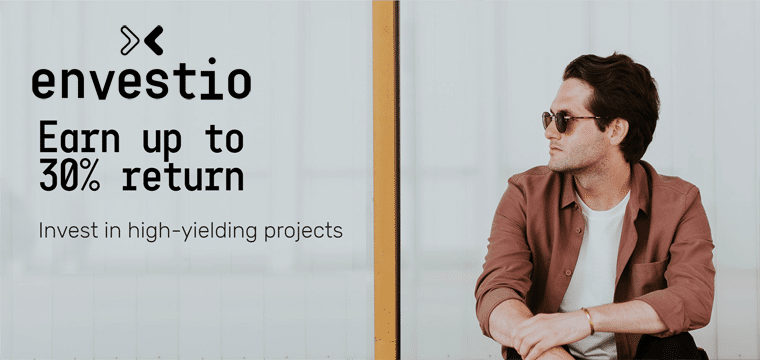 This week the site of Envestio is down, and nobody is replying to any contact requests.
I fear this is the end for this platform. I had warned about this platform earlier on, and I've also written a post about platforms that I don't trust. However, I'm still sorry to hear from all those investors who could potentially lose money on this platform.
As happened with Kuetzal, Envestio had previously been a very popular platform, and most bloggers had been singing its praises, as you can see from the Google search results below: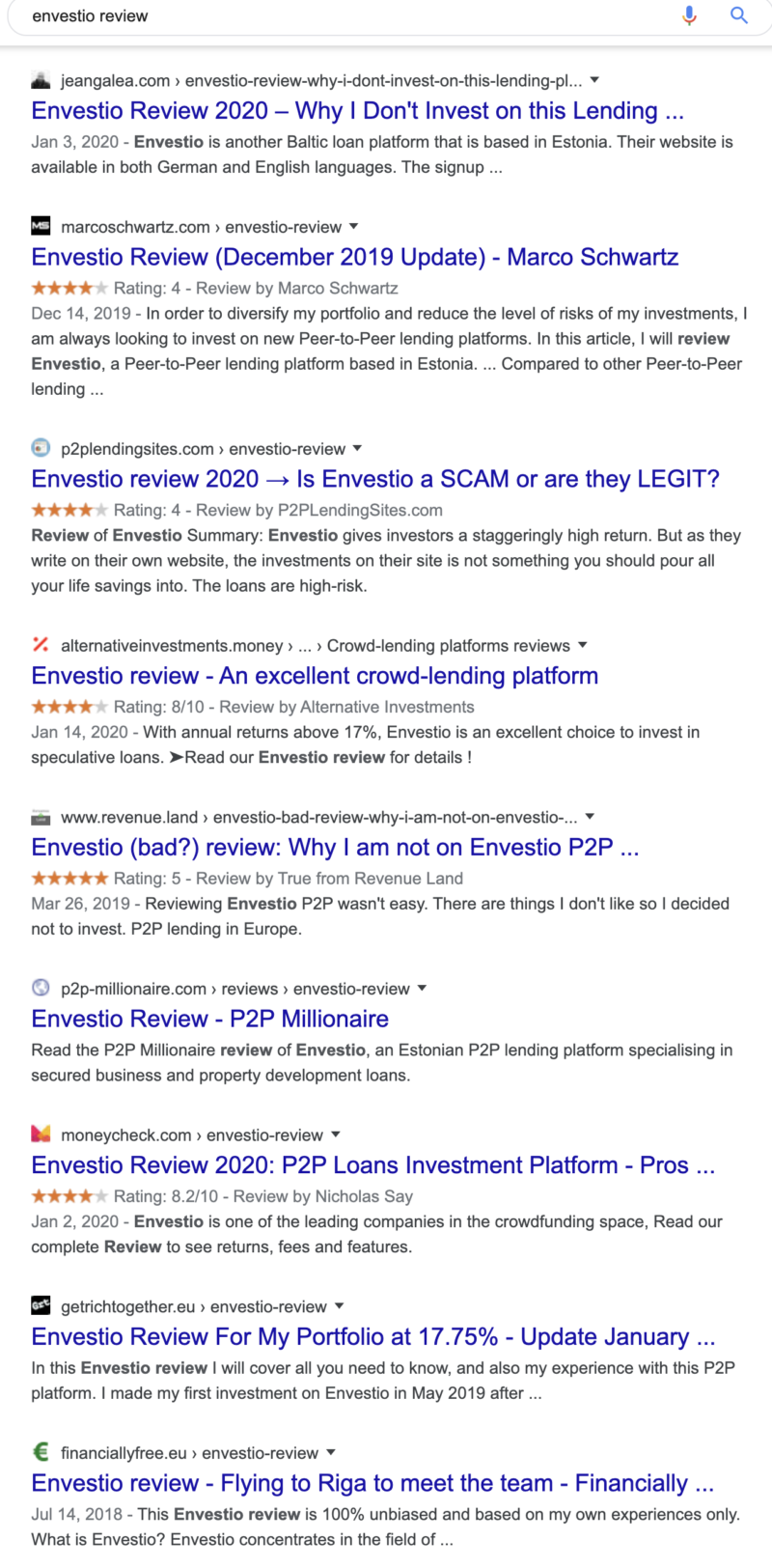 This should be a tough but important lesson to learn for those who had invested in Kuetzal or Envestio.
Always make sure you do your due diligence research before investing in any platform. I personally spend many hours reading and learning about a platform before I risk my money.
Here are the results of my research, where I present my favorite platforms for the year.
While I think that my favorite are all solid platforms, don't rely on my research or on that of other bloggers/investors/YouTubers etc, always conduct your own research and take your own decisions. That way you won't feel sorry later for taking shortcuts.
What's the Future of Envestio?
For the sake of those who contacted me about this platform, I did some further research about the current situation. The last official communication from Envestio was a press release on 21st January, which I am reproducing below:
Dear Investors,
We would like to address all our clients, investors, borrowers and other counterparties with the following very important issue. We proudly declare that till present moment Envestio managed to fulfill on time and in good faith all financial obligations to all contractual investors and borrowers, despite the very unfavorable situation in the crowdfunding market, provoked by the uncertainty and potential fail of Kuetzal platform.

Simultaneously with the recent concerns within the industry, we tracked repeatedly various technical attempts targeted to influence dramatically on stability of Envestio platform. They were performed through hacker attacks on our web site and platform's internal structure and database.

At the same time, we noticed that destructive public relations campaign against Envestio has been initiated and which consisted of spreading knowingly false and unconfirmed information by numerous internet resources questioning financial stability and reliability of our platform, denigrating the reputation of the Envestio owners and key employees.

We tend to consider these attempts as a consistent and well-planned set of actions aimed to cause significant financial and reputational damage, as a result of which the Envestio platform should inevitably begin to experience substantial difficulties with current payments to its investors. We assume that the ultimate goal of all these actions is to devalue overall Envestio's business, and the subsequent potential raider takeover of the company or an attempt to eliminate the company from the industry, getting rid of as strong competitor. The implementation of the aforementioned scenario is evidenced by a number of factors and hostile actions that occurred precisely at the moment when a serious crisis of confidence reigned in the crowdfunding market and which actually was caused by the scandal surrounding the activities of the Kuetzal platform.

Envestio strongly condemns any actions aimed at further destabilizing the current crowdfunding market situation and disrupting the activity of the Envestio platform, as these factors together can lead to an uncontrolled solvency crisis, influencing not only Envestio but also other industry participants.
If you ask me, I don't believe a word they say. The website has been down for several days and that's not normal at all, especially for a financial platform. Even if the site eventually comes back, I would suggest taking out your money as fast as you can.
Envestio has also missed the deadline to submit their turnover declaration to the Estonian tax authorities.
The European Crowdfunding Network has reported Envestio (and Kuetzal) to the National Conduct Authority.
The police in Estonia have reportedly already opened an investigation, and the case has also attracted the attention of Estonian journalists.
For those investors who have lost access to their invested money, the best way to proceed is to try to get in touch with other investors (joining the Telegram group "EnvestioDiscussion" would be a good start). Once the investors can get organised, they can hire lawyers and file a suit in court. Envestio had around €30m of money invested before it disappeared, so there should be plenty of other investors trying to recover some of their money.
You can also follow the latest updates about the case on the P2P Banking website.
Had you invested in Envestio? Let me know if you have further updates on the situation by leaving a comment below.