I will remember 2017 as a great year from a sporting perspective, mainly because I really got addicted to padel and trained seriously to improve my game.
Early on during the year, I decided that I would focus a lot of time and energy on this sport and follow the example of the Expert in a Year website and the controversial 10,000 hour rule and associated books. Basically, the idea is to give it my best shot and see how far I can go. It's one more challenge for me.
In recent years I realized that my personality type is best suited to focus on a big projects for a number of years before moving on to something else. I have a wide range of interest and I also find it easy to focus really hard on something that catches my fancy, but I can only do it for a few years before something else catches my eye. For the next few years, I hope that padel will be one of these big projects.
Starting Out
The first step a prospective padel player should do is to get some lessons and take part in Americanas. These are tournaments where you constantly change partner and the aim is for everyone to play against everyone. This gives you a very good opportunity to meet and get to know people who might become your padel partners when moving on to compete. In Barcelona, I was lucky to meet Adalis Facenda, the charismatic organizer of a popular padel meetup. I started to attend her meetups on weekends and got to know many players of a similar level to mine.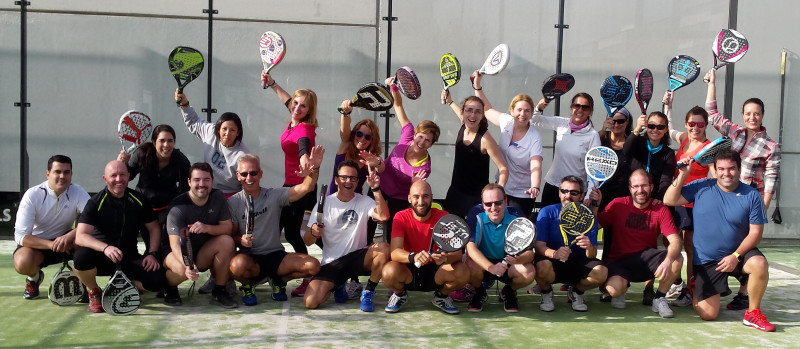 At such events, most of the people have no specific goals and go to meet people and have a good time. However, you're also bound to find others who take the sport seriously and want to improve and compete. In fact, I met two guys at this meetup who I went on to compete with during the rest of the year. I can't be thankful enough to Adalis for her organizing these meetups and being such a friendly person who loves this game and does her best to promote it locally and also abroad.
Competition
I participated in several local and even international tournaments. I love the fact that there are so many tournaments to choose from even at an amateur level. I ended up winning a few, with the most memorable victory being the International Padel Experience tournament in Rotterdam.
At the end of the day, most tournaments are very competitive and you can get very close to the same feeling of competing on a professional level. It's still a young sport and the divide between amateurs and professionals is still not that wide. In tennis, for example, there is a huge difference even if we consider the earnings for competing in tournaments. The sense of competing is very addictive and helps me in setting objectives and working hard to improve and have a better chance of winning the following tournament.
The social aspect of padel is definitely one of the best things the sport has going for it. It's a very social sport. Consider the fact that it is only played in doubles, which means that to win you need to forge a great relationship with another player and make sure your styles of play match, build a strategy together, encourage each other during bad moments, etc. This is similar to any other relationship in life.
In fact, padel has really helped me improve on a psychological level. For some reason, it really made clear to me some of the things that really trouble me on a psychological level. Once identified, I then worked on improving these specific elements, which of course helped me in my other relationships outside of the padel court as well. There's still much more work to go, but I'm very happy about this side effect of playing padel.
Training & Improving
As I mentioned at the start of the post, when starting out, it's essential that you get some lessons to learn the basics. If you don't, you run the risk of developing bad habits that will be harder to eliminate later. I experimented with four different padel coaches to see which methods I liked best.
In the end, I decided to continue training with three of these coaches because they all focused on something different. One of them really emphasizes the physical element and makes sure that the training sessions reflect the same pace as a competitive match. Another coach focuses on the basic padel shots and does loads of repetition to iron out any imperfections in each shot. The third coach takes a very holistic approach and likes to talk about tactics, psychological aspects, and generally makes sure that you are a well-rounded player with no glaring deficiencies in your game. The combination of these three approaches really helped me and I will probably keep this same setup in 2018 as I do need to improve all these elements in my game.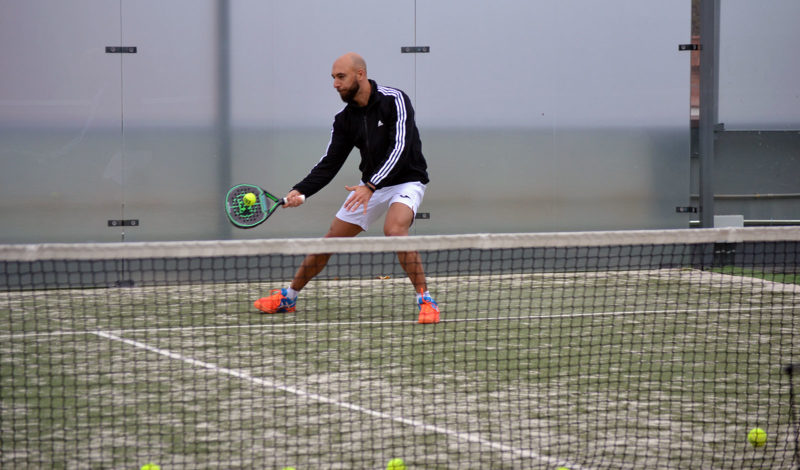 I also had the opportunity to take part in a masterclass session with the number 3 female couple in World Padel Tour; Gemma Triay and Lucia Sainz. This was a really nice experience and it's awesome that being in Barcelona I have access to top players like Gemma and Lucia.
Since the gym I attend has two padel courts, I started playing on a daily basis, but after a few months, I realized that I was mostly wasting my time. It's good to play a few matches a week, but at a beginner level, I think it's much better to focus mostly on learning and training as there is so much to learn. By doing more playing than training, it is easier to get those bad habits ingrained and it's harder to judge your progress as the opponents and partners are usually quite random. I hence spent the last few months of the year doing three technical training sessions a week and maybe two matches.
During the weekends I tried to compete in tournaments, although again I realized that it is pretty useless to compete every weekend at a beginner level because without a regular partner things get pretty random. Thus one of my focus points in 2018 will be finding a stable partner that really gels with my personality and my style of play so that we can build our game together and participate in tournaments in a more structured way.
During the course of this year, I realized that I had a GoPro Hero 3+ lying around, as well as a mount for attaching it to walls. Of course, that made it perfect to record padel matches. Coupled with the fact that I wanted to learn some basic video editing, I decided to start recording many of my padel matches, which I then upload to my YouTube channel. This has proved to be tremendously useful to analyze my game and identify mistakes.
It's incredible how one can watch professional padel and then think they are doing the same movements on court, when in fact they'd be doing something completely different. I would definitely recommend recording matches to anyone who wants to improve their skills in any sport. It's been a tremendous help to me this year, and I plan to continue doing it. Moreover, it will help me compare my performance from year to year and verify that I am indeed improving my game. It can be hard to self-analyze your game and realize that you are improving and in which areas. The videos can be a great help there too. Since others see the changes in us before we see them ourselves, so it is also important to get regular feedback from other players and your coaches.
On the topic of watching padel, I also followed the World Padel Tour religiously via YouTube live transmissions this year. When the WPT was played in Barcelona I also spent the whole week at the padel courts watching the pros playing and it was a very nice experience.
In addition to watching padel matches, another virtual training tool is to watch instructional videos. Thankfully there are now tons of great resources on YouTube. I follow the Mejora tu Padel channel especially closely, almost never missing an episode.
On my Mastermind.fm podcast, I interviewed the founder of Padel Trainer, Daniel Dios. I learned a lot from Daniel, and one of my top objectives in 2018 is to attend a padel clinic at his padel school in Marbella. He's got lots of experience and is one of the few people in the padel world who speaks perfect English and also has international experience in promoting this sport.
I'm quite an avid reader, so as you can imagine I read pretty much every padel book there is out there. Since I'm also in the process of perfecting my Spanish, reading in this language also helped me practice and my language skills especially by widening my vocabulary. Most padel books are written by Argentinian authors, and they use some specific words and phrases from that part of the world. I look forward to seeing more material in English though, as I think it would help spread padel around the world. I'm definitely keen on helping out and have also started producing content about padel on this blog.
My Padel Objectives for 2018
I'm quite satisfied with my first year playing padel regularly and training under the guidance of coaches. I hope that in 2018 I will be able to get an even more streamlined routine going and take my skills to the next level.
My level in 2017 oscillated between a 3 and 3.5 on the padel level scale, and I want to aim to reach 4/4.5 in 2018. It won't be easy but I'll give it my best shot. With a 4.5 level, I would have mastered most of the padel shots and can then focus more on tactics and strategy, which is where the real fun lies. I also hope to continue writing articles about padel and perhaps launch a dedicated padel site if I have enough content for that.
Reach level 4/4.5
Take part in at least 3 international tournaments
Play in at least 3 other Spanish cities
Have a padel-specific diet and training regimen
Win at least 4 tournaments
Continue producing padel-related content in English on my blog
It would also be very cool to have some part in introducing padel in Malta. I think that this sport would be a tremendous success there, however as Daniel Dios pointed out during our podcast episode, starting the first club in a country requires a lot of dedication and promotion, so I am looking for partners to help me out on the ground. This is a long-term project for me and I'm not in a rush, but if any of you reading this has a shared interest in this, definitely reach out to me.
To finish off, I'd like to thank everyone who has helped me so far in my padel journey. I'd like to thank my wife who has put with me talking about padel non-stop and spending most weekends at tournaments. My partners at tournaments also deserve a lot of thanks for putting up with my silly mistakes and psychological ups and downs. My padel coaches were instrumental in setting me on a course to improve week after week and I couldn't have improved this much without them for sure, thanks to you too. I really appreciate all that this sport has given me so far, it's one of those things where you get much more than you put into it, and I am incredibly thankful for everything.
That's it for this year, looking forward to a great 2018! Are you also a padel player or fan? Shout out in the comments section below!