Bitcoin mining is a great way to approach investing in Bitcoin from a different angle. There are several ways that you can get involved with Bitcoin mining for profit.
In this post, I'll take a look at how you can get exposure to Bitcoin mining in various ways, and some considerations to keep in mind.
Let's start with the considerations, and then I'll give you a summary of the Bitcoin mining options available.
Should you invest in Bitcoin Mining? – Questions to ask yourself
There are many ways to get exposure to crypto or even Bitcoin specifically, without ever touching mining. It is by no means essential to be involved with mining, and I still consider it to be a niche thing within the Bitcoin community at large. Some other things you could do and that I've written about on this blog are:
However, if you are drawn to mining, I would think about the following questions next:
How much time and money do I need to invest to make this worthwhile?
Setting up your own mining rig requires deep technical expertise, many hours and a big upfront expense. Buying mining stocks, on the other hand, is hands-off and requires a much smaller monetary investment.
How does the Bitcoin price, hashrate, miner price and electricity price affect my mining profitability?
It's best to draw up hypothetical scenarios on a spreadsheet that take into consideration all these variables. This exercise is especially important if you're thinking about option 1 described below.
Will I rely on third-party providers? How reliable are they?
The Bitcoin mining space has a shady reputation, thanks to many quasi-scams that happened in the past. In general, most Bitcoin mining pool websites have tended to oversell the benefits of mining, leading to many investors being burned.
Do I know any other people in the space that can help out if needed?
I always like to sound out my ideas with expert friends who can help me avoid any unaccounted for pitfalls, or join me on the journey. It takes time to build such networks but they are invaluable especially if you're putting in a lot of money.
What are the legal aspects of mining?
There are countries that have outright banned Bitcoin mining, China being one of them. You obviously don't want to set up a mining rig in those countries.
How would my mining rewards be taxed?
Depending on how you enter the mining space, your revenue might be taxed differently. For example, in many countries, profits from mining at home are taxed at a higher rate than dividends or sales proceed from a mining stock.
If you get positive answers to those questions, then you should go ahead and consider Bitcoin mining. Here are some options that I've researched.
Option 1 – Investing in Mining Companies
Difficulty level: easy
This has been my favorite way to get exposure to Bitcoin mining so far. There are several public companies that specialize in Bitcoin mining, and you can buy their stock from stockbrokers like eToro and DEGIRO if you're European or eToro USA if you're from the states.
I'm invested in some of the following Bitcoin mining companies, and they've all performed incredibly well for me. I'll probably diversify across all the major Bitcoin mining companies over time.
Marathon Digital Holdings ($MARA)
Bitfarms ($BITF)
Hut 8 Mining ($HUT)
Riot Blockchain ($RIOT)
Canaan ($CAN)
Bit Digital ($BTBT)
BIT Mining ($BTCM)
Galaxy Digital ($GLXY)
Marathon Digital Holdings
Marathon Digital Holdings is a digital asset technology company engaged in the mining of cryptocurrencies. Its primary focus is on the blockchain and the generation of digital assets and is one of the largest bitcoin miners in North America.
Riot Blockchain
Riot Blockchain, Inc. is a Bitcoin mining company, supporting the Bitcoin blockchain through rapidly expanding large-scale mining in the United States. They are focused on expanding operations by increasing their Bitcoin mining hash rate and infrastructure capacity. Riot believes the future of Bitcoin mining will benefit from American operations and endeavors to be the driver of that future.
Hut 8 Mining
Hut 8 Mining is a Canada-based bitcoin mining company. The company uses specialized equipment in order to solve computational problems to validate transactions on the bitcoin blockchain. They are the number one holder of self-mined bitcoin in North America.
Bitfarms
Bitfarms is a Canada-based cryptocurrency mining company. In addition to mining operations, it offers onsite technical repair, data analytics, and electrical engineering and installation services. It operates one of the largest crypto mining operations in North America.
HIVE
HIVE Blockchain Technologies is the first publicly traded crypto miner, listing on the Toronto Venture Exchange in 2017, under the ticker symbol HIVE. The company uses 100% green energy to mine both Bitcoin and Ethereum, with a committed ESG strategy since day one. HIVE strives to create long-term shareholder value with its unique HODL strategy, bridging the blockchain and cryptocurrencies to traditional capital markets.
Canaan
Canaan is a China-based provider of high-performance computing solutions. The company is focused on application-specific integrated circuit (ASIC) high-performance computing chip design, chip research and development, computing equipment production, and software services. It also expanded into mining operations apart from the manufacturing of machines.
Bit Digital
Bit Digital is a bitcoin mining company. The company's mining facilities and mining platform are used to generate and accumulate bitcoins, which are then sold for fiat currency at certain times depending on market conditions. This company has a strong focus on going green and they are working towards 100% sustainable power. They are also the largest bitcoin miner on the NASDAQ based on miner fleet.
Bit Mining
BIT Mining is a Hong Kong-based cryptocurrency mining company. Its business operations span cryptocurrency mining, data center, and a mining pool. The company also owns the blockchain browser BTC.com.
Galaxy Digital
While Galaxy Digital has many business lines, mining is one of their main ones, so if you want a more diversified investment in crypto that goes beyond mining, this is a good option. Founder and CEO Mike Novogratz is a very well-known person in the crypto space and has loads of experience in finance.
Buy Bitcoin mining stocks on eToro
Option 2 – Blockstream Mining Note STO
Difficulty level: intermediate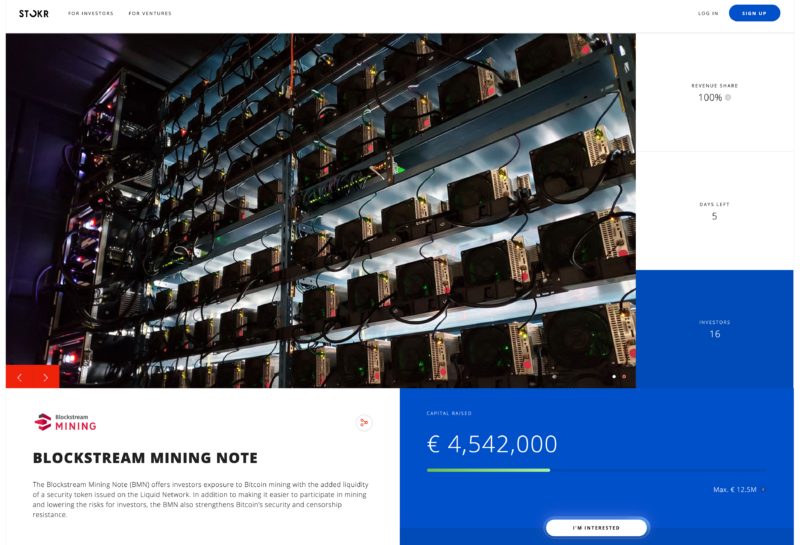 STOs are tokens issued on a blockchain that represent your stake in an underlying company or venture. The Blockstream Mining Note on STOKR is very well structured to provide good returns on your investment via mining, and is a perfect way to obtain returns on your Bitcoin instead of just holding. I classify them as more difficult than buying stocks of mining companies, simply because STOs are pretty new as a concept, and most investors are much more familiar with the stock market and buying and trading via their favorite stock broker.
What is STOKR?
STOKR is the EU's pioneering digital investment marketplace for alternative assets, where smart investors connect with and fund innovative businesses. STOKR liberates access to high-profile investment opportunities from the inner circle of traditional venture capital.
Through EU-compliant security token offerings (STOs), STOKR empowers professional and retail investors alike to directly engage with young and growing ventures in a simplified and risk-reduced environment, without the need for middlemen such as custodians or brokers. Operating out of Luxembourg (read about the legal basics of tokenization here), STOKR fosters a community of educated investors who participate in the future success of a diverse range of ventures through profit- or revenue-sharing rights.
I've interviewed the founder of STOKR, Arnab Naskar, on my podcast Mastermind.fm and found him to be very knowledgeable. I think that investing in STOKR projects is a very interesting alternative to the typical P2P lending and crowdfunding platforms available to European investors.
Blockstream is one of the top companies in the Bitcoin space, founded by the legendary Adam Back, the creator of Hashcash, the algorithm that is used by Bitcoin for mining. He is quoted in the whitepaper and has been a significant player since Bitcoin's early days. I can't imagine anyone better than him to trust my money with if I were investing in Bitcoin mining.
When you buy the STO, you will get the tokens that represent your investment in the mining setup. At the end of a three year period, you will be eligible to redeem your invested Bitcoin in exchange for your STOs, and you will also get any accrued profits in the form of Bitcoin.
Note that this investment is only available to Europeans at the moment. The minimum investment is €200,000.
Invest with Blockstream via STOKR
Option 3 – Mining Bitcoin Yourself
Difficulty level: Hard
The first way is to directly mine Bitcoin and set up your own mining rigs. This is not something I would recommend to the majority of people, because it has high barriers of entry and requires deep technical knowledge. It is most profitable when done from locations with low electricity costs (and favorable legislation), so if you're not based in one of those locations you're out of luck.
Here's a video of a significant setup in Iceland to give you an idea of how things look when you mine Bitcoin professionally.
Compass Mining offers you a guide to at-home mining which is a great way to learn more about how you can start mining at home. This would entail joining their pool, else it will be next to impossible to earn any rewards as you'll be competing against huge players.
If you're interested in doing this but don't want to litter your home with miners, however, this company also offers some interesting intermediate options.
Compass Mining also allows you to buy Bitcoin mining hardware and then leave the rest in their hands to handle the technical stuff, while you reap the rewards. There is a significant upfront cost as you purchase the hardware and hope for good conditions in the next couple of years to be able to recoup the cost and start making profits. However, the technical difficulty and other associated risks are taken care of by Compass.
Compass has also introduced a marketplace facility where you can sell your hardware to others, offering a new and convenient way to get liquidity on your hardware. During 2021, they've been very active in promoting their services, and apart from sponsoring the What Bitcoin Did podcast (check out this episode about Compass and also the Bitcoin Mining 101 episode), I've seen some big names get started with Bitcoin mining through them. Lyn Alden is one of them, and I highly recommend her Risk and Reward Analysis article.
Alternatives to Bitcoin Mining
If you're looking for alternatives to Bitcoin mining, you might be interested in staking, which is the mining mechanism used by Ethereum and other proof-of-stake blockchains like Solana and Polkadot. The returns vary but I would argue that it's an easier way to get started with mining for profits than Bitcoin Mining. Read my guide about staking Ethereum for more information.
Are you into Bitcoin mining? What are your favorite strategies?