Bitcoin mining is a great way to approach investing in Bitcoin from a different angle. There are several ways that you can get involved with Bitcoin mining for profit.
In this post I'll take a look at how you can get exposure to Bitcoin mining in various ways.
Mining Bitcoin Yourself
The first way is to directly mine Bitcoin and set up your own mining rigs. This is not something I would recommend to the majority of people, because it has high barriers of entry and requires deep technical knowledge. It is most profitable when done from locations with low electricity costs (and favorable legislation), so if you're not based in one of those locations you're out of luck.
Here's a video of a significant setup in Iceland to give you an idea of how things look when you mine Bitcoin professionally.
Compass Mining offers you a guide to at-home mining which is a great way to learn more about how you can start mining at home. This would entail joining their pool, else it will be next to impossible to earn any rewards as you'll be competing against huge players.
If you're interested in doing this but don't want to litter your home with miners, however, there are some good intermediate options.
Compass Mining allows you to buy Bitcoin mining hardware and then leave the rest in their hands to handle the technical stuff, while you reap the rewards. There is a significant upfront cost as you purchase the hardware and hope for good conditions in the next couple of years to be able to recoup the cost and start making profits. However, the technical difficulty and other associated risks are taken care of by Compass.
Compass has also introduced a marketplace facility where you can sell your hardware to others, offering a new and convenient way to get liquidity on your hardware.
Investing in Mining Companies
This has been my favorite way to get exposure to Bitcoin mining so far. There are several public companies that specialise in Bitcoin mining, and you can buy their stock from stockbrokers like eToro and DEGIRO if you're European or eToro USA if you're from the states.
I'm invested in some of the following Bitcoin mining companies, and they've all performed incredibly well for me. I'll probably diversify across all the major Bitcoin mining companies over time.
Marathon Digital Holdings (MARA)
Bitfarms (BITF)
Hut 8 Mining (HUT)
Riot Blockchain (RIOT)
Buy Bitcoin mining stocks on eToro
Blockstream Mining Note STO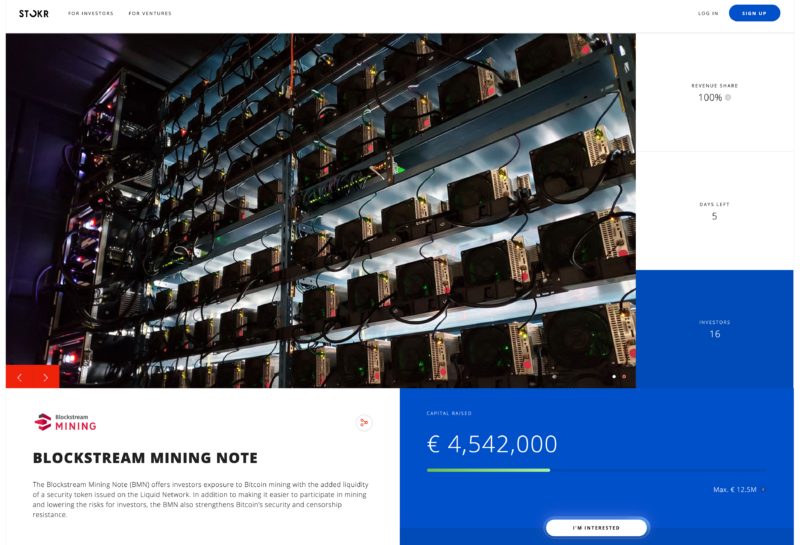 The Blockstream Mining Note on STOKR is very well structured to provide good returns on your investment via mining, and is a perfect way to obtain returns on your Bitcoin instead of just holding.
Note that this investment is only available to Europeans at the moment. The minimum investment is €200,000.
Read more: Should you run a Bitcoin node?
What is STOKR?
STOKR is the EU's pioneering digital investment marketplace for alternative assets, where smart investors connect with and fund innovative businesses. STOKR liberates the access to high-profile investment opportunities from the inner circle of traditional venture capital.
Through EU-compliant security token offerings (STOs), STOKR empowers professional and retail investors alike to directly engage with young and growing ventures in a simplified and risk-reduced environment, without the need for middlemen such as custodians or brokers. Operating out of Luxembourg (read about the legal basics of tokenization here), STOKR fosters a community of educated investors who participate in the future success of a diverse range of ventures through profit- or revenue-sharing rights.
I've interviewed the founder of STOKR, Arnab Naskar, on my podcast Mastermind.fm and found him to be very knowledgeable. I think that investing in STOKR projects is a very interesting alternative to the typical P2P lending and crowdfunding platforms available to European investors.
Blockstream is one of the top companies in the Bitcoin space, founded by the legendary Adam Back, the creator of Hashcash, the algorithm that is used by Bitcoin for mining. He is quoted in the whitepaper and has been a significant player since Bitcoin's early days. I can't imagine anyone better than him to trust my money with if I were investing in Bitcoin mining.
When you buy the STO, you will get the tokens that represent your investment in the mining setup. At the end of a three year period, you will be eligible to redeem your invested Bitcoin in exchange for your STOs, and you will also get any accrued profits in the form of Bitcoin.
Invest with Blockstream via STOKR
Alternatives to Bitcoin Mining
If you're looking for alternatives to Bitcoin mining, you might be interested in staking, which is the mining mechanism used by Ethereum and other proof-of-stake blockchains like Solana and Polkadot. The returns vary but I would argue that it's an easier way to get started with mining for profits than Bitcoin Mining. Read my guide about staking Ethereum for more information.
Are you into Bitcoin mining? What are your favorite strategies?