Upon moving to Spain one of the first things you need to do is open a bank account. You will need it for several things, most importantly for paying your monthly rent. A foreign bank account is not that useful in Spain as many institutions rely on direct debits to a local account. For example, if you make a gym subscription, they will also need your bank details, and it has to be a local bank. Same thing if you have an iPhone and want to use the Spanish app store; you need a Spanish debit or credit card.
When I arrived in Spain, I had a list of criteria that I used to search for the best bank here. Let me share them with you:
Commission-free. I'm giving money to the bank and they will use it to gain money, I shouldn't be paying them. If anything they should be compensating me for providing the capital.
Straightforward to open and operate. I didn't want to jump through too many hoops to open a bank account, and I expect a modern web and mobile interface to operate on a daily basis.
English-speaking staff and multilingual website and contracts. Not so much of a deal-breaker as I'm fluent in Spanish, but it's always a plus.
Stable and highly-regarded bank. I don't want nasty surprises in the future, so let's keep to the top banks and avoid going with the lesser known ones.
After spending many hours in online research, speaking to people and visiting bank branches, these were my shortlisted banks:
Before we delve into details about each of these banks and my top pick, I'd like to make a special note for those who will be transferring money from other countries. The most common cases are GBP and USD but this applies to any other non-Euro currency.
How to Save on Commission Fees When Converting Your Currency to Euro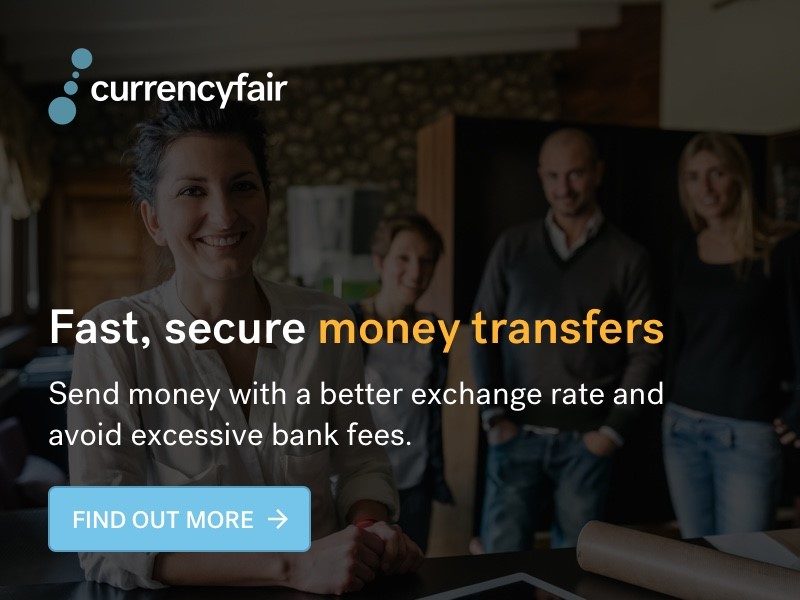 The first thing you should know is that when you transfer money from a non-Euro based account in your home country to a Spanish bank account, there will be an automatic conversion from your currency into Euro, and while you might not notice it, you will be losing a lot of money due to the conversion rate applied by any Spanish bank, not to mention the fees they might apply on top of that.
Basically, every single day there is a reference exchange rate for every currency against each other currency. Every bank has the liberty to set their own exchange rates, however, so you might be getting a far worse rate than the reference rate.
The ideal scenario that we are looking for is zero commissions and an exchange rate that is as close as possible to the reference rate. In my experience no bank gives you this combination, we have to rely on third-party dedicated services to lower our costs.
The best company I can recommend for low transfer fees when converting currencies is CurrencyFair. I have a special deal for readers of this blog that will give you 3 free transfers via CurrencyFair.
Transfer money via CurrencyFair
I've saved thousands of euros in my transfers from USD to EUR and from EUR to GBP, for example when I need to invest in UK real estate.
Ok, now that you now know how to do currency exchanges the right way, let's move on to Spanish banks. If you have any questions about currency exchange, leave a comment and I'll try to help out.
N26 – Best Low Cost Bank in Spain for 2019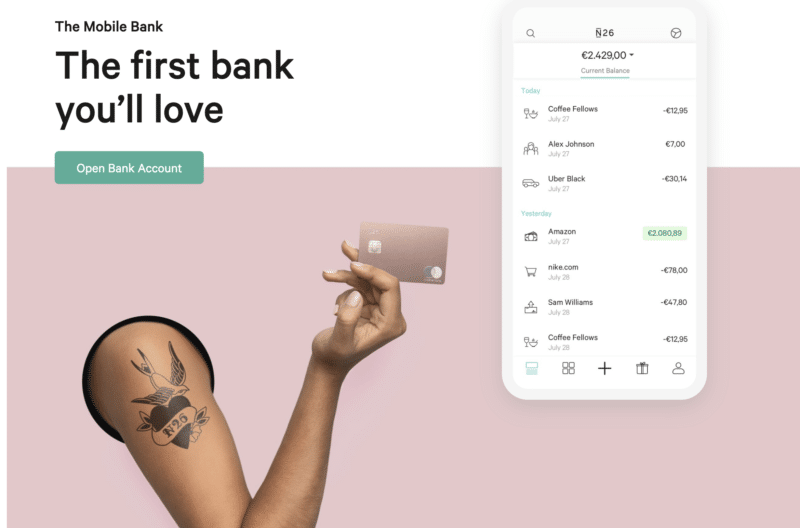 Unfortunately, I haven't been very impressed by banking in Spain. It's decent enough, don't get me wrong, and most banks have very good online systems and apps, however, support and compliance can get very frustrating.
That is why I would recommend N26, a German bank with the very latest technology and an amazing mobile app through which you manage your account.
As of April 2019, N26 gives its Spanish users a Spanish IBAN account, so you will be able to use the bank for any direct debits as you would use other Spanish bank accounts.
Now that we have the option, I recommend opening an account with N26, which is a new breed of bank that is totally app-based. This is the future of banking, so they give you best in class digital facilities such as an app and website to go with it, while also helping you track your expenses.
Ing Direct
ING Direct used to be my favorite local bank, but as of April 2019, I would recommend N26 above ING Direct. They have a weird policy of letting all incoming transfers in, then suddenly asking for documentation about all incoming international transfers months later. It's quite maddening because they typically don't even know what they need, they just ask you for documentaion for everything, which of course can be incredibly time consuming to retrieve given that some transfers might have been done years ago.
The ING Direct website is in Spanish but they have nearly identical websites in other markets such as Ireland, where you'll find all the information in English if you need it. They have the most straightforward process for opening an account. You basically apply for an account online and immediately get an account open with an IBAN number.
Next, a courier will come to your house within a few days to give you your debit card, and you will need to give him a copy of your identification documents (passport and NIE usually). Then you will need to make a transfer to your new account, and within 5 days the account will be active and ready for us.
This was the easiest bank opening process I've ever been through, and I appreciate the convenience of it all. The ING Direct web and mobile interface is great, and they have a good portfolio of related services such as Broker Naranja for investing in the stock market internationally.
They're of course a well established Dutch multinational bank and they have subsidiaries in many countries. You can use the ING Direct mobile app to make payments without your debit/credit card in shops, and you can also send and receive money to/from friends with the Twyp Cash app, up to 1,000 Euro per year. Whenever you have any query, you can access their chat support online, and someone will attend you within seconds. Of course, they also have the traditional methods available (phone, email, post).
The current account SIN NOMINA is commission-free provided you keep a minimum balance of 2,000 Euro in the account. If you have a job in Spain, there is also the option of a CON NOMINA account, which means that you'll have to deposit your monthly paycheck into the account for it to remain commission free. Personally, I think SIN NOMINA is more straightforward provided you keep those 2,000 Euros in it. I don't link restrictions like domiciling my paycheck.
You can withdraw cash commission-free from more than 44,000 ATMs around the country:
BANCO POPULAR, BANCO PASTOR, BANCA MARCH and ING DIRECT: Any amount.
BANKIA y BANKINTER: From 90€.
Rest of banks outside Madrid: From 200€.
Finally, another great plus is that they charge no commissions for Euro transfers. They will also give you special discounts at certain shops and 3% cashback on fuel bought at Galp or Shell. All in all a great experience with this bank so far, apart from the ridiculous questioning of incoming transfers.
Bankia
Let's move on to Bankia now. Bankia is a Spanish bank that was formed in December 2010, consolidating the operations of seven regional savings banks. It is now one of the top 5 largest Spanish banks. It has a somewhat rocky past and is currently recovering, but that shouldn't put you off.
Their best offering at the moment is Cuenta ON, which gives you zero commissions, similar to ING Direct. In Bankia's case, there is no minimum balance requirement. There are no commissions on outgoing or incoming Euro transfers either.
The most important requirement in order to keep this account commission free is that you conduct all operations online without visiting the branches. For example, if you want to make a transfer, you would do it online rather than visiting the branch and asking them to do it for you. Perfectly fine for me, as I find it way more comfortable doing everything online.
Bankia doesn't have an online chat system, but you can ask for a callback for free, or use the contact form on their site to send in queries. ING Direct is better in this respect.
On the other hand, Bankia offers its website in English and Spanish (apart from Catalan and Valencian), so you can find all the information easily.
With Bankia, you can send or receive money from friends using the Bizum system, and you can also use Bankia Wallet to pay directly with your mobile phone, in a similar way to ING Direct's Twyp Cash.
You can withdraw money from Bankia ATMs (up to 600 Euro daily) and no commissions will be charged. If you're abroad and need to withdraw cash they will charge 4% with a minimum of 4 Euro.
You can use your card to spend up to 1,500 Euro daily.
The best thing about Cuenta ON is that it is completely commission-free. I prefer ING Direct's interface, related services and also their facility of withdrawing from other ATMs commission-free. Therefore Cuenta ON is a good secondary or backup account. I would always suggest having two bank accounts in place just in case conditions change with your usual bank. Keep in mind that terms can change at any point with Spanish banks, so you've got to be on the ball and read any communication they send you.
Self Bank
Self Bank is an online bank with no offices. Signing up is simple and done through their website. You will then need to print a paper and sign it, as well as take a copy of your passport and NIE. With these papers in hand, you can then ask for a UPS courier to collect the documents at your convenience and at no charge. You will then have to wait a few days until the papers arrive at the Self Bank offices in Madrid. If everything is in order, they will open your bank account and send you the cards. That's it.
Self Bank has a modern website and account management interface and is one of the best regarded online banks. In order to open your account, they will ask you for another account at a local bank for verification purposes, so this cannot be the first bank you open. It's another great option for a backup account, and you can also use the brokerage facilities which are quite decent if you operate regularly on the stock market.
This bank is also commission-free and 100% digital. If you want to open a 3-month deposit account they offer 2% interest for the first 3 months, up to a maximum of 15,000 Euro. Their savings account offers 0.15% returns.
You can use your Self Bank debit card to withdraw money at no cost from more than 9,500 CaixaBank ATMs around the country.
You can send money to friends with their Self Money app, all you need is your friend's mobile phone number or email address.
There are no fees charged for national or Eurozone transfers.
Self Bank does not have any online chat facilities, you can get in touch via phone or email. Their website and documentation is only available in Spanish, so I wouldn't recommend this account if you're not very fluent, especially since everything is done online. If you get stuck, you won't be able to visit a local branch and hope that someone there speaks English.
Banc Sabadell
Update June 2018: I no longer recommend this bank due to the various reports of multiple charges that are now associated to having accounts with them (see comments section).
Banc Sabadell is one of my favorites, if it weren't for the requirement to make a monthly inbound transfer of at least 700 Euro to keep the account commission free, I would probably have opened an account with them instead of ING Direct.
The big advantage of Sabadell is that it is a very stable local bank with straightforward and professional procedures. Their offices always make you feel welcome and their staff usually speak English. The website and contracts are also available in English, making this the best bank to look at if you don't know any Spanish or prefer dealing in English.
Their Cuenta Expansion, as I mentioned, requires a 700 Euro movement every month, else you will get charged 4 Euro commission per month. Everything else is commission free and you can withdraw money from ATMs of Sabadell for free, provided you withdraw more than 60 Euro. You can also withdraw for free with the same condition from the following banks: Bankia, Abanca, BMN, Ibercaja, Kutxabank, Unicaja, Liberbank, EspañaDuero, Cajasur, Caixa Ontinyent y Colonya Caixa Pollença.
Banc Sabadell is the best mix of traditional bank with offices all around, and a good online service. Best of all, it is all available in English, which is perfect for expats.
Wrapping up
You will no doubt have your own requirements for bank accounts. Perhaps you are already thinking of a loan or mortgage, or are mostly interested in finding a bank with great stock brokerage facilities, or even other products such as life insurance or deposit accounts.
Make sure you make a list of things that are most important to you, then start your search by visiting all the sites of the local banks. You will usually get a gut feeling about certain banks that will allow you to narrow things down. You can then proceed to visit the local offices of the shortlisted banks and get a feel for the kind of people that work there and get more information about their products.
Finally, you can make an educated decision on which account to use. Remember that you can always close an account without any hassle or cost if further down the line you understand that the bank is not well aligned with your needs.
When you open a bank account at any entity, be aware that they will usually ask for your passport and your NIE at the very minimum. They might also ask for things like your rental contract, statement from your foreign bank, tax statements from your previous country of residence etc. Banks are on the lookout for money launderers and have very strict parameters within which to operate. All the banks I mentioned above are very reasonable in what they require and will not make things difficult for you. Others may have stricter policies, and they might reject your application without providing any specific reasons.
Good luck with opening a bank account in Spain, and if you have any questions feel free to ask in the comments section.
Bonus tip: If you're interested in making the most of your money, don't leave it sitting in your bank account where it generates low returns. Take a look at my results (above 10% returns) investing through the Mintos platform, it's been excellent so far. Another option is putting your money in Iban Wallet.