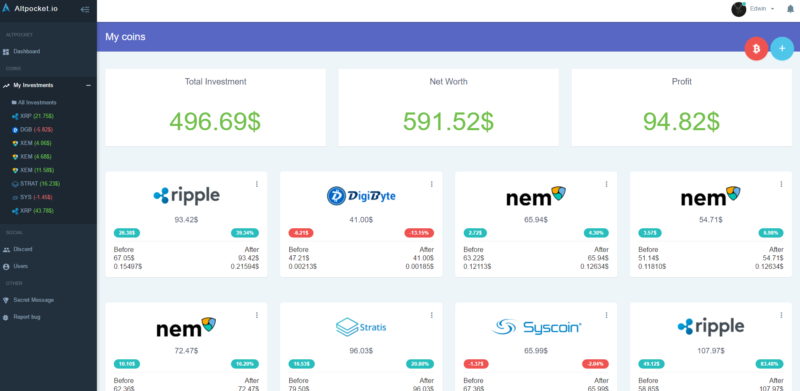 So you've followed the top personalities in crypto, started buying and selling some Bitcoin, then bought some Ether, and perhaps even ventured further to buy some Dash and Litecoin. After some time, seeing that you're profiting massively, you decide to sell some of your tokens. Some time later, you decide to buy a new token that you believe will revolutionise the world.
The problem is, of course, keeping track of all these purchases and sales. You want to keep track of whether you're actually turning a profit or not, plus you need to present your results to the taxman come end of year.
So what are your options? Surprisingly few, I discovered.
Here are the three best online cryptocurrency portfolio trackers:
Cointracker is the newest portfolio tracker on the market, and I think it's the most promising one. They have automatic import from exchanges built-in, and the interface is very clean. Their support is fantastic, and best of all, everything is free. This is the system I would have built if I had to build a tracker myself.
I hope they continue developing it and including more advanced features as it would really be the undisputed leader once these features are implemented. What I'd like to see is better computation of the portfolio when including withdrawals to offline wallets like the Ledger Nano S.
Cryptocompare has a clean interface, and while it doesn't have any exchange integrations (meaning you have to enter all trades manually), it does give you a very clear idea of how your portfolio is performing. You can also add more than one portfolio.
The big issue and deal-breaker is when you need to sell some crypto. There is no way to just enter the crypto you sold and select which cost basis to use.
Let's sidetrack for a minute and talk about cost basis. Since Bitcoin is taxed as personal property, like shares of stock, investors theoretically have the option to sell their assets on a first-in-first-out (FIFO) basis, a last-in-first-out (LIFO) basis, or to sell those specific tax lots that are most efficient under the "specific share identification" method used for stocks.
Going back to Cryptocompare, imagine you made 60 purchases of varying amounts of Bitcoin, but always less than 1 Bitcoin. At a future point in time, you decide to dispose of 30 Bitcoin at one go. You would imagine that you would be able to open up your portfolio and enter the sale of 30 Bitcoin as a single transaction and have the tracker calculate your gains or losses based on all the other smaller previous purchases. But alas, this is not the case. The Cryptocompare portfolio expects you to select the original purchase transactions, and for each of those transactions record a corresponding sale. This gets very messy, very quickly. I was very disappointed by this situation, as I had spent a significant amount of time entering all the purchase trades manually, only to be stopped in my tracks by this issue when I made a sale.
I am still hoping that the Cryptocompare guys fix this issue by allowing us to select which cost basis to use, then enter sales trades separately from the original purchases. Until this is fixed, I wouldn't recommend using Cryptocompare to track your portfolio, unless you are exclusively buying cryptos and not selling.
A very cool new tracker that is well worth a look. API integration allows you to monitor your balance across multiple exchanges in one place, in real-time. You can automatically synchronize if you deposit, withdraw, or trade on an exchange.
This is a social platform mixed with a portfolio tracker. I don't really care about the social elements, but the interface is very nice. It's a very new tool that is currently free but will have a price attached in the near future. The biggest issue I have with it is that it doesn't do automatic imports from Kraken, only Bittrex and Poloniex.
This is the oldest and most complete portfolio tracker. It has a bunch of features and is also available in several languages. Unfortunately, it also looks very old and is nowhere as slick as the other two options above. Its import facilities are unparalleled, however, so if you can forgive the ugly interface, it's a usable option.
Have you used any other portfolio solutions to track your cryptocurrency? Let me know if you have found something ideal.
Cryptocurrency Portfolio Trackers on iOS and Android
Delta and Blockfolio are currently the best cryptocurrency portfolio trackers for smartphones. Delta seems particularly promising, and they should be releasing a desktop app later this year.
Others worth checking out
Implementing a Coin Tracker on Your WordPress Site
If you have your own website and want to display the price of certain cryptocurrencies you can use the excellent CryptoWP plugin. I use it myself on my cryptocurrency news aggregator CryptoHeadlines.com.