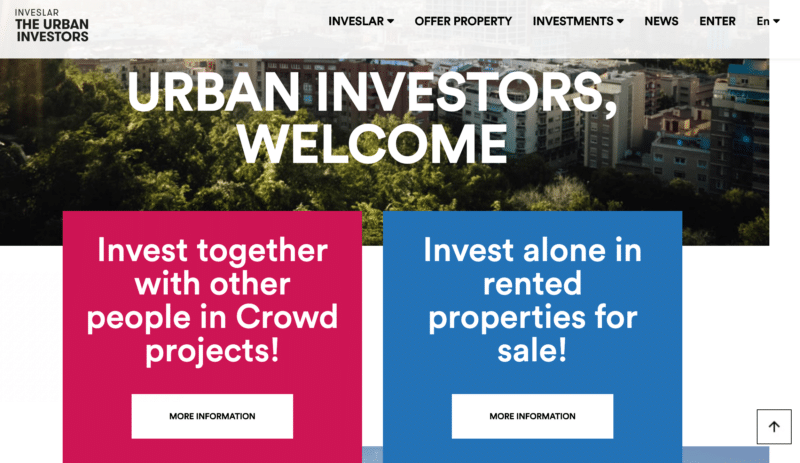 In this review, I'll talk about my experience with investing in the Spanish real estate crowdfunding platform Inveslar – The Urban Investors. What they mean by the name "urban" is unclear to me, perhaps it refers to the fact that they stick to major cities and towns in Spain.
I've already introduced Inveslar in my earlier post about the best Spanish property crowdfunding platforms, but in this post, I would like to focus on my real-life experience with the projects I've invested in on this platform.
Registration with Spanish Authorities
Inveslar provides regulatory coverage to investors and developers thanks to the integration with Socilen PFP, S.L., an authorized company registered with the CNMV as a Participatory Financing Platform with registration number 9.
Internationalization
The platform is open to all European and non-European investors, although you will have to obtain a NIE from the nearest Spanish embassy to be able to invest. It's a minor inconvenience, but once you've got your NIE you will also be able to invest in other Spanish platforms too.
The properties available on Inveslar are all in Spain, with a specific focus on Barcelona and surrounding areas.
The website itself is available in several languages:
Spanish
Catalan
French
English
German
That covers all the big markets in Europe for investors. The original languages of the site are Spanish and Catalan, and the translations are not perfect but decent enough.
Terms of Investment
For all projects, the investor agreement states that the investor is lending money to the platform.
If you understand Spanish, this is the explanation directly from Inveslar, about how we are investing money on their platform, specificying that we are giving fixed interest loans to developers who in turn invest that money into their projects.
Los últimos proyectos corresponden todos a financiación de circulante. Son préstamos a tipo fijo que solicita un promotor para poder hacer frente a una reforma, permisos de obra, o lo que él considere. La rentabilidad del préstamo no va asociada a la rentabilidad del proyecto, sino que se trata de un préstamo a tipo fijo dónde los inversores cobran mensualmente los intereses, y la devolución del capital se lleva a cabo en la última cuota. Por este motivo no existe un proyecto participativo en sí, sino que se trata de una inversión en un préstamo a tipo fijo a promotor."
In the early days, Inveslar used to create a separate company for each investment, and the investors would purchase shares in that company. However, they have stopped using that model, since the ley de sociedades de capital in Spain obliges all purchases and sales of shares to take place with a notary present, which makes it impossible to operate an online secondary market.
Secondary markets are very important to investors as they provided liquidity and the ability to sell investments at the click of a button, provided there are interested buyers.
Unfortunately, the Spanish law has not been updated to keep up with modern trends, which forces platforms like Inveslar to use the lending model.
Email Support
Whenever I emailed Inveslar I always got a reply within 2 days, and sometimes comprehensive replies from the CEO himself, so I am very satisfied with that aspect of the experience.
Types of Investment Available
As an investor, when you visit the site and click on the Investments menu item, you will see the following options:
Crowd projects
Crowd marketplace
Properties for sale
Inveslar has also recently announced that they will start putting up projects related to auctioned properties, which I am very interested in. The first auction projects should be available in the coming months.
Let's take a look at them one-by-one.