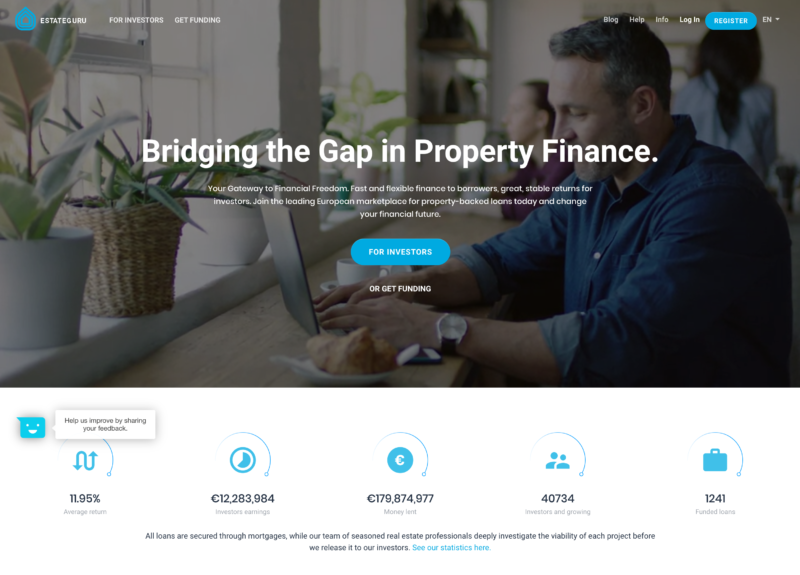 EstateGuru is one of the leading European P2P platforms for short-term, property-backed loans. Founded in Tallin, Estonia, in 2014, Estate Guru now also has satellite offices in Latvia, Lithuania, the UK, and Finland.
"A short-term loan from EstateGuru is designed to meet a variety of niche needs with which traditional financial institutions are often unwilling or unable to assist property developers"
The aim behind the company is to provide everyone, regardless of where they come from, with the opportunity to invest in real estate from as little as €50.
What is interesting and different from platforms such as Mintos is that EstateGuru offers investors and borrowers loans based exclusively on real estate, and more importantly, loans are only given to businesses, not private individuals. At present, only companies registered in and with a bank account in Estonia, Latvia, Lithuania, Spain, Finland, and Ireland are allowed to borrow through the platform.
Over the past 6 years, EstateGuru has developed an average return of 11.95%, on par with Mintos. With over 1,000 funded loans worth over €170,000,000 granted and 48,000 investors worldwide, this platform is certainly one to look out for.
Here are a few notable achievements of this platform:
EstateGuru has funded more than €200 million worth of real estate backed loans in 7 countries – Germany, Finland, Estonia, Latvia, Lithuania, Spain, Portugal and earned our investors €14 million in interest;
Revenue earned in 2019 is €2.5 million, Q1 2020 revenue is €0.94 million (2.5x growth compared to Q1 2019);
EstateGuru is operating profitably;
Successful pre-A round with VC fund Speedinvest in 2018;
Repetitive investor rate 90%, repetitive borrower rate 50%;
€100+ million of assets under management;
Market-leading returns – average historical annual return for platform's retail investors has been 11.8% and as of today, loss of capital on the platform is €0;
Successful cooperation with multiple institutional investors, most prominent being Varengold bank from Germany;
Largest alternative property lender in continental Europe (Brismo.com);
Having started in Estonia – the most digital society in the world – 90% of our core processes are automated and digitalized. This helps enable us to cost-efficiently expand our business to new markets using agile processes;
EstateGuru has operating licenses in Lithuania and the UK (FCA p2p lending license);
First API connection with a traditional bank (LHV) that enables its users to see their EstateGuru profile directly from the LHV banking interface;
Nominated three years in a row (2017-2019) as top 100 Proptech in Europe by Real Estate Innovation Network;
EstateGuru was nominated Top 3 Best Fintechs in 2019 by German-Baltic Chamber of Commerce;
International team of 44 experts.