It's time to take a reflective view of my second year as an amateur padel player. As I've mentioned in other posts on my blog, I am taking this journey very seriously and dedicating a lot of time and effort into becoming the best player possible. You can read the summary of my first year in padel here.
My second year of playing padel was quite intense and I feel like I've tried many things. I'll start off by saying that I didn't improve as much as I wanted to this year, so that's a negative point. As for the rest, there was plenty to be happy about, and most of it will probably serve as a building block to my next big jump in my padel level that hopefully will happen in 2019.
I bought a car towards the end of the year and that gave me a lot more flexibility and allowed me to play at clubs that are further away from the city center. In Barcelona, the best clubs are not so centrally located, so having a car is a must really. I was deluding myself for some time thinking I could do without it, but now that I have it I'm very glad I did buy it.
In September, I underwent surgery (bone marrow biopsy) in order to investigate the sources of my anemia that showed up in the regular bloodwork I do. Thankfully, there were no important issues there, however, the surgery kept me out of action for a few weeks as I had to recover. This disrupted my flow a bit and I struggled to get back on track towards the end of the year. I also got sick with flu-like symptoms and fever on several occasions and that also conditioned me physically.
I ran the padel level test as I did at the end of last year and the results are the ones you see below. Again, I think they are slightly optimistic and I would rate myself as a 4 player not a 4.5 one, and that's when I'm having a good day. I still need to polish many basic things especially since I haven't transitioned to padel from another racket sport. My movement is still a bit clumsy too.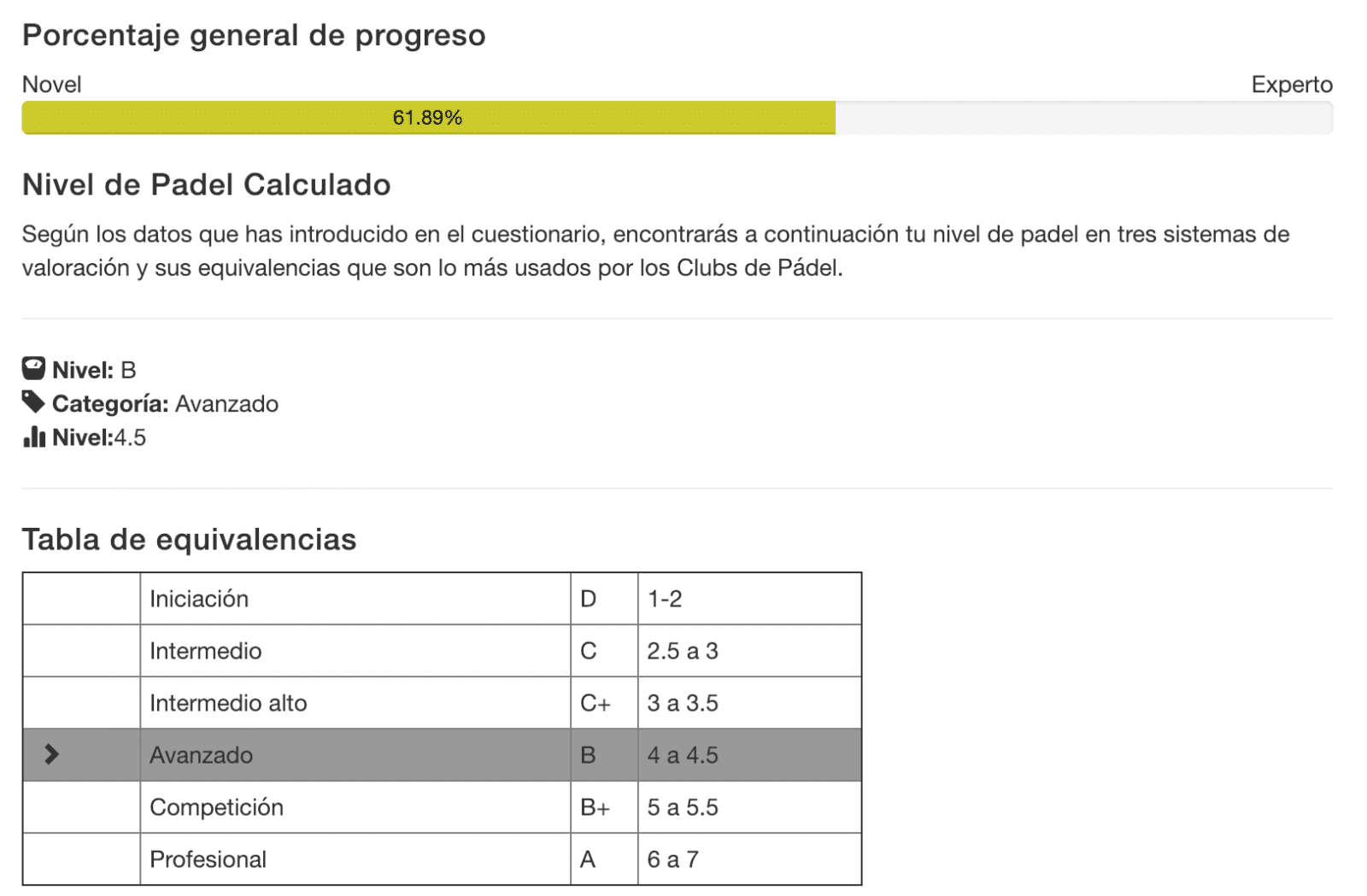 Physical Fitness
This year I really took my fitness to a different level entirely compared to what I had ever done before, and I ended the year in the best shape of my life by far.
I achieved this mostly by working with personal trainers to improve my mobility and shore up weak areas of my body. I also did a lot of work on agility, coordination and reaction time, working with tools such as agility ladders, skipping ropes, and ball grab and toss exercises.
I had always trained on my own in gyms, but training with a personal trainer was a huge difference. It made it much easier to train consistently 3-4 times a week. My personal training takes around 30 minutes, and I spend anywhere between 20-60 minutes after my session training on my own.