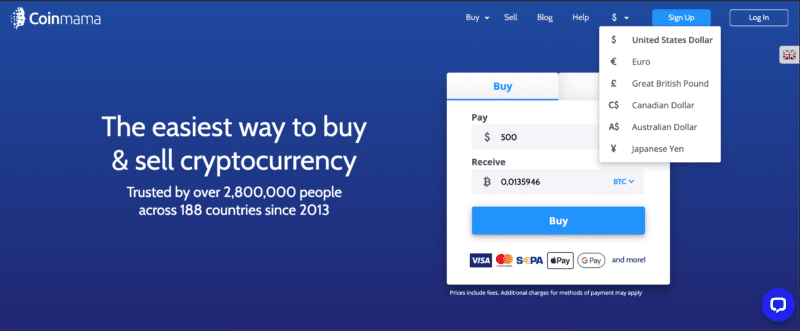 When looking for a place to buy and trade cryptocurrencies, you want to consider all that a platform can offer, including its services, features, fees, payment methods, listed coins, availability in your country, security, and registration requirements.
In this review, we zoom in on all things Coinmama, a popular exchange that offers brokerage services.
Established in 2013 in Tel Aviv, Israel, Coinmama is a cryptocurrency exchange boasting over 2.6 million users from 188 countries. It is currently registered in Slovakia, but the headquarters are in Israel and are run by New Bit Ventures.
Coinmama is famed for providing a wide range of payment options that allow users to purchase crypto with fiat currencies. The company is also uniquely defined by its brokerage service that doesn't connect you to buyers or sellers but rather gives you access to the platform's inventory. Unfortunately, they don't provide wallets either, so users have to bring their storage solutions to perform any transactions.
Pros and Cons
Let's look at some of the pros and cons that Coinmama has to offer.
Pros:
A user-friendly platform that supports multiple languages.
High level of security.
Wide range of everyday payment options with credit or debit cards and wire transfers.
You can receive your coins instantly.
Excellent customer service.
High purchasing limits.
You can buy coins directly from the site, no middlemen.
Cons:
No mobile app.
No wallet.
Do not accept PayPal, American Express, or Discover.
It only lists 10 coins.
No Chat. Customer support is only available via email.
High fees.
No crypto-to-crypto trades.
Services and Features Offered
Brokerage Services
As mentioned earlier, Coinmama provides brokerage services. Unlike cryptocurrency exchanges that are marketplaces, this platform buys and sells from you directly. This feature saves time because you don't have to go searching for a seller or for buyers. However, it gets expensive because of the extra fees they charge.
Loyalty Program
Coinmama also has a loyalty program that rewards users as they buy more crypto on the site. There are three levels of savings, which you reach after meeting a particular minimum purchase amount measured over 90 days.
Crypto Curious: Level 1 is for new Coinmama users. You don't get any savings under level 1.
Crypto Enthusiast: Level 2 users get to save 12.5% on the final price of their purchase. The saving reflects as a crypto bonus during check out.
Crypto Believer: Level 3 buyers save 25% and, as Coinmama promises, queueless customer support. You will be required to purchase for at least 30 days before becoming a Crypto Believer. You also need to achieve a cumulative purchase amount of 18,000 USD within 90 days or a lifetime purchase of over 50,000 USD to maintain the status.
Help Center
The platform also provides a Help Center, which is a comprehensive library of learning materials to answer users' queries.
Blog
For trending news, they have a blog that delivers the latest in the cryptocurrency world.
Supported Coins

Coinmama currently only supports 10 coins, which is a small number compared to what other popular platforms such as Binance and Kraken offer. The coins listed on the platform can be seen when you click the "Buy" button, which rolls out a dropdown menu. They include:
Bitcoin Cash (BCH)
Ethereum Classic (ETC)
Litecoin (LTC)
Cardano (ADA)
Qtum (QTUM)
EOS (EOS)
Tezos (XTZ)
Payment Methods
Coinmama provides users with the following range of conventional fiat currency payment methods:
Visa or Mastercard credit and debit cards are accepted, a 5% momentum fee is charged.
Faster Payments. It applies to UK banks only, has zero fees, and settles in one business day.
SEPA Bank Transfer. Applies to EU bank accounts only, has zero additional fees, and delivery takes up to one business day.
ApplePay
Fedwire
Swift
Sofort
The amount you pay is denominated in EUR, USD, AUD, CAD, GBP, or JPY, depending on your preference. If you wish to buy cryptocurrency in Coinmama, you must hold at least one of the six fiat currencies mentioned or convert the one you have to one of these first.
Fees
Coinmama's fees are arguably high for a crypto exchange. The base price of coins is based on TradeBlock's XBX index. There is an additional 2% (standard deviation) and a selling fee of 0.1-0.9%, depending on your user level. In a nutshell, the rates translate to a 5.9% fee for Curiosity-level users, 5.5% for Enthusiasts, and 5.1% for Believers.
The platform also charges another 5% fee for credit and debit card transactions, reflecting after you choose your payment method. SWIFT bank transfers attract a flat fee of £20 on all orders below 1,000 USD or its equivalent in the other currencies.
As you can see, depending on your level of experience with the platform and method of payment, you may have to part with anywhere between 5.1% and 5.9% extra in addition to 5% (card) or £20 (SWIFT) on your purchase.
If your bank or card issuer considers the transfer a "cash" transaction, they may also charge you a Cash Advance fee. To be safe, consider factoring in about 10% in fees when working with Coinmama. It could be slightly more if you are using a card or less if your payment method does not attract additional charges.
Buying Limits
Coinmama imposes several purchase limits depending on the level of usage you achieve on the platform. They include:
[wptb id=287980]
The limitations are rolling limits, which imply they apply to any 24-hour time frame or 30-day period and not from the first of every month or midnight. Before making any purchase on Coinmama, you will have to submit some form of identification document. They increase according to your level of usage as follows:
Level 1: A valid government-issued ID, a selfie while holding the ID, and a note that says "Coinmama," on which you should also write the day's date.
Level 2: A secondary ID (for example, a driving license) and a utility bill with your details.
Level 3: Filling a short form in addition to the documents above.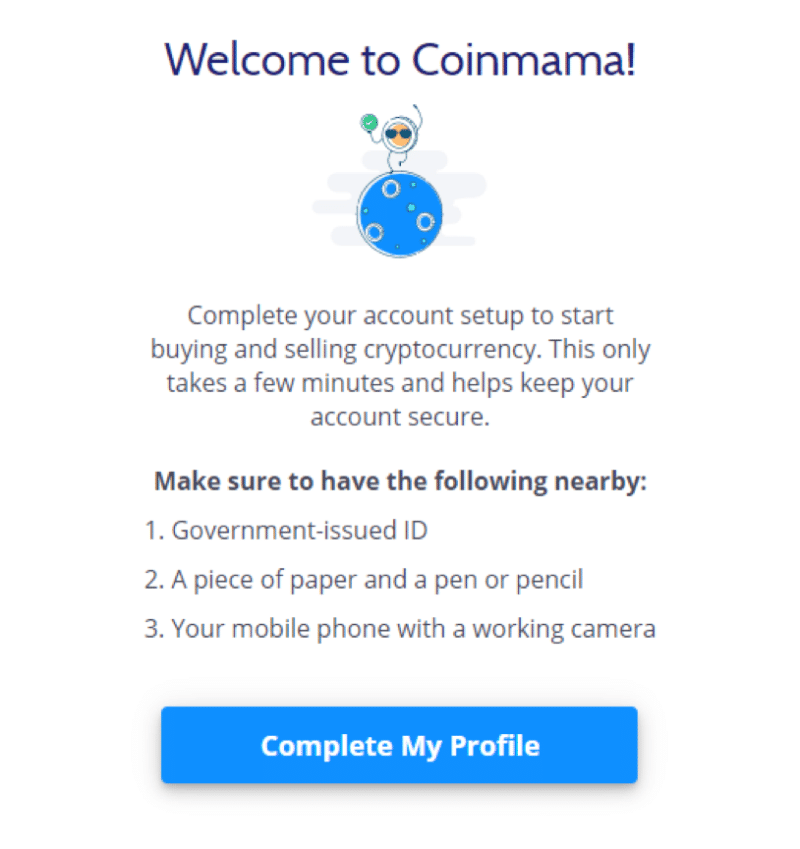 Supported Countries
Coinmama has one of the widest lists of supported countries among crypto exchanges, even beating some of its rivals, such as BitStamp and Kraken. They only restrict sanctioned countries and a few US states. If you are in a sanctioned country, you will need to use a VISA or MasterCard issued by your government to make any purchases on the platform.
Among Coinmama's restricted states are Alabama, Florida, Arkansas, Iowa, Connecticut, Louisiana, Delaware, Georgia, Oregon, South Dakota, Nevada, New Mexico, Vermont, Washington, and Rhode Island. In addition, the restricted countries include Cuba, Crimea, Lebanon, Israel, Sudan, Somalia, North Korea, Iran, Syria, Palestinian Territories, and Syria.
Privacy and Security
Regarding privacy, Coinmama collects data surrounding your activity in the platform, the KYC info you provide, inquiries, bugs and reports sent, and device data such as IP addresses and geolocation information. However, the company says they only use the data to improve their services and occasionally send you marketing materials.
Coinmama also admits that they may share private information with third parties in connection with the services they provide. This, they say, is only the minimum information needed. They may also share it with the authorities or arbitrators in case of legal compliance issues or disputes.
The platform uses industry-standard practices in the protection of your information, including encrypted transactions. In addition, they do not store your credit card details. Moreover, the absence of a wallet on the platform means that you run a lower risk of losing your coins with Coinmama.
However, exchanges are always in the crosshairs of cyber attackers. Coinmama is not an exception. On February 15, 2019, hackers attacked the site and gained access to approximately 450,000 old user emails and passwords dating 2017 and earlier. No coins were stolen, thanks to the lack of hot wallets on the platform.
The attack was part of a larger data breach that targeted 30 companies and a total of 841 million users, among them 1.4 million Coinmama accounts. Coinmama was quick to notify the affected customers, advising them to change their passwords. They also started expiring customer passwords and recommending that users set new ones. However, the Coinmama team admits they still don't know who orchestrated the attacks.
User Reviews and Customer Support
Coinmama provides a help center and a dedicated support channel via the email [email protected]. Most user complaints and queries receive responses within 24 hours. It may take longer on weekends and public holidays, though. Looking at customer reviews online, there seems to be no issue concerning response time.
One thing with user reviews is that the majority are often negative, given that most people only feel inclined to say something after a bad experience. Among the issues that keep coming up is the KYC procedure for identity verification. The company asks for detailed client information and occasionally rejects applicants without providing a comprehensive explanation.
The good news is that they also let rejected applicants re-apply.
Verdict: Is Coinmama Right for You?
Coinmama is not the best choice if you are an avid crypto trader. However, the platform would suffice if you wish to purchase crypto quickly in any of the 10 listed coins. To top it off, you don't have to be tech-savvy to use it.
Coinmama is perfect for first-time buyers and newbies who do not hold cryptocurrencies yet. It allows you to purchase through wire transfer easily or use a credit or a debit card, among other popular payment methods. What's more, if you want to get a coin that's not available to purchase using fiat currency, you can simply buy a popular coin such as BTC from Coinmama then use the BTC to buy the crypto coin you wanted from another site that supports crypto-crypto trades.