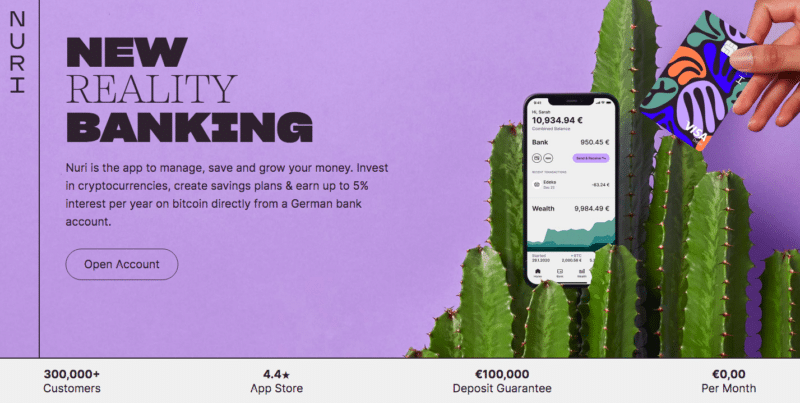 With the steep rise in Bitcoin since 2017, cryptocurrencies have become a hot topic in society at large. Seasoned investors have been looking at opportunities that crypto can offer. While diversifying their portfolio by adding more Bitcoin and other cryptos, they are subsequently looking at ways how to get their holdings to work.
I grew up with the mentality that it was smart to put savings in a bank account to earn money on it. Perhaps back then it made sense when you could passively accumulate 5% in yearly interest. But those days are over and it is highly likely that your FIAT savings in the bank will now actually lose value.
Over the last few years, a growing number of crypto platforms have recognized this as an opportunity and are coming into play to plug the needs of those investors looking to maximize return on their holdings. While until a few years ago the only way to profit from Bitcoin was to sell it at a higher price than you bought it, nowadays you can also earn interest on it through these platforms.
Nuri Bank Account
Nuri is one of those platforms and a unique one for that matter. A German fintech, Nuri is the first European platform enabling all EAA (European Economic Area including Switzerland and UK) residents from a list of over 70+ nationalities, the opportunity to purchase Bitcoin and/or Ethereum and earn interest on them, directly from a regular bank account. Currently, Nuri does not offer its services to US residents or passport holders but the support team noted that Nuri is working hard to make this possible in the future.
Apart from giving you the option to open a Euro bank account and manage it for your daily finances in Euro via app or web, with the money in your account you can also tap on a variety of crypto-related money-making opportunities. With Nuri you will be able to save, spend and invest from one platform.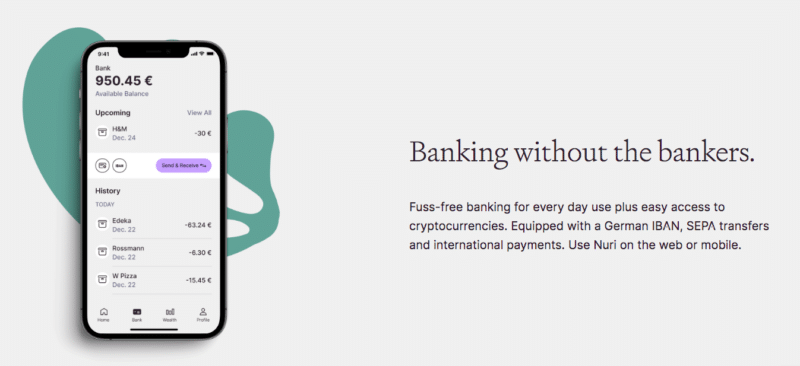 Equipped with a German IBAN, the Nuri bank account works in the same fashion as regular bank accounts, allowing you to send and receive SEPA transfers in Euro, set up monthly or quarterly standing orders, and use the details of previous transfers for new ones.
You may also get a Nuri debit card by post to pay with or withdraw cash from or to your Nuri bank account. Obtaining this card is free of charge and also does not incur any further fees. This card will also give you unlimited withdrawals around the world and can be locked and unlocked from the mobile app for added safety. No fees are charged by Nuri on ATM withdrawals. However, certain ATMs have their own fees associated with withdrawals. Before confirming a withdrawal, the fees are displayed to you, giving you the opportunity to agree or disagree with the charge.
Express transfers, SWIFT transfers and transfers in different currencies are currently not possible.
Trading Bitcoin or Ethereum from your Nuri bank account
Through your Nuri bank account, you will also be able to buy and sell Bitcoin or Ethereum directly. When buying these cryptos, you simply pay with the Euro balance from your Nuri bank account at the current exchange rate. The corresponding amount in Bitcoin or Ether will then automatically be sent to your wallet or vault. You will also be able to sell your cryptos in a reverse fashion.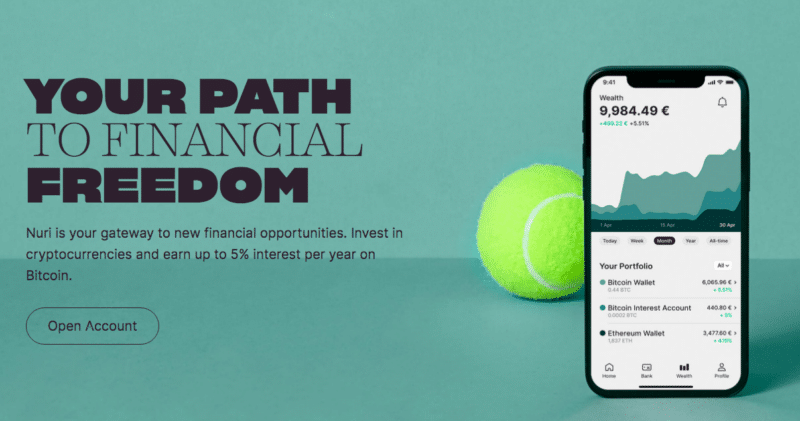 Each trade will incur a fixed trading fee of 1% of the purchase or sale value, which I believe is reasonable. There might also be a network fee depending on whether you opt for a waller or vault (more on this below). Furthermore, Ether trades will incur a transaction fee (also known as a gas fee) which fluctuates depending on gas price.
When trading crypto on Nuri you can decide to either opt for a wallet or a vault. Wallets come as the default option upon creating a Nuri bank account. Wallets are held in custody with Nuri's partner, Solaris Digital Assets, and come with a number of benefits amongst which are zero network fees, faster trade settlements (typically within an hour), quicker logins and a backup option in case you lose your login keys. In terms of security, the wallet uses face ID or fingerprint.
Vaults, on the other hand, refer to the more traditional wallets that only you can access and hold the security keys to. This obviously comes at a price in that if you lose these keys Nuri will not be able to recover them for you. The other drawback with using a vault is that you will need to incur network fees on every trade given they would be settled directly on the blockchain.
The minimum amount for a trade is €30 (if you use your vault this needs to be topped up with network fees, with the amount depending on the overall traffic of the crypto network you're trading on). You can only buy as much cryptocurrency as you have in your bank account in Euro and only sell or send as much as you have in cryptocurrency in your wallet or vault.
The maximum trading limit is €50,000 for a rolling seven-day period. This means that you can still trade as much as there is left of this total amount over the next seven days. The limit per trade is €25,000. However, any number of trades can be executed successively, as long as you don't exceed the weekly limit.
It is currently not possible to increase these trading limits beyond the current level. However, Nuri has indicated that their plan is to introduce professional tiers that enable higher volumes of trading in the future.
Earning interest on your Bitcoin balance
In my introduction I noted how passively earning 5% in yearly interest on your bank account savings was a thing of the past. While this is true of your Euro balances, with a Nuri Interest Account you can earn up to the same percentage in accumulated interest on your Bitcoin holdings.
This product is thus one-of-a-kind in that it allows you to earn interest on BTC inside a regular bank account.
Note: this opportunity is only available on Bitcoin. While you can trade Ethereum from your Nuri bank account, for the time being you cannot earn interest on it.
The interest rate on your Bitcoin savings changes weekly, but at the moment, if you deposit your BTC in this account you stand to earn up to 5%.
Generating a passive income is automatic; every Monday, you'll receive interest payments on your Bitcoin investment directly in Bitcoin. There's no minimum investment period to start reaping your rewards. You can withdraw from the BTC Interest Account any time you like. Interest is calculated every second, and you will not receive any penalty for withdrawing early – you just will not earn any further interest on the amount you withdraw.
How does this work? Nuri has partnered with Celsius, a network that specializes in Defi loans. Through this partnership, you can put your coins to work. Instead of holding your Bitcoin in your wallet, you invest them for interest. You can start investing with as little as €10 and you'll only need to cover the small network fee from the interest received. There are no other fees and you can cash out at any time.
If you like the idea of earning passive income on your Bitcoin and you're also bullish on its future prospects, with Nuri you can also sign up for a Savings Plan.
Crypto Savings plan
The Crypto Savings plan will let you buy cryptos on a recurring schedule and fully automate your investments on a monthly or weekly basis. This will take you from a scenario where you are pondering about where, when and how to invest to a cost-averaging strategy whereby Nuri automatically invests in your selected crypto of choice in line with your preferred schedule.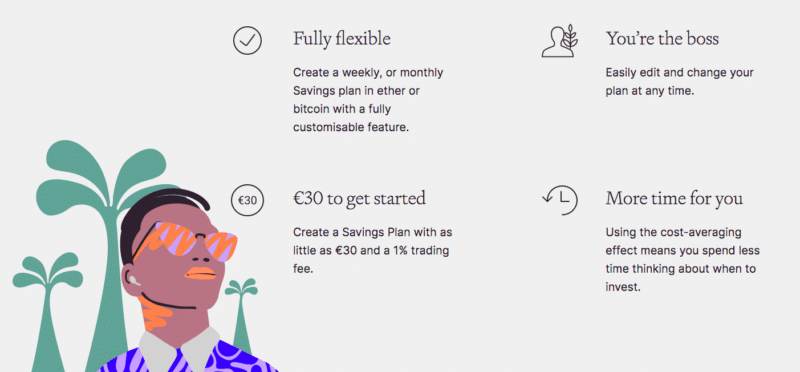 You first decide between Bitcoin and Ethereum, then choose an amount in Euro that you want Nuri to trade for you either each week or month, and pick a day for the transaction. Just like a standing order, the transaction will then automatically recur every week or month until you decide to cancel it. The timing and frequency of the savings plan can be changed any time without incurring any fees.
The aforementioned weekly trading limit of €50,000 will include the amounts in the savings plan and the minimum amount of €30 per trade is equally applicable here. The maximum amount for a single trade is also €25,000 and the usual trading fee of 1% for wallet trades applies.
While all trades are visible in the web platform too, setting up the Savings Plan and editing it is a mobile-only feature.
In case a trade can't be executed due to insufficient funds, the market being offline or maintenance work, your order will be skipped for that month and will simply be tried again the next month. If you want to buy crypto earlier than that you can always trade manually as usual of course.
By creating your first savings plan through this link and let it run for 3 consecutive months, you will receive a 30 EUR bonus. This applies to both Bitcoin and Ethereum holdings.
Is my money safe with Nuri?
Nuri left no stone behind in ensuring security for its customers, whether it is bank accounts or debit cards. There are basically three ways to securely authorize an online payment: The use of biometric data, an mTAN and a security question. Nuri uses all three in tandem to ensure the maximum security of your account.
Nuri accounts come with a German IBAN and are fully regulated by The Federal Financial Supervisory Authority of Germany (Bundesanstalt für Finanzdienstleistungsaufsicht), commonly known as the BaFin. Through Nuri's partnership with Solarisbank, a Berlin based white-label bank, each account is protected up to €100,000 by the Compensation Scheme of German Banks.
It is also good to highlight the fact that Nuri doesn't offer overdraft facilities and hence does not need to assess your creditworthiness on opening an account. You can only spend the money you have on your account.
Opening an account with Nuri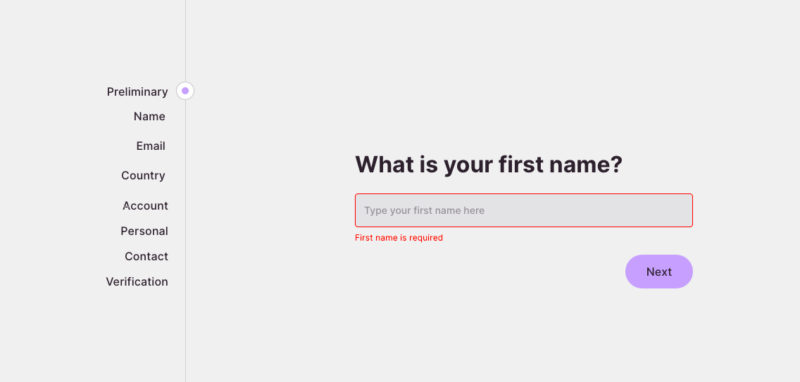 Opening a Nuri bank account is relatively quick and straightforward. You can do it either via web app or mobile app. You are first asked to enter your personal data including your address and to accept the T&C. Once done, you will be redirected to Nuri's partner, IDnow, to get your identity verified.
The verification is done through a brief video call directly in the Nuri app on your smartphone. Nuri does so to ensure that it's actually the person who wants to open an account before doing banking and trading in cryptocurrencies.
In order to successfully open an account, you will need to be at least 18 years old and resident in the EAA (European Economic Area including Switzerland and UK) for which you might be asked to present a proof of address (such as bank statement or utility bill). On the video call, you will also need to present a valid passport or ID card (from a list of 70+ supported nationalities worldwide). Video verification is safe and complies with all legal requirements. Specialized agents guide you through the process and check your data against the usual KYC parameters and typically revert within a maximum of 24 hours.
Support quality
Nuri's email support is active from Monday to Friday from 9 am to 6 pm CET (Central European Time) and response time is at max one business day. This excludes weekends, German public holidays, or bank holidays. There is also a chatbot service available on the website.
From a scan through Trustpilot reviews, I generally noted positive comments praising the intuitiveness of Nuri's platform and also quick assistance from support. I did however also note a few complaints in terms of delays in receiving assistance, however, to Nuri's credit, each such complaint was individually followed up by Nuri's support. This conveys a good sense of customer care. In one of these follow-ups, the support agent also admitted that Nuri is currently growing its customer support team to meet the high number of incoming tickets being experienced at present which seems to indicate that popularity is on an upward trajectory.
At present, customer support is only available in 2 languages, English and German. In this regard, I believe that given Nuri is open to all EAA residents from over 70+ nationalities, expanding on the variety of customer support languages would be value-adding, and hence should equally be given priority.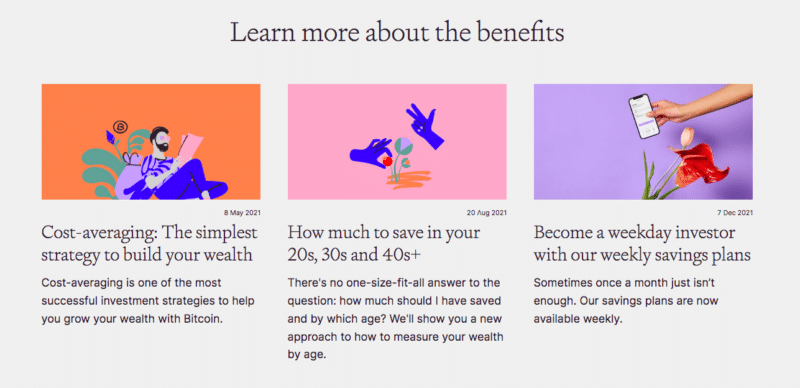 Nuri also differentiates itself by taking a proactive role in educating its customer base by providing several guides to beginners on investing in cryptos. On Nuri's website, you can also find a blog regularly updated with relevant guest posts. These posts are also featured in the Nuri newspaper which is circulated periodically. This is a sign that the Nuri team is not in it just for the money but also seeks to engage with its customer base in view of facilitating user knowledge and experience.
Concluding thoughts
What makes Nuri unique is the opportunity to trade Bitcoin and earn interest on it inside a regular bank account which you can also use for regular Euro transactions. Nuri also enjoys the benefit of operating out of Germany within safe and regulated parameters which adds another layer to peace of mind. The first €100,000 in your Nuri bank account is also guaranteed through Solarisbank, under the Compensation Scheme of German Banks.
In contrast with other legacy banks, apart from allowing crypto trading (whether as individual trades or as part of a savings plan), Nuri does not charge any fees for account management, debit cards and worldwide cash withdrawals. All crypto trades are subject to a 1% fixed trading fee.
The Nuri web and mobile apps have a minimalistic look with a user-friendly interface. As a user you are given the option to receive personalized push notifications about your transactions to remain always in the know. Nuri will also provide you with a crypto tax report in order to facilitate your personal tax return compilation.
Whilst I continue using the services of Nuri I look forward to it adding more cryptocurrency options on top of Bitcoin and Ethereum.
Sign up for a Nuri bank account