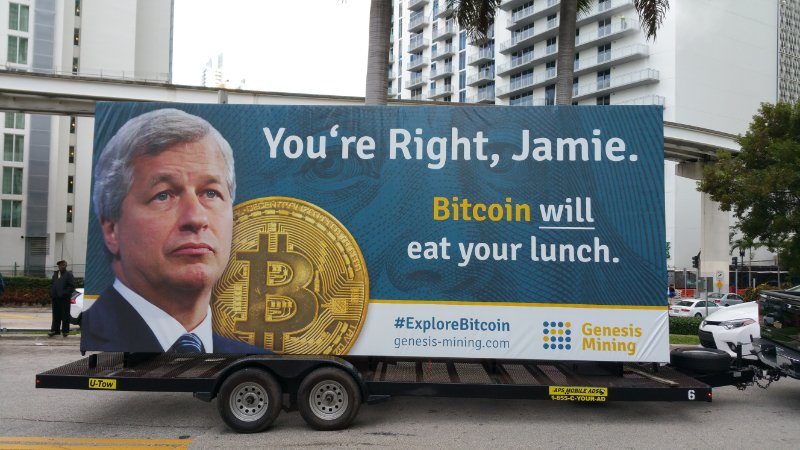 This week there's been some hullaballoo over the comments of JPMorgan Chase chief executive Jamie Dimon, who took aim at bitcoin, calling the cryptocurrency "a fraud" and "worse than tulip bulbs."
Understandably, this came as a bit of a shock to the lay people who don't really understand the fundamentals of Bitcoin and cryptocurrencies. This is by no means the first time that someone has pronounced Bitcoin dead or denounced cryptocurrencies, but unfortunately statements from such prominent people always make the news.
Let's be clear, Dimon's firm is one of the chief architects of the global financial crisis that led to the interest in a somewhat arcane cryptocurrency in the first place. There would be no bitcoin without Jamie Dimon — and in some ways he's right to fear its rise.
As a Vanity Fair piece revealed last week, JPMorgan Chase paid out $13 billion (with a "b") to the U.S. government because of its role in the financial crisis and the mortgage security fiasco that almost destroyed the U.S. economy.
This goes to show that you need to be very careful where you're getting your news and information from. There's a lot of purely ridiculous stuff out there, especially in new spaces such as cryptocurrencies.
So to counter Dimon's arguments, here's a few of my favourite responses.
John McAfee's response to Jamie Dimon:
It is normal and actually recommended to approach Bitcoin and other cryptocurrencies with a criticial mind. They are obviously highly speculative investments and have no intrinsic value. However, they are also a whole new type of asset. To try and compare them to tulip bulbs is just naive, as I discussed in a previous post. There is really no direct comparison to Bitcoin and cryptos throughout history, and that is what makes it so exciting.
Unlike fiat currency, Bitcoin is fully transparent and controlled. We know exactly how many Bitcoins will exist in 5, 10 or 50 years. If you take a look at history and the ways that fiat currency has been manipulated and how many people's lives were instantly ruined during periods of hyperinflation, amongst other government triggered actions, you would be hard pressed to name Bitcoin as a fraud and not fiat currencies.
To conclude, while it's anyone's guess where the value of Bitcoin will be in a few years time, or whether it will still be the leading cryptocurrency, there's little doubt that blockchain technology is here to stay, and even institutions like banks and governments are investing huge amounts of money and resources into this technology.
If you're interested in entering the space of cryptocurrency, make sure you educate yourself and follow news from reputable resources. I've already compiled a list of great cryptocurrency resources that you can use to start off.