Up until recently and even to quite some extent today, the asset portfolio of many retail investors will prevalently consist of a standard range of assets. This would often include property, vehicles, company stocks and bonds, retirement accounts and insurance, term deposits and bank accounts. These portfolios are, more often than not, partly backed by loans from a local legacy bank.
Over the past decade or so, with the onset of P2P lending and domain flipping in synch with the rise of blockchain technology and the evolving space of crypto, the menu available to retail investors has been growing exponentially. Not only that – this new era has unwrapped a whole raft of opportunities for new investors who are just making their debut, regardless of their walk of life and net worth.
Apart from the traditional investments I mentioned above, as a retail investor, you will concurrently have your fingers in several cryptos on different exchanges, some of which are staked and others stored across a couple of e-wallets. Your interests could perhaps be also vested in a few P2P lending platforms.
And with this ever-expanding array of investment opportunities, it is inevitably becoming increasingly complex to systematically keep track of one's scattered investments, not to mention their current market value. Keeping a manual track via a spreadsheet might cut it for some time, but the longer the list of investments, the harder this will become.
Moreover, in the absence of an up-to-date snapshot of your investments, you will not only find it hard to determine the extent of your profits (hopefully more than your losses), but also find yourself scratching your head when trying to budget your way forward.
Enter Kubera – The Modern-Day Holistic Portfolio Tracker
Kubera is the brainchild of 3 friends who had earlier founded Webyog (database tools) and Newton (a popular email app), after which they had moved on along separate paths, only to come back together to develop this new platform.
In developing Kubera, Rohit Nadhani, Manoj Marathayil and Umesh Gopinath took off from the basic spreadsheets which they used to track their own personal investment portfolios and by combining cutting-edge tech with sensible design, transformed them into a modern portfolio tracking platform, which they named Kubera – the lord of wealth, according to Indian mythology.
The team worked towards ensuring Kubera achieved the following utilities:
Listing your assets, traditional and non-traditional, in simple spreadsheet form.
Fetching your current asset values automatically whenever possible.
Supporting multiple currencies (foreign investments) and crypto.
Allowing you to store important docs in a document vault.
Purpose-built sharing controls – ensuring the safe transfer of critical info to the person you designate, in case you become incapacitated.
Being ad-free under a clean subscription model. In this regard, Kubera stresses that it does not spy on you or sell your data.
Being a simple and lightweight platform.
As at the time of writing, the aggregate amount of assets tracked with Kubera amount to $13.5 billion dollars.
How Does Kubera Work?
Connect your bank and brokerage accounts – Connect your accounts to get real-time values of your bank accounts, credit cards, loans, retirement accounts and holdings automatically through Kubera's multiple aggregators providing connectivity to over 20,000 banks and fintechs around the world. If your brokerage didn't connect you can simply do a lookup for the stock ticker symbols and add them. Kubera supports all major stock exchanges in the US, Canada, UK, Europe, Asia, Australia and NZ.
Connect crypto wallets and exchanges to get your latest values and holdings. You can otherwise do it manually by looking up your crypto token symbols and adding them. Kubera supports DeFi assets on multiple chains like Ethereum, Polygon, Avalanche, Solana & Cosmos.
Enter any currency from around the world in the value field and it will convert to your portfolio currency using the latest exchange rates.
Enter the address of your real estate or the Zillow URL to get the latest estimated market price of your property (US Only). For non-US, just insert a new row and enter the value manually which you can obtain from the architect of your choice.
Enter the VIN number to get the latest estimated market price of your vehicles (US & Canada Only). For non-US/Canada just insert a new row and enter the estimated value manually.
Enter your internet domains to get their latest estimated market value.

Enter the metals you've invested in as Kubera tracks the gold, silver, platinum and palladium spot prices.
Enter all the assets that can't be 'connected' as manual entries. If possible, enter the cost of your assets as well. If you only know the cost, enter it as the value.
Once you've populated all your investments in the given spreadsheet format, Kubera will let you rename or rearrange the sheets and create sections within them.
Kubera will also provide you charts with analytics showing you how your net worth and investments changed over time. Every update to your asset value is kept in history to go back in time to see how you fared. It also allows you to keep an eye on the asset allocation and statistics indicating which asset experienced the highest appreciation or depreciation.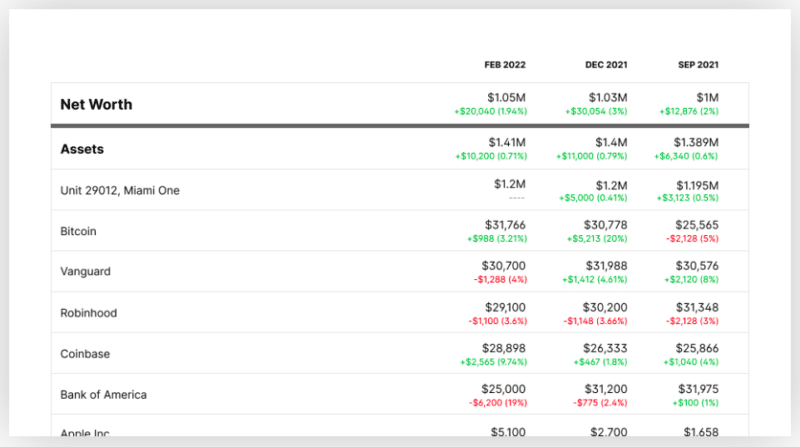 Kubera also calculates accurate rate of returns (IRR) for all your investments based on the multiple contributions & withdrawals and the time invested. It also benchmarks the IRR with the returns from popular indices and tickers (S&P 500, Dow Jones, AAPL, BTC etc.).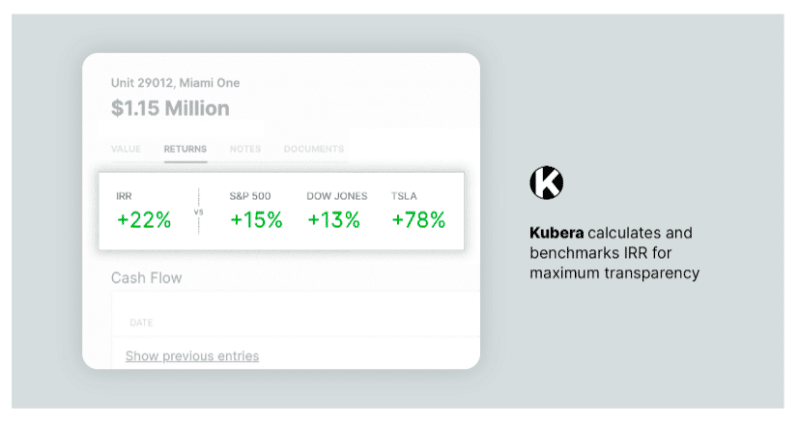 Another handy feature of Kubera is the possibility to store important financial or asset documents on the platform.
Through Kubera you will also be able to share a read-only link of your portfolio with others, for example, your Investment Advisor, CPA, or Estate Planner (when applying for loans) or with your household.
In addition, with Kubera's "Life Beat" feature you can allow portfolio and document access to your beneficiary of choice, however only after extended periods of inactivity. Before Kubera allows automatic access to your beneficiary, you'll receive multiple prompts to which you can respond with just a click to reset the timer. This feature also comes with a fallback plan – in fact, in addition to your primary beneficiary, you can set a contingent beneficiary (or "Trusted Angel") who will receive access only in the event that your main beneficiary isn't able to access your account data.
How Safe is Kubera?
When you think of online security the first thing that comes to your mind is encryption. You may have also heard of 'end-to-end encryption' as the gold standard for security. End-to-end encryption makes the data encrypted or unreadable by the very service or the app you used to create it, because the app simply doesn't hold the keys to decrypt it. It's only readable by the user who holds the key to decrypt it and no one else.
Given the nature of Kubera's service, your data in Kubera is not end-to-end encrypted, because it will otherwise not allow the platform to deliver several fundamental features of its service, e.g. background syncing, ensuring safe transfer of your data to your beneficiary as simple Excel and Zip files and many more. Nevertheless, your data in Kubera is indeed encrypted at-rest and in-transit.
At-rest encryption: All Kubera's databases and files are stored in Amazon (AWS) servers and have their content encrypted while sitting idle and when they're backed up. This protects against unauthorized copying, transfer or retrieval of user data from the servers. This means that even if someone was somehow able to get hold of a backup of the database, it would be useless, because they wouldn't have the key to decrypt it.
In-transit encryption: Your data when in transit from Kubera's servers to your browser requires HTTPS on all pages, and uses HSTS to ensure browsers only ever connect to Kubera over a secure connection.
Kubera also ensures that it does not hold your banking or crypto account credentials. In fact Kubera uses 3rd party financial account aggregator services – Plaid, Yodlee, Flinks and Salt Edge – to connect to your bank and brokerage accounts. Your banking credentials are directly sent to the respective service from your browser. Kubera servers will never see your credentials. The said services will only provide a read-only interface to Kubera. Therefore Kubera cannot make any transactions on your behalf.
Similarly, for crypto exchanges and wallets, Kubera only requires read-only permissions, whether you use API or secret key and/or passphrase. For certain wallets like Bitcoin, Ethereum, Ripple, Doge, etc., Kubera only needs the blockchain address.
From a read through Kubera's website, it seems that sensitivity of its customers data is top of mind and in this respect, Kubera ensures it has Bank Grade security in place to protect this data. Kubera also stresses that it doesn't sell your data to show ads, nor do they peek at it to offer you financial products.
A further layer of security is Google ID sign-ins which incorporates Two-factor authentication.
Subscription Fees
Kubera never sells your data and in fact is only funded by your subscription fee. The tariff scheme is pretty straightforward, with a $150 per annum fee for personal accounts and bespoke tariffs for customers who manage a pool of portfolios for other private clients. While this may seem a little expensive, I believe that given the valuable utility of Kubera's service in terms of serving as a one-stop-shop for wealth management, the said fee is a reasonable one.
Customer Support
Kubera offers personalized customer support via email. Their website also contains a help center with an extensive FAQ section. The platform is available both in desktop and app mode (both Apple and Android).
What I found particularly good is the blog on Kubera's website which is regularly updated with relevant articles relating to investments. To me this indicates that Kubera is not only keen on being there for its users but is also proactive at educating their investment decisions.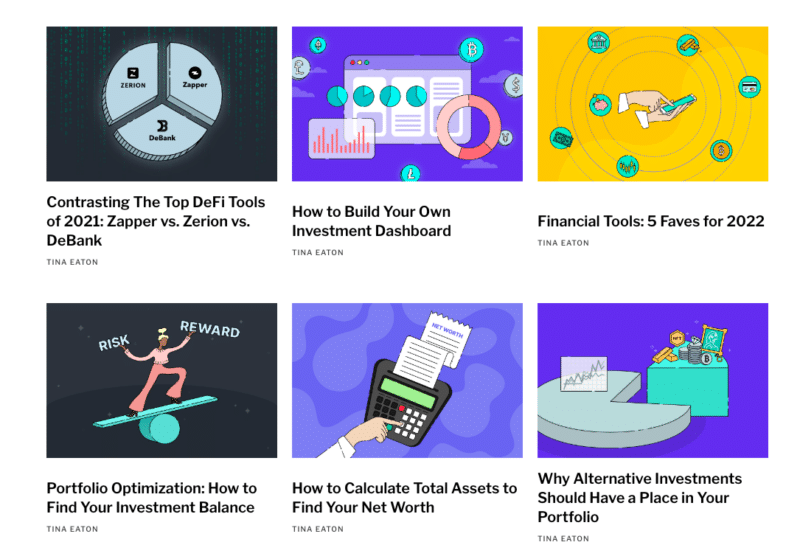 A quick scan through Reviews.io relays a wide consensus that Kubera's service is going down exceptionally well with its clientbase. Common traits that I picked from the comments related to the platform's user-friendliness and vast integration. On the other hand some users indicated that they found the annual fee a bit pricey.
Kubera's Edge Over Traditional Wealth-Tracking Platforms
A modern portfolio tracker that's able to keep up with all of your financial accounts is key to successful wealth management. It will go a step further by enabling you to integrate your various digital assets stored across different wallets and exchanges and automating conversions so you can view the value of such investments in real-time.
As such, Kubera will empower you to work with up-to-the-moment financial data from all of your accounts to generate effective reports, forecasts, and plans for moving your financial goals forward.
This is where Kubera has an edge. It's not that all of the big portfolio trackers and dashboards on the market are inherently bad. The problem is that most of them have a fatal flaw — or a combination of several — that makes them ill-prepared for the digital asset reality toward which most modern investors are moving.
Some of the main flaws which traditional big portfolio trackers carry include:
a) Poor crypto integration capabilities – The problem with many of the popular portfolio trackers today is that they typically only partner with one or maybe two financial app aggregators. These aggregators are typically built to work in certain countries with specific currencies and financial institutions. That is why the more aggregators a portfolio tracker works with, the more diverse account and asset types the tracker will be able to help you monitor and manage.
b) Inability to view crypto and other digital assets as part of your net worth (or in your preferred currency) – It is pretty hard to keep track of the value of crypto at any given time if you're using technology that was developed well before the idea of digital currency. And as a result, it's also hard for these more traditional tools to display the real-time value of your crypto investment in your preferred currency.
c) Outdated security measures – crypto has been set up in a way to promote more democratic and failure-proof usage compared to traditional currency and other assets. However, it also means crypto transactions are almost impossible to stop once they are actioned. Hence, financial management apps need to make sure their security is up to par to protect users who are after integrating their crypto accounts. In addition to security measures such as encryption and two-factor authentication, the same aforementioned third-party aggregators that Kubera works with are helpful for preventing hacks by processing user credentials, rather than Kubera itself accessing and storing these credentials.
Concluding Thoughts
Kubera helps you to organize all your wealth in one place and keep regular track of your net worth in a very simple intuitive way. Security-wise it also ensures safe transfer of this information to your chosen beneficiary.
Through its user-friendly dashboard Kubera will empower you to work with real time financial data from all of your accounts to generate effective reports, forecasts, and plans for moving your financial goals forward.
In the meantime the team at Kubera remain up-to-date so as to keep their platform as comprehensive as possible in terms of swiftly incorporating any up and coming alternative assets.
From a number of customer reviews, Kubera seems to be a good bet, which albeit comes at a somewhat above-par subscription of $150 per year, lives up to the claim of being the modern-day holistic portfolio tracker.