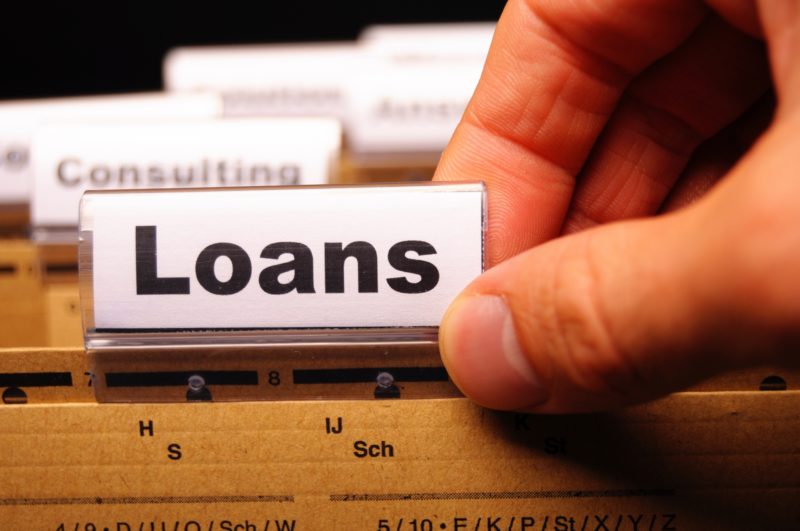 Amongst all the online investment platforms available today, European peer-to-peer lending sites are the ones that offer the highest returns.
Let's have a look at how P2P lending works and which are the best European P2P lending sites.
Why do I focus on Europe? Simply because I am European and currently based in Europe. Most US lending sites, as well as some UK lending platforms, prohibit European citizens from investing, so this post focuses exclusively on those platforms that are available to all European citizens. The nice thing is that the majority of European P2P platforms accept international investors.
Another reason for focusing on Europe is that currently, the European platforms offer higher returns than those in the United States or Asia.
Without further ado, let's jump straight into a list of what I consider the best platforms available nowadays. I will then proceed to talk about the P2P lending space in general for those who are new and want to learn more about this asset class.
The Best European P2P Lending Platforms
Now let's explore each of them further.
If you're unsure which platform to invest in, one of the best things you could do is to check the platforms' ratings on multiple channels. I've analyzed most of the platforms out there and taken a look at their Facebook, Trustpilot and Google scores, so here's the list of the top four most reputable P2P platforms in Europe at the moment.
I also keep an eye on the market data on European P2P lending on a monthly basis, as this is an important indicator of whether any of the platforms are in trouble or whether they are in a healthy growth and profitability stage.
I've invested in all the platforms I recommend so I can speak from experience about each one of them.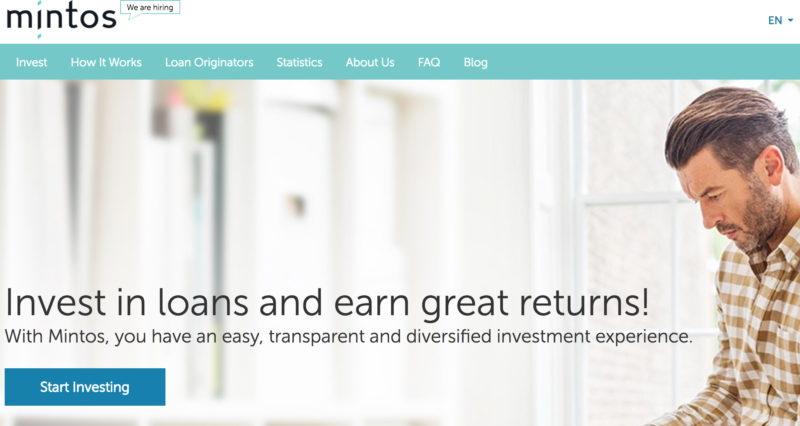 This is by far my favorite platform.
The interface is great; everything is understandable and you don't need to fish around for data. You get a daily report in your inbox and you can also use the auto-invest functionality, which I always do.
Mintos has a solid secondary market which provides investors with liquidity. If you want to sell off your loans at any point, you can put them on the secondary market, choosing whether to apply a discount (making them more attractive) or add a premium (less attractive). If you want to sell quickly, applying a discount is the best way to do this.
The minimum investment in any single loan on the primary market is EUR 10, DKK 80, GEL 25, PLN 50  or CZK 300. There is no minimum for investments in the secondary market.
You have to be careful when setting the auto-invest parameters on Mintos. Check out the Mintos lender ratings post on Explorep2p as well as the Mintos loan scanner to see which are the most trustworthy lenders on the platform.
The income earned at Mintos is taxed for each investor based on the legislation of the respective country where the investor is a tax resident. Each investor can receive extensive information necessary for tax returns when logged into their Mintos investor account.
You can add funds safely via your online banking directly in the app, by bank transfer or with debit/credit card. I recommend using N26, Wise or Revolut when doing deposits and withdrawals as you avoid fees altogether.
Companies can also invest through Mintos without any problem. There are specific documents that need to be provided in order to comply with AML legislation, but it's pretty straightforward.
During the past three years, Mintos experienced significant growth, making it the peer-to-peer lending market leader for continental Europe with a 38% market share according to AltFi Data. Since their establishment, they have exceeded EUR 660 million in cumulative investments by investors and they expect the number of loans funded to reach EUR 1 billion by the end of the year.
See also: My full review of Mintos – I invested €150,000
Over the past years, Mintos have made considerable investments in technology, people and the marketplace, making the service even more convenient for investors. The number of investors has been growing in exponential numbers year on year. As an investor, this is reassuring, as I know I'm not alone using this platform, but I'm joined by tens of thousands of others like me.
On Mintos, you can expect returns between 6% and 18%, and the minimum investment per loan is €10.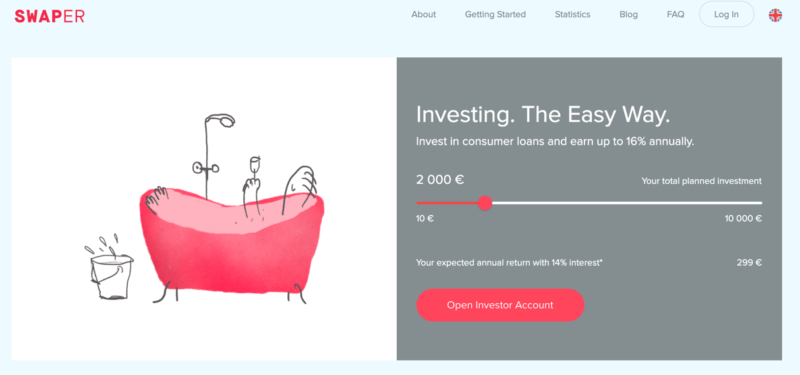 Swaper is one of the latest entries into the P2P lending space in Europe, having started operations in May 2019. They have found success pretty quickly though, amassing more than 4000 active investors, 160m euro in investments and 2.1m euro in interest paid back to investors.
See also: In-depth review of Swaper
I really like this platform and the team has been extremely pleasant to deal with whenever I contacted them.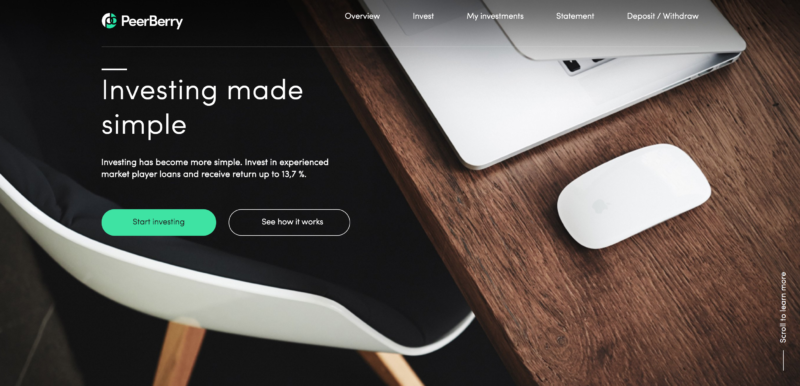 Launched in 2017, PeerBerry has been gaining quite a lot of popularity among peer-to-peer platforms recently. As with many crowdlending platforms, PeerBerry originated in the Baltics – specifically Riga, Latvia.
This platform has an average annual investment return of 11.51%, a solid return for most platforms. With more than 18,000 investors and over €212 million in funded loans, PeerBerry is certainly making some waves in the peer-to-peer business.
See also: My in-depth review of PeerBerry
As with many peer-to-peer platforms, PeerBerry offers an Auto Invest function and a BuyBack guarantee. Unfortunately, however, no secondary market is available yet.
I really like this platform and its website. PeerBerry has the potential to be one of the big players in European P2P over the coming years.
Open an account with Peerberry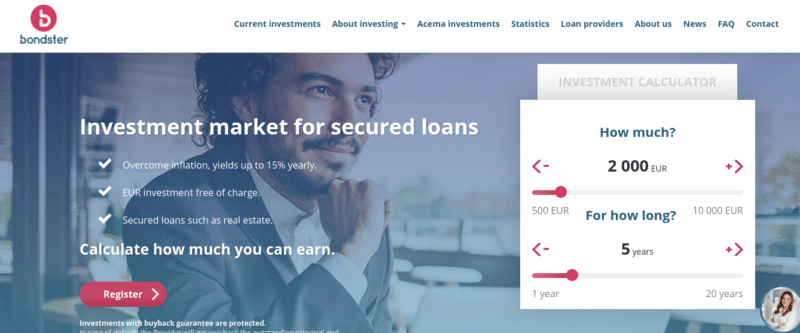 Bondster is an online peer-to-peer (P2P) lending platform that allows you to invest in loans of various types. You will be financing loan originators who in turn will lend the money to the end borrower. All in all, Bondster offers some of the highest yields in this particular space at up to 17% annually.
In a nutshell, Bondster is a P2P lending platform that allows you to finance loans. Launched as recently as 2017, the provider is based in the Czech Republic. As of September 2020, Bondster claims to have facilitated investments for over 10,000 users.
Read more: My full review of Bondster
Bondster is an attractive P2P platform for several reasons. The obvious starting point is the yields of up to 17% that it offers. I also like the Buyback Guarantee that is available on most loans, and the early exit feature that is offered on some loans.
Additionally, it is also notable that some of the loans at Bondster are secured with collateral – notably in the form of real estate or a personal vehicle. I also like that you can invest from just €5 per loan and that there are no fees when depositing in euros.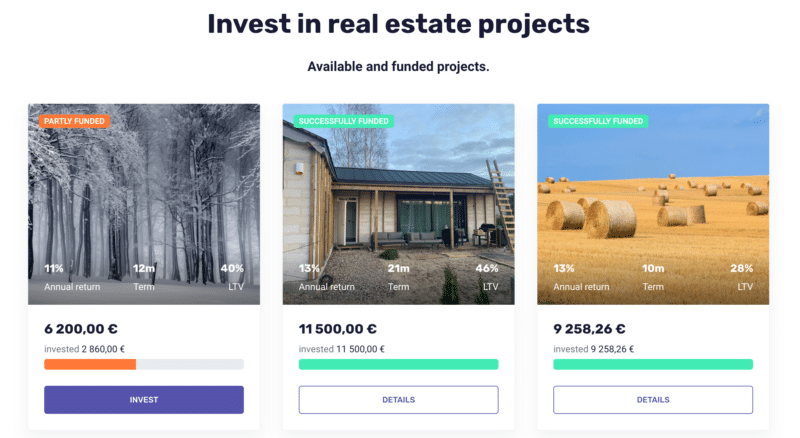 LendSecured was started in 2019, when two experienced professionals from the secured lending sector Ņikita Gončars and Edgars Tālums became aware that there is a niche in the crowdlending market, as none of the existing market players offered low-LTV investment deals.
LendSecured is going after the agricultural loans niche. There is currently a big gap between the financing needs of farmers in Eastern Europe and what's available to them from banks and other lending providers.
Read more: My full review of LendSecured
All projects are first rank mortgage, which is the most secure type of mortgage you can get. Other platforms offer second rank mortgages which are riskier, but can have higher interest rates.
I would recommend having a look at LendSecured as it might be one of the most innovative players in the space going forward. It's worth mentioning that LendSecured also has skin-in-the-game for every project launched.
Kviku Finance is an investment platform that is part of the wider Kviku Group. The lending portfolio of its P2P arm is financed through independent funds, as well as independent investors
Kviku Group has a relatively long-standing reputation in the world of P2P lending, with over seven years in this field. 
You can read my full review of Kviku Finance here.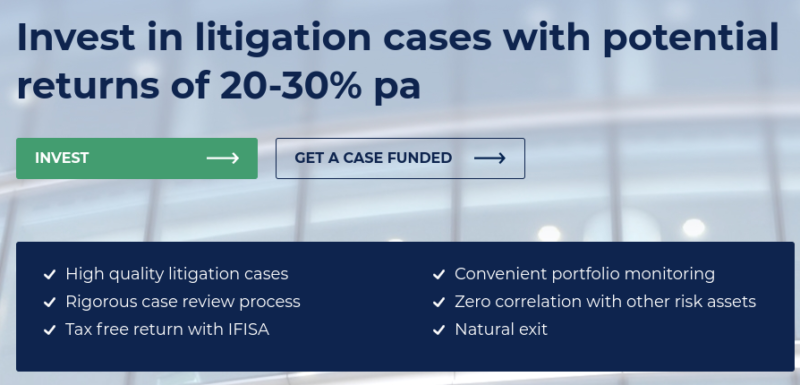 Founded in 2016, AxiaFunder is an online crowdfunding platform that specializes exclusively in litigation finance. It is not really a P2P lending platform in the traditional sense, but more of a crowdfunding platform, where you will be lending money to someone, usually a corporate entity, to help them build a court case against someone else.
In its most basic form, litigation finance allows those seeking financial damages through the courts to fund their claim when they are unable to do so themselves.
According to AxiaFunder, investors can expect to make between 20-30% per year, which is obviously huge. The returns are taken from the benefits that the claimant receives as compensation through the court or through a settlement.
You can read more about how AxiaFunder works in my full review, or you can also listen to my podcast episode with Cormac Leech, the CEO of this platform.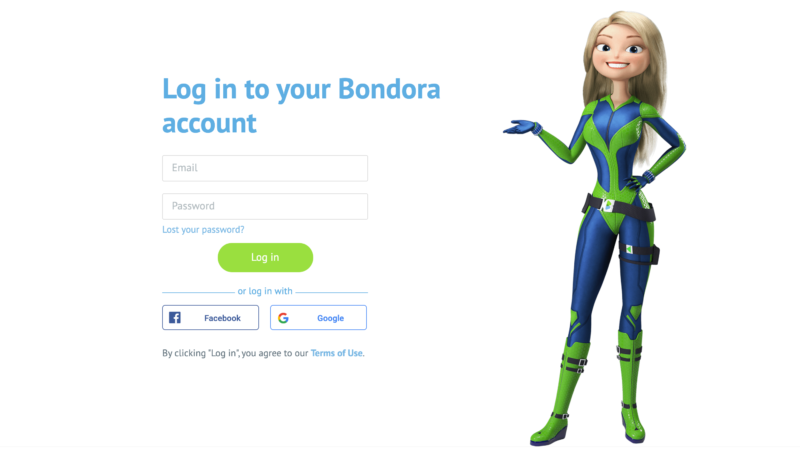 Bondora is one of the oldest peer-to-peer lending platforms, and I joined early on in my P2P lending journey, around 2016.
While this platform has been criticized by investors in the past, my portfolio has been chugging along quite well over the years, and my only complaint would be about the graphics and UI of the platform, which I find really ugly.
Read more: My in-depth review of Bondora
I've obtained a return of 17% while investing on Bondora.
If you're looking for a reliable platform I would recommend taking a look at Bondora, as they have one of the best track records in the industry.
Profitus is a Lithuanian real estate crowdfunding and investments platform that has been operating for a little over a year. It crowdfunded more than 7.6 million euros and funded 47 projects in 2019.
Read more: My review of Profitus P2P lending
The platform acts as an intermediary between investors, who are looking to employ their free money and those who want to receive funding for business ideas and real estate projects.
What about Other Platforms?
There are several other sites that I consider either a scam or badly managed and on the course towards bankruptcy and loss of investor funds. Be very careful who you trust when investing in these platforms.
Many people just want to paint a nice picture for any platform just to take in commissions, and the platforms themselves all try to emphasize how safe they are and what great opportunities they are offering to investors. Don't believe everything, and check out my list of worst P2P lending platforms before you proceed.
If you're concerned about the safety of P2P platforms, make sure you also read my post on whether it is safe to invest in P2P lending.
🌍 Who Can Invest in P2P Lending Sites?
These European lending sites are open to all European investors, possibly even those outside of Europe in some cases. The only exceptions are the UK-based platforms, which are typically restricted to investors resident in the UK. CapitalRise is one such example. It's been around since 2005 but is restricted to UK-based people.
The majority of platforms that are open to other countries are based in the Baltic countries.
Many of these platforms are available in more than one language, precisely to cater for the fact that in Europe people speak so many different languages and might not be comfortable investing their money if the site is only available in English.
From my experience, at the moment in Europe the country with the most investors in P2P lending is Germany, leading by a long margin. German investors love P2P platforms. Germany is a country where people have a high purchasing power and they are looking for good returns on their savings, and hence P2P lending platforms are a great match for them.
What Returns Can Lenders Expect?
The returns that lenders/investors can expect vary depending on the economic climate. If interest rates are low in general, then we can expect that platforms will offer lower rates as well. This is the current economic outlook worldwide. But 15-20 years ago bank interest rates were very high, so it would not have made sense to invest in P2P platforms when your savings account already rewarded you with 10% returns guaranteed.
Nowadays, you barely find any bank accounts giving you 1% returns, so the returns of 10-15% offered by P2P lending sites are way better in comparison.
It is important to understand that such investments are to be considered an alternative investment with a rather high-risk profile. You will most probably have loans that default, but the idea is that the overall returns will eclipse these minor defaults.
Risks of P2P Lending
For each investment class, and indeed every investment you make, you need to carefully consider the risks involved. There's a lot to say about the safety of P2P lending and what risks you need to consider, so I wrote a separate guide on whether P2P lending can be considered safe that you should find interesting.
Alternatives to P2P Lending
If, like myself, you want to diversify beyond P2P lending, I would suggest you read up on real estate crowdfunding platforms as well as crypto interest accounts. You can obtain similar rates of return (usually 3-4% less than P2P lending) but these other types of investors tend to be safer as they involve collateral.
✅ Conclusion
If you're interested in trying out peer-to-peer loan platforms, I suggest you start off with Peerberry or Swaper.
If you have any questions about any of the platforms I mentioned, or how the model of peer-to-peer loans works, please leave a comment and I'll do my best to answer your questions.
Before you make any investment decisions, I also encourage you to have a look at how your country taxes proceeds from peer-to-peer lending. You can check out my article on how peer-to-peer lending is taxed to get started on this topic.
You should also read about the risks of P2P lending before making any investments, and make sure you are comfortable with that level of risk for the money you are putting into P2P lending platforms.
Have you invested in p2p lending platforms? What has been your experience with these platforms?