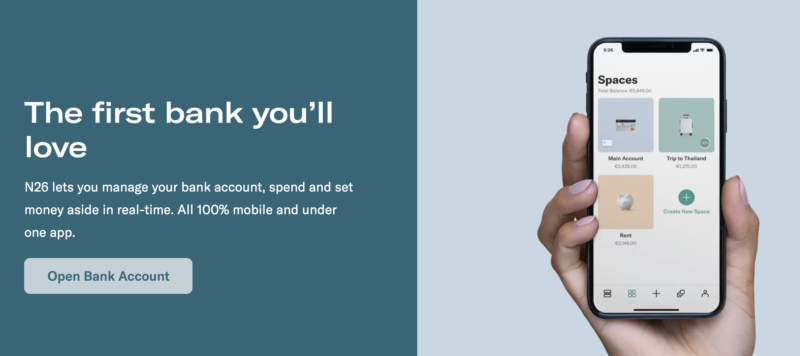 Upon moving to Spain, one of the first things you need to do is open a bank account, together with purchasing private health insurance. If you haven't learned any Spanish yet, I would also recommend that you get the basics nailed down.
You will need it for several things, most importantly for paying your monthly rent. A foreign bank account is not that useful in Spain as many institutions rely on direct debits to a local account. For example, if you make a gym subscription, or if you sign up for private health insurance, you will need to provide your bank details, and you need to give a Spanish IBAN number.
The same thing applies if you have an iPhone and want to use the Spanish app store; you need a Spanish debit or credit card.
When I arrived in Spain, I had a list of criteria that I used to search for the best bank here. Let me share them with you:
Commission-free.
I'm giving money to the bank and they will use it to gain money, I shouldn't be paying them. If anything, they should be compensating me for providing the capital.
Straightforward to open and operate.
I didn't want to jump through too many hoops to open a bank account, and I expect a modern web and mobile interface to operate on a daily basis.
English-speaking staff and multilingual website and contracts.
Not so much of a deal-breaker as I'm fluent in Spanish, but it's always a plus.
Stable and highly-regarded bank.
I don't want nasty surprises in the future, so let's keep to the top banks and avoid going with the lesser-known ones.
Here are some of the typical bank fees charged by banks here that I was not prepared to pay:
Maintenance fees
There is usually an average fee for having your bank account and this is anything from €40 year and upwards
Transferring money
If you use your bank account to transfer money, even to another Spanish account, you may be charged. The transfer cost is usually around €2 or C3 for every transaction you make. Online transactions are usually free.
ATM
If you use a cash machine that is not linked to the bank you use then you will be charged a fee. This varies but is likely to be at least €2.
Credit and debit cards
Some banks may charge a small fee per year for maintaining your card and can be around €8 and €10 per year.
After spending many hours in online research, speaking to people and visiting bank branches, these were my shortlisted banks:
Currency Conversions
Before we delve into details about each of these banks and my top pick, I'd like to make a special note for those who will be transferring money from other countries. The most common cases are GBP and USD but this applies to any other non-Euro currency.
I suggest that you use TransferWise for your conversions as you will save a ton of money versus any local bank. You can also set up a TransferWise Borderless account which gives you a debit card in multiple currencies that is perfect for travel.
Ok, now that you now know how to do currency exchanges the right way, let's move on to Spanish banks. If you have any questions about currency exchange, leave a comment and I'll try to help out.
Documents needed to open a bank account in Spain
Before you even attempt to open a bank account, make sure you have the following documents handy as you will need them.
If you're opening your first bank account in Spain with one of the local banks:
A valid passport or national identity card
Your Spanish Tax identification number (NIE)
A document to confirm your address such as a utility bill or Title Deed
A document to prove you have an income – this could be a payslip, tax return or an official form connected to your pension (optional)
The proof of income documentation is not always required. When I arrived in Spain I did not have any payslips to show, so instead, they asked me for statements from the bank account in my country, and that was enough to open the first bank account here in Spain.
If you already have another bank account in Spain and you're opening another bank account in Spain with a local bank:
A valid passport or national identity card
Your Spanish Tax identification number (NIE)
The IBAN number of your other bank account
If you're opening an account with one of the digital banks:
A valid passport or national identity card
The digital banks (Revolut, TransferWise and N26) only require basic identification to open a bank account with them.
Banks trust each other, so if one bank has done its checks and opened a bank account for you, you can then open another account at another bank by just providing basic identification and the IBAN number for your other bank account.
Note that many traditional Spanish banks do not provide sign up instructions on their website in English, but it's pretty self-explanatory in most cases.
Keep in mind that banks do discriminate openly against citizens of certain countries that they deem to be on their "blacklist". My wife (Russian) was straight up refused consideration from various banks, while even myself (Maltese) was refused in one bank due to the manager claiming that Malta was on some kind of blacklist, which is very weird since it is in the EU.
N26 – Best Low-Cost Bank in Spain for 2020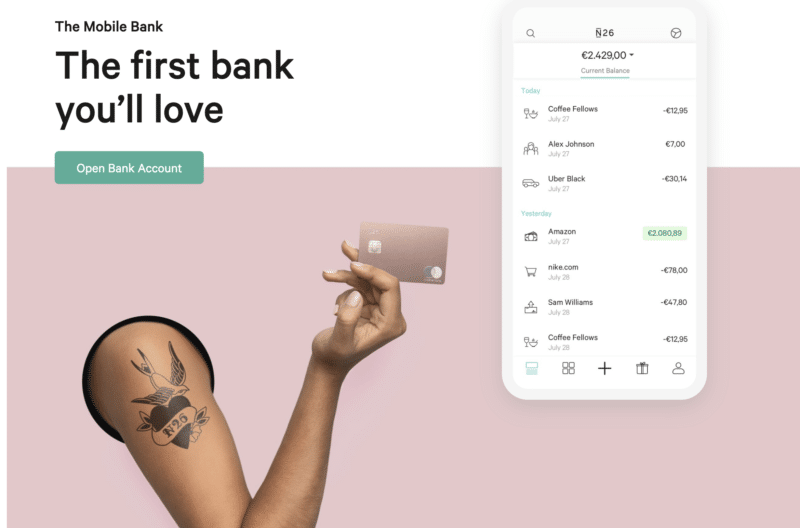 Unfortunately, I haven't been very impressed by banking in Spain. It's decent enough, don't get me wrong, and most banks have very good online systems and apps, however, support and compliance can get very frustrating.
That is why I would recommend N26, a German bank with the very latest technology and an amazing mobile app through which you manage your account.
Since April 2019, N26 gives its Spanish users a Spanish IBAN account, so you will be able to use the bank for any direct debits as you would use other Spanish bank accounts.
Now that we have the option, I recommend opening an account with N26, which is a new breed of bank that is totally app-based. This is the future of banking, so they give you best in class digital facilities such as an app and website to go with it, while also helping you track your expenses.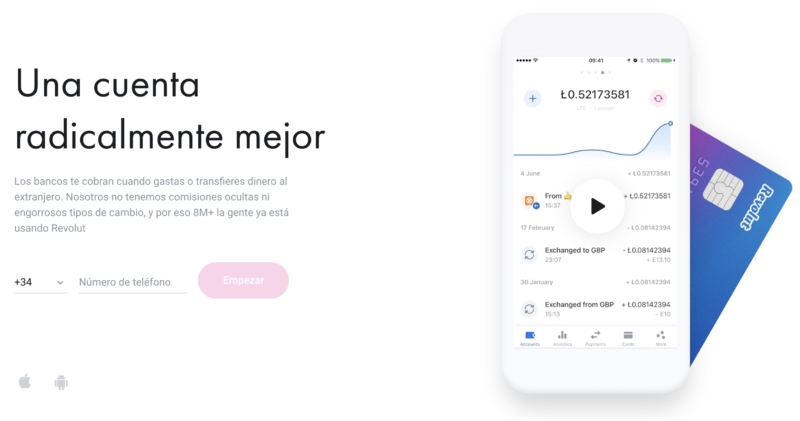 The famous online bank Revolut is also available to residents of Spain. Revolut is a digital banking app and card that focuses on technology, low fees and premium features. It's designed for those who travel a lot and offers ways to spend abroad, including international money transfers with no hidden fees.
When you sign up, you will need to choose between three account tiers, starting at €0 per month for the Standard account.
For all account tiers, Revolut gives you a free IBAN account, a free UK current account and a bank card so you can spend your money. You can spend in over 150 currencies at the interbank exchange rate and exchange 29 fiat currencies. There are a number of features that come with each account tier, such as free ATM withdrawals plus exclusive features that come with the Premium and Metal accounts.
Revolut has three tiers: Standard, Premium and Metal. The Standard account is €0 per month, the Premium account is €7.99 per month and the Metal account is €13.99 per month.
One of Revolut's most appealing features is that it lets you spend fee-free at the interbank rate in over 150 currencies.
Using it abroad is much like using it in Spain. However, don't forget that while there's no spending limit for card payments, free ATM withdrawals are limited to €200 per month with the Standard account (higher for Premium and Metal), after which you'll be charged a 2% fee.
Revolut received its European banking license from the European Central Bank in December 2018. This means that if you open a current account with Revolut in the future your funds will be protected up to €100,000. However, at the time of writing, this was still being put into place. For now, Revolut still has obligations to safeguard your funds in a separate bank so you can get them back should anything happen to Revolut.
Revolut stands out from its competitors in cryptocurrencies. In 2017, it became the first challenger bank to let customers buy cryptos within the app.
What's more, it's incredibly easy for anyone to use cryptocurrencies such as Bitcoin with Revolut. Revolut's aim is to make cryptocurrencies accessible. Customers have access to five different cryptocurrencies: Bitcoin, Litecoin, Ether, Bitcoin Cash and XRP. However, you have to hold a Premium account or higher to access the cryptocurrency feature automatically. Otherwise, you will need to invite three or more friends to use the app to unlock the feature.
Revolut shows you real-time cryptocurrency graphs which shows you current rates. You can also set up price alerts to hear when your cryptocurrency hits a certain value.
Revolut applies a markup of 0.5% on major currencies and 1% on other currencies over the weekend when markets are closed.
You are charged at least a 1% markup for currencies such as the Thai baht, Russian rouble, Ukrainian hryvnia and the Turkish lira. This rises to 2% on weekends.
You can make fee-free currency conversions up to €6,000 per month, after which a 0.5% fee applies.
The big disadvantage of using Revolut at the moment is that you don't get a Spanish IBAN. Although according to EU rules, businesses here in Spain should accept European IBANs for direct debit purposes, in practice there are some big companies that still refuse to do so. You might want to check which companies you will need to work with and decide accordingly.
Having said that, since there is no cost to signing up to and maintaining a standard Revolut, I would still recommend having it, especially since you like to travel. Having more options is always better than less options. If you're worried about managing multiple cards, have a look at the solution I found for that further down in the article.

Before you move abroad consider opening a TransferWise multi-currency account. You get your own free local bank account details in Europe, UK, US, Australia and New Zealand so you can have a local bank account before arriving. It comes with a debit card so you can pay and withdraw money at ATMs once you come to Spain with much lower fees than with your bank.
Read my full TransferWise Borderless review or go ahead and open an account using the link below.
Sign up to TransferWise Borderless